Clubs from the North of France continue to struggle in the LFB

Montpellier missed out on equalling their LFB opening record of 9 consecutive victories but still remain on top of the table. Bourges Basket and Perpignan Basket are now just one game behind Montpellier after picking up hard fought victories while playing at home.
At the bottom of the table - despite showing improvements - Arras, Hainaut Basket and Villeneuve d'Ascq are losing ground.

Lattes Montpellier's unbeaten run to the season (8 LFB and 4 EuroCup Women wins) has come to an end with a home defeat against Basket Landes (69-75).
Basket Landes were back to their very best with Carmen Guzman (18 points) excelling. In addition Tamara Abalde (11 points) had a perfect shooting day with 5-from-5 from the field.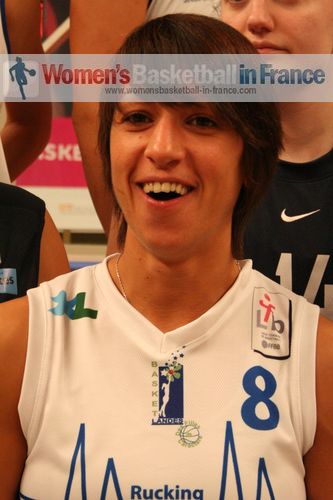 Jennifer Humphrey fired in 13 points while Anaïs Le Gluher-Cano (in picture) and Sabrina Reghaïssia had 10 points each in a balanced offensive effort for the victors.
Lattes Montpellier's shooting from beyond the arc was a little off target with just 1-of-7. But with the energetic Géraldine Robert (21 points) and the contribution of Emilie Gomis (15 points) and Edwige Lawson-Wade (11 points), Montpellier were not to far away from saving the game.
Yet Lattes Montpellier remain on top of the LFB with one game advantage. In round 10 they meet Bourges Basket in what should be the game of the week.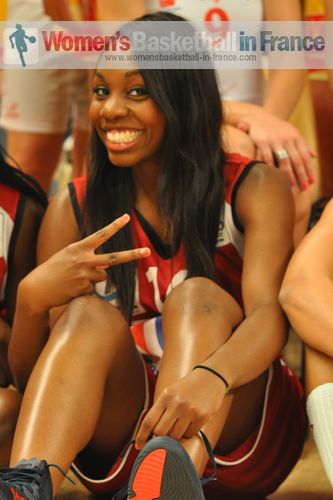 USO Mondeville have finally overcome their recent blues and beat Lyon BF (63-52).
Lyon lost Mistie Mims just before half time with a sprained ankle which did not help their cause. However Mondeville had to play most of the first half of the match without Naignouma Coulibaly who picked up 2 fouls within the first minutes of the game.
The match was scrappy with a combined total of 46 turnovers. Yet with Mondeville leading at half time (28-25), the pendulum was not in favour of the guests.
While Amanda Lassiter with her 15 points and her all-round contribution should take most of the credit for the victory of Mondeville, the eight minutes of Marie-Bernadettte Mbuyamba (in picture) with her 7 points and the two three-pointers from Binta Drammeh proved to be the turning point in the match.
With this win Mondeville are back on track for a top four finish in the LFB.
In the game of the weekend Bourges Basket were once again pushed all the way before coming out on top against Villeneuve d'Ascq (65-58). All eight Bourges players got on the score sheet with Nwal-Endéné Miyem on top with 16 points. The duo from Villeneuve d'Ascq, Bintou Dieme (16 points) and Olayinka Sanni (14 points), was on fine form.
Despite the defeat that leaves Villeneuve d'Ascq in the relegation zone of the LFB the team is begining to show their full potential. Hopefully when all the injured players return they can be once again competitive.
The rest of the LFB news from round 9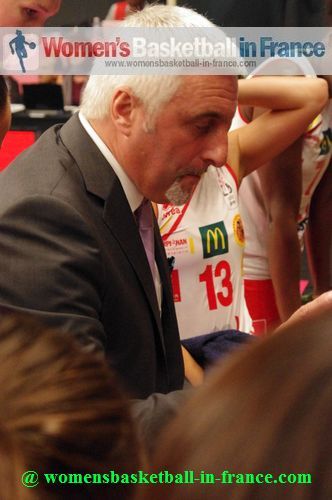 Perpignan Basket needed a late burst by Pauline Lo (15 points) hitting 2 three-pointers and a long two-point shot to get past Arras (71-63).
As exciting as the match was, it was spoilt due to the injury to Astan Dabo who had to be stabilised before being taken off the court and to hospital with the match held up for almost 10 minutes.
François Gomez, the coach from Perpignan, continued his tactics of turning his bench. The result was that Angie Bjorklund and Abby Bishop with 20 and 12 points respectively made sure that their side kept their nose in front for most of the game. For Arras Radoslava Bachvarova rediscovered her scoring touch with 20 points.
Hainaut Basket are perfect in the EuroCup Women competition, however not so good in the LFB. In an epic battle with Aix-en-Provence, - a match broadcast live - it was late three-pointers by Shona Thorburn (11 points) and Sylvie Gruszczynski (19 points) that broke the hearts of the hosts.
Amanda Jackson's 23 points were in vain as Hainaut dropped the match (68-72).
Toulouse were on fire against Charleville-Mézières - whose roster is still not complete - hence the victory was for the hosts (67-54).
For Tarbes Kim Smith is now settled. Her 22 points and 11 rebounds were enough to help Tarbes beat Nantes-Rezé (76-62). Nantes-Rezé were without Bernadette N'Goyisa.
So with 1/3 of the regular season played the three clubs from the North of France are holding up the table:
| | | | | | | | | | |
| --- | --- | --- | --- | --- | --- | --- | --- | --- | --- |
| POS | Team Name | PLD | W | P | L | SF | SA | SD | PTS |
| 1 | Lattes Montpellier | 9 | 8 | 0 | 1 | 645 | 506 | 139 | 17 |
| 2 | Perpignan Basket | 9 | 7 | 0 | 2 | 601 | 519 | 82 | 16 |
| 3 | Bourges Basket | 9 | 7 | 0 | 2 | 572 | 499 | 73 | 16 |
| 4 | USO Mondeville | 9 | 6 | 0 | 3 | 591 | 498 | 93 | 15 |
| 5 | Toulouse Métropole | 9 | 6 | 0 | 3 | 546 | 540 | 6 | 15 |
| 6 | Nantes-Rezé | 9 | 6 | 0 | 3 | 605 | 625 | -20 | 15 |
| 7 | Basket Landes | 9 | 5 | 0 | 4 | 559 | 508 | 51 | 14 |
| 8 | Lyon BF | 9 | 5 | 0 | 4 | 585 | 584 | 1 | 14 |
| 9 | Tarbes | 9 | 3 | 0 | 6 | 547 | 564 | -17 | 12 |
| 10 | Charleville-Mézières | 9 | 3 | 0 | 6 | 472 | 517 | -45 | 12 |
| 11 | Aix-en-Provence | 9 | 3 | 0 | 6 | 567 | 625 | -58 | 12 |
| 12 | Arras | 9 | 2 | 0 | 7 | 488 | 576 | -88 | 11 |
| 13 | Hainaut Basket | 9 | 1 | 0 | 8 | 506 | 598 | -92 | 10 |
| 14 | Villeneuve d'Ascq | 9 | 1 | 0 | 8 | 550 | 675 | -125 | 10 |
Lattes Montpellier 69-75 Basket Landes
Bourges Basket 65-58 Villeneuve d'Ascq
USO Mondeville 63-52 Lyon BF
Toulouse Métropole 67-54 Charleville-Mézières
Tarbes 76-62 Nantes Rezé
Perpignan Basket 71-63 Arras
Hainaut Basket 68-72 Aix-en-Provence
---
Visit our 2012-2013 Ligue Féminine de Basketball section

Visit our home page
Visit our "What's New" page
picture credits:
womensbasketball-in-france.com

Date created: 18 November 2012
Like this page / Aimez cette page