Nantes-Rezé lose ground in chase for
LFB championship play-off place

The first half of the LFB season is almost over with just two rounds remaining. Only Perpignan Basket can stop Lattes Montpellier from taking the unofficial title of champions at the halfway stage after beating Basket Landes.
Bourges Basket and Lyon BF close the 11th round with important victories in their battle for a play-off qualification at the end of the season.

The only club in the LFB to stream all their home games is Hainaut Basket, a service they have offered for the last 12 months. However the results in the domestic competition this season has not been good with just one victory to their name.
Romina Ciappina was released from her contract quietly while Amanda Jackson was signed as her replacement.
Jackson was again the team's leading scorer with 22 points, the only player in double digits. But her efforts were not enough to stop Lyon BF.
Danielle Page (in picture) and Leslie Ardon scored 13 and 12 points each while Mistie Mims compiled a double-double of 11 points and 11 rebounds for Lyon in the (57-51) victory.
Lyon now share 4th place with Toulouse, a game behind Bourges and Perpignan, in the regular season standings.
Perpignan Basket did not allow Basket Landes to settle for one second. Leading (8-0) after the first five minutes, the match was already over for the guests. Going 11 points clear (17-6) at the end of the first quarter, Perpignan paced themselves the rest of the way for a comfortable win (64-40).

Perpignan were just too aggressive in defense. They also neutralised the threat of Jennifer Humphrey who did not score and managed just 3 shots in her 21 minutes on court.
Perpignan probably set a new LFB record with 11 players scoring in one match. Diandra Tchatchouang and Elodie Bertal were the leading scorers with 15 and 12 points respectively.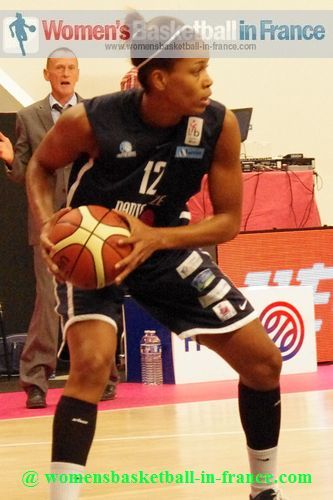 The return of Marielle Amant (in picture) to Bourges was interesting. Now playing for Nantes-Rezé she scored her team's first 8 points as she single handedly took on Bourges Basket for the first seven minutes of the game (8-13).
Bourges never trailed in the match but struggled to turn their domination into points early on and had to rely on their suffocating defense to stay in front.
However by the final quarter Nantes-Rezé tired and ran out of steam which allowed Bourges Basket to coast to victory (66-55).
Cathy Joens, back in the starting line-up, had the last say in the match when she was fouled on the buzzer going for a three-pointer. She hit the three free throws for Bourges to finish with 21-from-25 in this exercise.
Céline Dumerc scored 15 points and dished out 8 assists, while Emméline Ndongue finished with 12 points. Nwal-Endéné Miyem and Frida Eldebrink both had 10 points.
For Nantes Gunta Basko-Melnbarde and Amant scored 16 and 13 points each.
Nantes-Rezé have lost their last three domestic games and have dropped down to joint 6th place.
You can read our summary from LFB games played on Saturday by clicking on this link.
Round 11 LFB results:
Mondeville 68-71 Lattes Montpellier
Toulouse 75-78 Villeneuve d'Ascq
Tarbes 68-74 Aix-en-Provence
Arras 66-70 Charleville-Mézières

Bourges Basket 66-55 Nantes Rezé
Perpignan BF 64-40 Basket Landes
Hainaut Basket 51-57 Lyon BF
---
Visit our 2012-2013 Ligue Féminine de Basketball section

Visit our home page
Visit our "What's New" page
picture credits:
womensbasketball-in-france.com

Date created: 02 December 2012
Like this page / Aimez cette page