The third semi-finalist of the 2011 Fiba Europe U20 European Championship for Women is Spain who came back after a strong Ukrainian start to win (67-57).
She frustrated the Spanish players all evening with her physical play and crisp passing.
However the return of Mireia Vita with her clutch shooting was a key factor for Spain. Vanessa Blé did her very best battling in the paint with the taller Ukrainian players.
In the end he had to give his players some space to do what they did best and their individual talent made the difference.
Here are a few comments after the game by Spanish players Mireia Vila and Vega Gimeno:
Spain back to their old self to win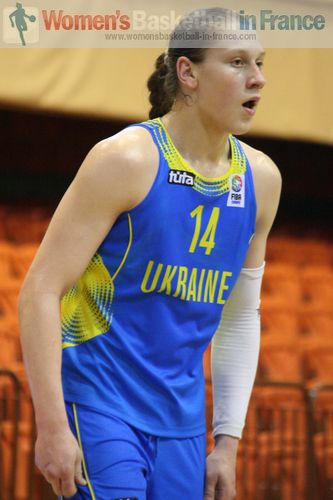 For the first time in this edition of FIBA Europe U20 European championship Spain were put on the back foot with Alina Iagupova and Olesia Malashenko throwing their weight around as they raced off to a (9-2) lead with 6:45 to play in the first quarter.
Spain stepped up defensively but were not having much luck on the offensive end. Despite having more of the ball they trailed (9-11) with a minute to play.
Iagupova (left) picked up her 4th foul with 49 seconds to play. However that did not stop her 20 seconds later when she knocked Tanja Perez flying as she drove to the basket.
Perez was called for the foul and took forever to get to her feet.
Iagupova scored her free throws for Ukraine to lead (13-9) at the end of the first quarter.
Perez did not start the second quarter while Iagupova with four fouls was still on the court.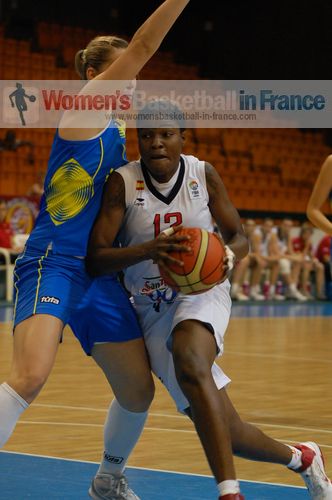 Spain started to play their running game. With Mireia Vila's three-pointer and Queralt Casas scoring on the fast breaks, Spain were right back in the game.
Yet they left themselves exposed to a fast break for Krystyna Matsko to score.
The Ukraine coachings staff decided they needed a time-out with 7:32 to play.
The Ukrainian team continued to play on the fast break while Spain started to miss shots that they had not missed in previous games.
Ukraine took full advantage and increased the lead (19-14) with 6:14 to play. So the Spanish coach decided to need a time-out.
Spain continued to struggle offensively and failed to take advantage of the foul problems while missing free throws.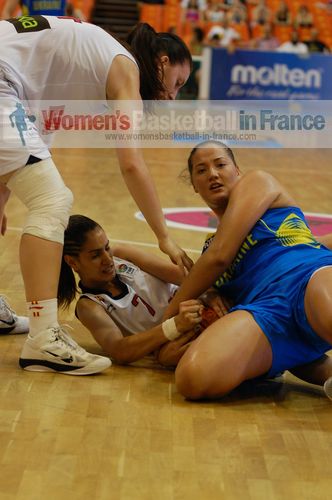 Ukraine remained perfect with 7-of-7 from the free-throw line as they headed into the locker room in front (29-22).
Spain had no choice but to be aggressive from the start of the third quarter. With Vanessa Blé (above in picture) throwing her weight around, her team made a recovery. Yet Ukraine just had a habit to score when need be to stay ahead (41-37) with four minutes to play.
How Iagupova managed to escape her fifth foul was the story at the end of the quarter. Leonor Rodriguez however kept Spain's hopes alive to get in front with a buzzer beater lay-up (43-46).
The Rodriguez show continued at the start of the final quarter with the first 4 points of the quarter for Spain to go ahead (47-46).
With 4:04 to go Iagupova was finally called for an offensive foul on Perez. On the very next play Queralt Casas went coast to coast and the teams were level (57-57).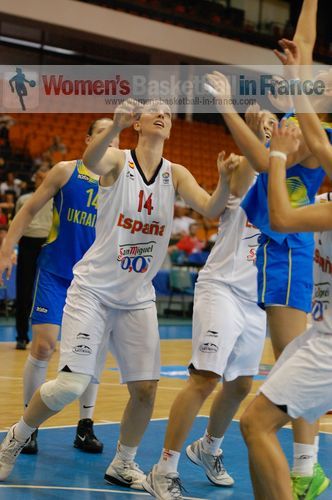 Suddenly Casas was everywhere and with Blé scoring in the fast break Spain were in front.
Spain were back to their best scoring from all over the court, making interceptions as they scored 12 unanswered points to power to victory (67-57).
Spain: Leonor Rodriguez 12 (6 assissts, 5 steals), Queralt Casas 14 (5 assists), Amaya Gastaminza 6, Tanja Perez 0, Miriam Foraste DNP, Laura Arroyo DNP, Mireia Vila 8, Vega Gimeno 0, Arantxa Mallou 0, Vanessa Blé 12 (11 rebounds), Laura Gil 11, Mariona Ortiz 4
Ukraine: Olena Chystyakova 3, Al'Ona Chygrynova 0, Anna Kiriyenko DNP, Anna Vynnyk DNP, Krystyna Matsko 12, Olga Maznichenko 11 (7 rebounds), Zhanna Chukhriy DNP, Nadiia Rykulska DNP, Olesia Malashenko 17 (7 rebounds), Oleksandra Chek 2, Alina Iagupova 10, Lyudmyla Naumenko 2 (3 assists)
Return to the top of the FIBA Europe U20 European Championship news page
---