FIBA Europe U20
European Championship for Women
qualifying round begins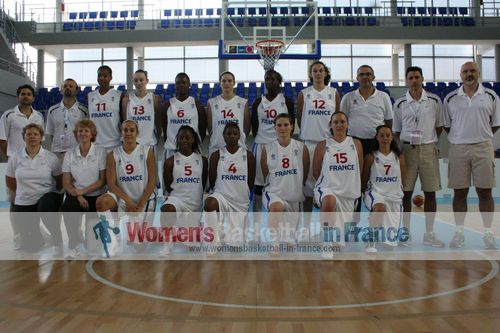 France U20 are going into the FIBA Europe qualifying round with maximum points after a near perfect first phase.
The 1991 generation of players have been champions at U16 level in 2007 by beating Spain in the final. Two years later in 2009 during the U18 championship Spain reversed the result.
The two teams meet on 13 July 2011 in the final game of the qualifying round.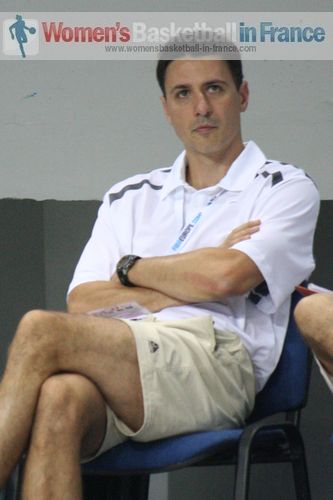 After the third match Grégory Halin stated his satisfaction with the performance of the team during the preliminary round (1st round) and to take the two victories into the next phase of the competition.
He always knew the match against Italy as the first match of the Championship would be difficult because of the way their preparation had gone.
All the same to come away with the win was a perfect start to the FIBA Europe U20 European Championship.
The result boosted the team and gave them all confidence for what was next.
Halin admitted that playing Belarus so early in the afternoon was not ideal but after some difficulty they got the job done.
The last Group match against the Netherlands was tough for 40 minutes. However his players played their best basketball so far and he was more than happy with the application to the different systems employed.
France just need one win from the next three games to qualify for the quarter-final. Yet the competition should be tough.
They face Latvia first, who deprived France from the bronze medal in 2011. The second game is against Great Britain, a team they know well after playing them three times earlier in the season.
The last game is against Spain, who so far have been the most impressive team in Zrenjanin.
Version Francaise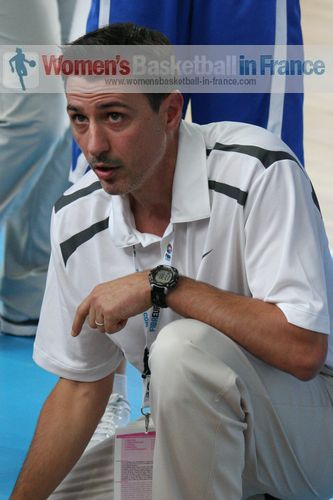 Grégory Halin est satisfait avec l'échéance du premier tour avec son équipe terminant premier avec deux victoires: l'idéale pour les prochaines rencontres.
Il s'attendait à un premier match difficile contre l'Italie surtout après quelques résultats décevants en préparation.
Tout de même, cette première victoire leur à donné l'élan pour bien entamer le championnat d'Europe. La confiance gagnée dans le premier match aidait les Françaises à s'emparer de la victoire contre la Biélorussie - un match qui était durant « l'heure de sieste » comme Alain dirait.
Le dernier match, la France a dû se battre jusqu'à la 40ème minute contre les Hollandaises. Néanmoins, les joueuses produisaient le meilleur basket avec du jeu rapide et un jeu intérieur extérieur.
Bien que la France n'a besoin qu'une dernière victoire pour se qualifier pour le quart de finale, elle a trois matchs intenses à venir. Le premier est contre la Lettonie, qui ont battue la France pour la troisième place l'année dernière.
Cepandant, l'équipe est différente et la Lettonie passe au second tour avec qu'une victoire dans leur conteur. Ensuite la France fera face aux Britanniques: une équipe qu'elle connaisse bien après l'avoir jouée trois fois en préparation.
Le dernier match sera contre l'Espagne - pour l'instant c'est l'équipe la plus impressionnante des deux poules.


Here is the video with one member of the French team, Touty Gandega.
Voici la vidéo avec un membre de l'équipe de France, Touty Gandega.

---
Leave FIBA Europe U20 European Championship 2011 page and go to U20 History
Return to the top of page
---
FIBA Europe European Championship U20 basketball picture credits:


womensbasketball-in-france.com

Date created: 11 July 2011
---