2012 FIBA Europe
U18 European Championship
Promotion for Belarus and England

The FIBA Europe U18 European Championship Women Division B in Strumica final will be between Belarus and England. Belarus are unbeaten and beat England on the opening day of this championship.

England defeated Portugal (78-71) to qualify while ending the title dreams of Hungary (67-63).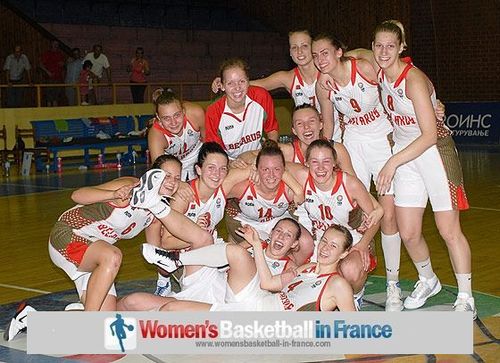 In the second semi-final Belarus were down (58-61) against Hungary with less than two minutes to play. But a 9-0 run enabled them to remain unbeaten and qualify for the final (67-63).
Maryia Papova's 14 points and 13 rebounds won her the player-of-the-match award for Belarus.

In the first semi-final Portugal had a great start and won the first quarter (23-12).
England came back in the second quarter and led briefly (31-30) after a three-pointer by Jay-Ann Bravo-Harriott on the 15-minute mark.

Portugal were able to wrestle back control and went in the locker room leading (37-34).

The second half of the match was more intense. With just under three minutes to play Cheridene Green (18 points and 18 rebounds) from England tied the game (68-68) with a split pair from the free-throw line.
Janice Monakana put England in the lead for good with just under two minutes to play. The English players remained cool from the free-throw line the rest of way.
The winner between Hungary and Portugal in the bronze medal match will win the third promotion place.
---
Denmark handed Germany their third straight defeat (78-71) and will play in the fifth place match. Their opponents will be Bulgaria who beat Lithuania (82-66).

In the classification groups for the 9th-18th place, Austria and Latvia won their respective matches to play off for 9th place.
Austria who are having their best ever U18 Championship beat Norway (75-51) to claim the Group G title.
Israel beat Finland (57-48) to finish second behind Austria and will face Ukraine in the match for 11th place

Latvia with a comfortable win (97-59) against Montenegro and Ukraine with a win against Macedonia (72-62) claim the top two places in Group H.
Switzerland ended their competition with a victory against Scotland.
---
---
Picture credits :
FIBA Europe

Date created: 05 August 2012
Like this page / Aimez cette page