2012 FIBA Europe
U18 European Championship
Division B - Day 1

There were no surprises on the first day of FIBA Europe U18 European Championship for Women Division B in Strumica with the results matching the ranking of the teams in this division.
Unlike in the U16 category there are three distinct categories at the U18 age group in this division: teams with Division A potential, traditional Division B nations and the small nations.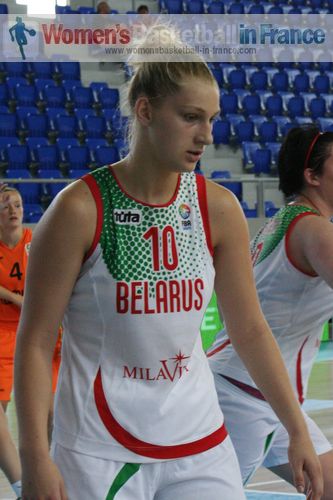 Group C provided the most entertaining games on the opening day with both games going to the wire. Belarus claimed a (68-67) win over Latvia while England edged hosts Macedonia (57-53).
Belarus and Latvia are nations that jump between the two divisions regularly and are both considered promotion candidates.
Their game was exciting with end to end basketball. Yet it was Belarus that went into the final quarter with an 8-point lead after a furious third quarter burst (27-9).
However there was plenty of drama at the end when Latvia had the opportunity to snatch the game on the wire. But Ilze Jakobsone's shot was off target and Belarus survived.
For Belarus Hanna Kalenta led the way with 18 points while her team-mate Maryia Papova (in picture) fnished with 17 points and 88 rebounds. For Latvia Ruta Veidere and Renate Reine had 15 points apiece for Latvia.
England are a traditional Division B team and are expected to give a good showing this year. Although this U18 roster contains a number of players who won promotion at U16 last year, England lost a 22-point half-time advantage (37-15) by the middle of the final quarter.
Macedonia led (50-45) with five minutes to play but were not able to hang on as England bulldozed their way to the free-throw line time and time again to snatch the victory.
In Group A, Portugal led by Laura Ferreira with 14 points had a comfortable victory against Austria (60-45). The Portuguese had a perfect first quarter (17-6) and then controlled the pace of the game the rest of the way.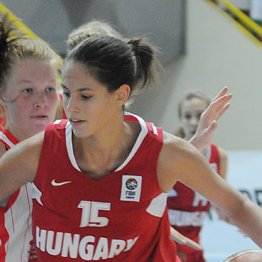 Hungary are one of the teams challenging for Division A status next year and dispatched Israel (68-55 ) with 24 points coming from Amadea Szamosi (in picture).

In Group B, Iva Kostova had 23 points, 8 rebounds and 6 steals for Bulgaria in their victory against Norway (67-41) while Finland had no troubles in seeing off Switzerland (71-42) in the other Group B encounter.
The Finns, led by 13 points from Kaisa Kuisma, opened up a 21-9 advantage by the end of the first quarter and kept the pressure throughout.
In Group D, Germany made light work of Scotland (80-32) after opening up a double-digit lead (17-5) by the end of the first quarter. The contest was over by the interval with Germany (47-19) in front.

Lithuania are hoping for an immediate return to Division A after their relegation last year. They started with a victory against Montenegro (76-60).

Justina Kraujunaite and Greta Tamasauskaite scored 14 points apiece for the Baltic side having to wait until the final quarter to pull away.
---
---
Picture credits:

womensbasketball-in-france.com
FIBA Europe

Date created: 27 July 2012
Like this page / Aimez cette page