2012 FIBA Europe
U18 European Championship
France beat Spain in overtime
Opening day surprises

On the first day of action at the FIBA Europe U18 Championship for Women Division A in Bucharest, three games were decided in overtime and defending champions Belgium were crushed by Serbia.
Based on the established hierarchy of this generation of players the defeats of Belgium, Czech Republic, Poland and Russia were not expected and have therefore got this competition off to an exciting start.
France are in Group A, which looks to be the toughest of the four groups with Poland, Spain and Sweden already living up to its title as the "group of death" as both games played were decided in overtime.
You can move to any of our FIBA Europe U18 championship analysis by clicking on the links below or by scrolling down the page:
Group A: Overtime in two matches
Group B: Turkey get by Russia in overtime

Group C: Good start by the Slovak Republic

Group D: Bad start for Belgium
---
FIBA Europe Group of Death: Overtime needed in both games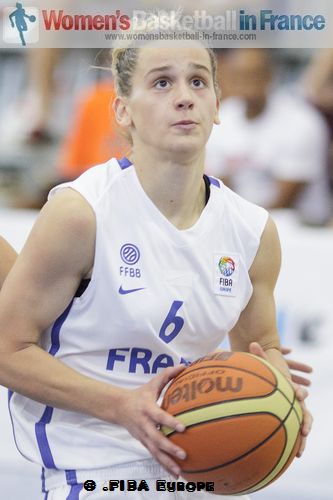 France had to dig deep into their reserves to overcome Spain (68-67) in the last game of the day. The match started late due to the fact that the first two games played in the Mihai Viteasu Sport Hall went to overtime.
Lidija Turcinovic (in picture) was the match winner for France with her spectacular all-round play. Her one hand assist and clutch shooting during the 4th quarter was almost enough for France to escape overtime.
France's poor free-throwing with 6-of-16 turned out to be a minor detail as the match turned into a yet another youth basketball classic between Spain and France.
FIBA Europe match report:
The tone for the match was established within the very first minute with both teams starting aggressively and not yielding any space. Neither side was able to dominate and set up "pick and roll" systems because of the defensive systems applied.
This did not stop the players from attacking the basket with enthusiasm as they pushed hard to score.
Spain's major tactic at the start of the match was to make sure that Olivia Epoupa did not have room to breathe while France rocked and bumped Yaiza Lazaro.
Lazaro allowed her frustration to get the better of herself and three minutes played she was on 2 fouls.
Despite the high energy output the score was just (5-5).
France then decided to concentrate their attack with their two tall players inside the paint under the basket.
Spain countered this threat by switching between player to player marking systems and zone to edge the first quarter (18-15).
It was very hot in the gym and the Spanish coaching staff rotated frequently as the sea-saw battle continued. France scored the first 9 points of the second quarter. But Spain - after taking a time-out replied with a 7-point run to get back the advantage (25-24).

The lead changed several times as both sides traded basket for basket until the end of the quarter. Spain were able to go into the locker room leading (34-31) because of a three-ball by Maria Arrojo (in picture).
It was up and down basketball all through the third quarter with France gaining the upper hand (48-45) going into the fourth quarter.
With the quarter coming to an end Lidija Turcinovic from France was pulling France towards victory (61-55) with three minutes to play.
However missed free throws and the fouling out of Valériane Ayayi and Mousdandy Djaldi-Tabdi allowed Spain back into the game to force overtime (65-65).
Both teams were exhausted during the overtime and just 5 points were scored between the two teams. When Marième Badiane scored it turned out to be the winning basketball with 90 seconds to play.
Spain failed to convert their last two attempts leaving the way open for France to win the game (68-67) .

Spain: Leticia Romero 8, Marina Lizarazu 0, Ariadna Pujol 16, Elena De Alfredo 4, Patricia Soler 1, Irene Gari 3, Marta Montoliu DNP, Maria Arrojo 19, Rocio Trigueros Jimenez 5, Ana Faussurier 1, Marlés Balart 6, Yaiza Lazaro 4
France: Elise Fagnez 2, Marième Badiane 8, Lidija Turcinovic 14, Olivia Epoupa 6, Mamignan Touré 10, Pauline Lithard 0, Fleur Devillers 0, Valériane Ayayi 8, Mousdandy Djaldi-Tabdi 7, Marie Mané 2, Aby Gaye 5, Awa Sissoko 6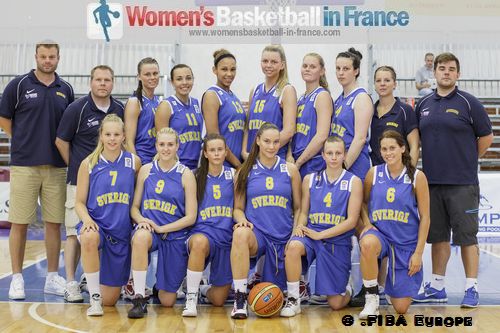 In the other group game played earlier in the day Sweden beat Poland (82-78) in overtime.
Sweden trailed for most of the game. But with Paulina Hersler on fire, scoring 32 points which included the points to force overtime Poland were never safe.

France and Sweden play each other next with the winner of the game qualifying for the next phase of the competition.
Return to FIBA Europe report index at top of page
---
Turkey and Greece in the driving seat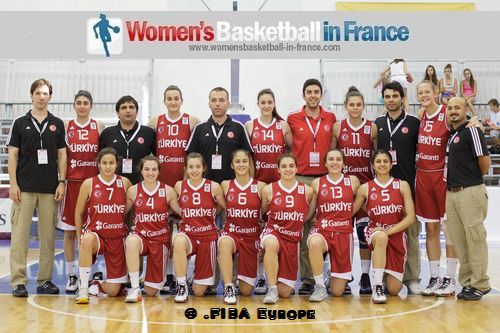 Turkey dominated Russia for the first 28 minutes of the game and should have cruised to victory in regulation time leading (55-35).
However the Russians picked themselves up and outscored their opponents 23-7 in the fourth quarter to force overtime. Olga Novikova's basket on the buzzer was not enough to break the Turkish team as they recovered with Pelin Bilgic scoring 7 of her team's 13 overtime points to win the game (77-74). Bilgic finished the game with 28 points and 5 steals.
In the other group game Romania could not hold on their 7-point advantage from the first quarter and ended up losing to Greece (52-69). For Greece Anna Stamolamprou was the top scorer with 25 points and 6 assists.
Return to FIBA Europe report index at top of page
---
Who are the underdogs in Group C?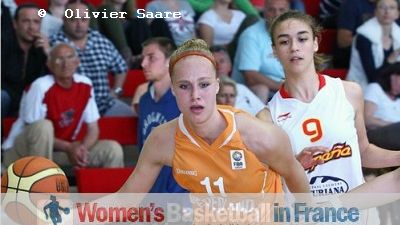 The Netherlands are slowly becoming a force in FIBA youth events and cannot be viewed as an underdog despite not having a very strong national league.
The Netherlands almost threw the game away against Croatia with a poor second quarter by just scoring 5 points. However with Isabella Slim (in picture) providing steady scoring with a game high 18 points and solid rebounding by Emese Hof, Lisanne de Jonge and Kourtney Treffers they were able to hold off Croatia (51-43).
For Croatia Lana Packovsk led the way with 16 points while Ana-Marija Begic and Ivana Tikvic collected 10 rebounds each.
The Slovak Republic surprised their neighbours from the Czech Republic (70-59). A 20-0 run on either side of half time put the winners in a comfortable position to win the match. In addition Zofia Hruscáková with 20 points and 14 rebounds was just too strong for the Czech Republic.
Return to FIBA Europe report index at top of page
---
Belgium blown apart by Serbia
Belgium did not have the start they wanted as they fell to Serbia (36-64). Belgium are the FIBA Europe U18 defending champions and unfortunately they had a first 20 minutes to forget, just scoring 12 points while conceding 43.
The second half was a more balanced affair. But the deficit was too much for Antonia Delaere (12 points) and her team-mates to make up.
For Serbia Dragana Stankovic had a perfect shooting day with 18 points.
Italy were able to get past Slovenia (69-67) in a tricky game. Slovenia's youth teams are known for their three-point shooting skills. So the Italians needed a strong second quarter with a 17-8 to open up a gap that they were able to defend for the rest of the game.

Return to FIBA Europe report index at top of page
---
---
Picture credits:
womensbasketball-in-france.com
Oliver Saare
FIBA Europe

Date created: 27 July 2012
Like this page / Aimez cette page