2012 FIBA Europe
U18 European Championship
Division B - Day 2

The 18-team format for the FIBA Europe U18 European championship in Strumica, Macedonia means that the teams playing in Groups A and C have a rest day between every group game.
Only four games were played on the second day from Groups B and D, the groups of five teams.

Group B can be viewed as a mini-Nordic championships with Denmark, Finland and Norway, all members of the group.
Denmark, playing their first game in the Championship, beat their Nordic rivals Finland (58-54) in a typical Nordic encounter.
The two teams had problems handling the ball, combining for 43 turnovers which stopped the game from flowing. However the match remained close till the last five minutes where the Danes put themselves in a position to win the game.
Simone Ceccard who scored the last 4 points for Denmark was her team's leading scorer with 12 points while Kaisa Kuisma led Finland with 14 points.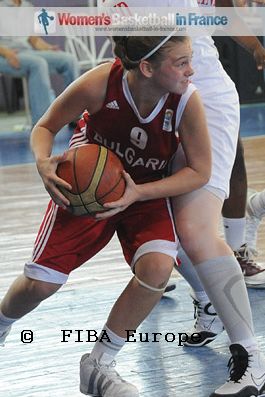 In the other game Bulgaria blew away Switzerland (81-29). Unfortunately Switzerland were completely out of their depth and were lucky that Bulgaria started slowly. Otherwise the winning margin could have been bigger. Bulgaria led (40-23) at the interval and conceded just 6 points in the final 20 minutes.

Kalina Aksentieva and Iva Kostova poured in 15 points apiece for Bulgaria and Borislava Hristova (in picture), who led Bulgaria to promotion in the U16 European Championship earlier this month, had 12 points.
In Group D, Lithuania remain on course for a top 2 finish in the group after getting past Ukraine in overtime (64-59).
Austeja Sirsinaityte from Lithuania had the chance to settle the game in regulation time at the free-throw line but both her attempts failed to drop.
However during overtime her 3-point play (And-1) put Lithuania in the driving seat for good (62-56) with two minutes to play.
Germany were once again efficient offensively in their (71-47) victory against Montenegro. Nobody played more than 24 minutes with all 12 players playing.
Montenegro did give Germany problems during the first 15 minutes to lead briefly (16-15). But once Germany put an 8-0 run together the outcome was never in doubt.

Marie Gülich and Elisabeth Dzirma each poured in 14 points for Germany.

Montenegro are the first team to be officially eliminated from the top 8 because they cannot finish above Lithuania and Germany no matter what happens in the next few games.

---
Picture credits:
FIBA Europe

Date created: 28 July 2012
Like this page / Aimez cette page