2012 FIBA Europe
U18 European Championship
Division B - Qualifying Round
Day 1

The first day of second round games at the FIBA Europe U18 European Championship for Women Division B highlighted the difference in the level of the teams from the group phase.
Bulgaria and Germany who stormed through their respective groups and had not played for two days were beaten for the first time.

Also Lithuania, the hosts of next year's U19 Championship and Denmark cannot qualify for the semi-final round.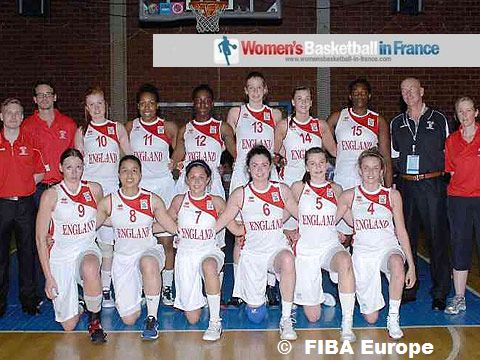 Germany went into the final quarter leading (64-52) but then Shequila Joseph from England caught fire: her first act was to score 8 points in a row to bring England back on the trail of Germany (62-64) with six minutes to play.

Her second act was to score the 2 points that put England in the lead for good with 90 seconds to play. She finished the final quarter with 14 of her team's 27 last-quarter points as they overturned Germany (81-76).
Germany must win their final match against Belarus to stand a chance of qualifying for the semi-final. If England also win their final match then the calculators will be required to determine who qualifies: Belarus, England or Germany. However if Germany are defeated again, England will qualify.
In the other Group F game Belarus whacked Lithuania (77-45) with a final-quarter run of 27-5.
Lithuania are eliminated from the promotion race and will now use the rest of the competition as preparation for the U19 World Championship next year.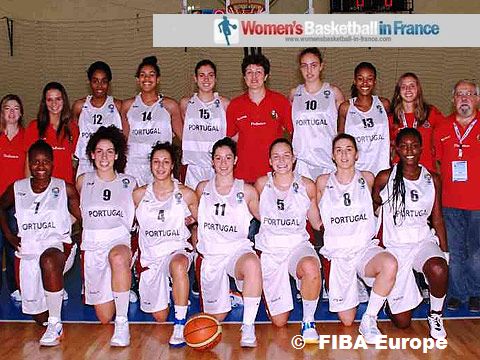 In Group E, the qualification scenario is similar to Group F because Bulgaria suffered their first defeat of the competition against Hungary (54-57).
Portugal (team picture above) beat Denmark (75-62) to remain unbeaten and face Bulgaria in their final match.
Portugal beat Hungary by a single point in the qualification round. This means that if they lose to Belarus and Hungary beat Denmark they could be eliminated from the competition.
In the games for minor places Latvia thrashed Scotland (101-29) while Israel won their first match against Norway (72-55). Austria overcame Switzerland (53-41) while Montenegro beat the hosts Macedonia (61-51).
---
---
Picture credits:
FIBA Europe

Date created: 02 August 2012
Like this page / Aimez cette page