Bourges Basket's EuroLeague Women
adventure continues
After awaiting for 12 years a EuroLeague Women final phase victory, Bourges Basket made it two wins in two days with a victory against Famila Schio (60-56) in the last group game.
Bourges Basket finished second in Group B and will face Russian champions and hosts UMMC Ekaterinburg from Group A in the semi-final.
Fenerbahçe SK completed the sweep of Group B with a hard fought victory against Sparta&K M. R. Vidnoje (73-70). They will meet Good Angels Kosice in the other semi-final.
Unlike the 2012 edition of the ELW Final 8, there are no consolation matches for the teams eliminated from the title chase.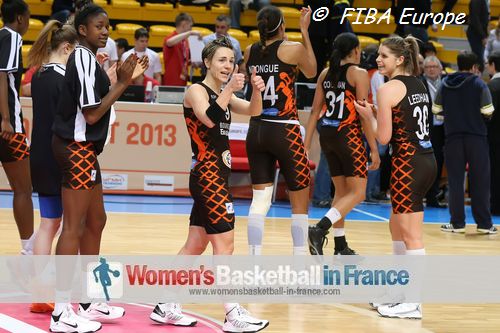 Bourges Basket were led to victory by Marissa Coleman who scored 19 points and Nwal-Endéné Miyem (15 points, 3 steals and 1 block). Great Britain international Jo Leedham also finished in double digits with 10 points and 9 rebounds.
Bourges did not have the best of starts, remaining scoreless for almost six minutes while conceding 6 points.
However an 11-4 run to finish the first quarter enabled Bourges Basket to edge the first quarter (11-10).
The second quarter was rather slow with not much happening on either side until the last 90 seconds when it started to rain three-pointers.  Chiara Consolini connected for Famila Schio while Leedham and Coleman did likewise for Bourges Basket.
Bourges went into the interval leading (30-26).
The third quarter was nicely balanced as neither side could take control of the game. Bourges held on to their advantage going into the final quarter (46-42).
Then the last quarter became more dramatic with the Italians taking the lead briefly with five minutes to play through their captain Giorgia Sottana (52-50).
Bourges were to regain the advantage shortly after and stayed in front the rest of the way.

Danielle Mc Cray (17 points) had the chance to tie the match with 27 seconds to play but was called for an offensive foul.
You can watch the FIBA Europe EuroLeague Women highlights below.

Elsewhere of day 3 - 2013 EuroLeague Women Final 8
Sparta&K M. R. Vidnoje needed to beat Fenerbahçe SK to have a chance of preventing Bourges Basket from qualifying for the semi-final.
They started well leading (21-12) with just under nine minutes played, maintaining the momentum all the way to half time (41-35).
After the break Angel McCoughtry (16 points, 14 rebounds) stepped up for Fenerbahçe for her side to edge in front going into the final quarter (54-53).
The last quarter went back and forth until Cappie Pondexter (26 points) and Anastasiya Verameyenka from Fenerbahçe hit some big shots in the closing minutes.
Fenerbahçe SK went on to win (73-70) and at the same time eliminated Sparta&K M. R. Vidnoje.
In the first game from Group A, UMMC Ekaterinburg crushed
Galatasaray MP (72-44) in a meaningless game because Ekaterinburg were already group winners and Galatasaray had been eliminated on the second day of the Final Eight round robin.
All the same Ann Wauters from Galatasaray took the game seriously and had to leave the game in the final quarter after banging into the advertising boards while chasing a lose ball.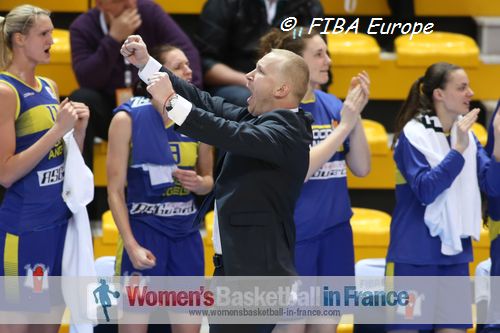 In the final game of the day Good Angels Kosice were too well organised for the tiring players from CCC Polkowice and booked their semi-final place with a comfortable victory (66-54).
Plenette Pierson was the leading scorer for Good Angels with 22 points while her team-mate Natasha Lacy had a solid performance with 11 points, 6 rebounds and 5 steals.

---
Visit our EuroLeague Women 2012-2013 page

Picture credits:
FIBA Europe

Date created: 20 March 2013
Like this page / Aimez cette page