Senior international basketball
Tournoi International d'Ain
France first, Belgium second
France
concluded their first senior international basketball series with a hard fought victory over Greece (79-62).
Marion Laborde was the top scorer for France with 15 points while Céline Dumerc went a perfect 4-of-4 from behind the arc for 12 points.
After the match Pierre Vincent confirmed his
EuroBasket Women 2011 roster
by releasing two more players.
Pauline Krawczyk moves to the reserve list alongside Anaël Lardy and Paoline Salagnac. Ana Cata-Chitiga has also been released and will not be retained on the stand-by list.
Belgium continue to get better and had little problem in overcoming Israel (80-51). Kim Mestdagh's three-point shooting early on set her team on their way. The victory was spoilt a little with the injury to Emmanuella Mayombo.
Greece and Israel will leave France knowing how much they need to improve if they are going to make an impression during EuroBasket.
For France there is not much time to rest as they head off to the Czech Republic in three days for a two-match series.
Senior international basketball player
Marion Laborde is having fun
Greece came out fighting from the tip-off and matched France basket for basket during the first seven minutes and led (13-12).
France regained the advantage briefly after Clémence Beikes picked up an offensive rebound from a missed three-pointer attempt by Edwige Lawson-Wade and scored.
Styliani Kaltsidou brought the teams level for the last time in the game from the free-throw line (15-15).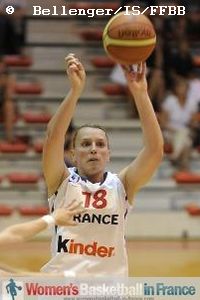 When Lawson-Wade found Marion Laborde (left) open on the baseline, Laborde hit the first trey of the evening to give France the lead for good.
However Pelagia Papamichail from Greece had the last say in the first quarter on the buzzer (17-18).
A trey by Laborde at the start of the second quarter put France back on track as they went on to outscore their opponents 11-3.
Laborde scored again from beyond the arc as France opened up the first significant lead of the game (29-20) with 15 minutes on the game clock.
Kaltsidou and Evanthia Maltsi from Greece somehow fired up their team-mates as they reduced their deficit going into the interval trailing (31-35).
France were quickly into their stride after the break.
By dominating the paint on both sides of the court and winning the battle of the boards they scored 8 unanswered points within the first two minutes (43-31).
Greece's zone defense stopped the French avalanche and then both teams traded basket for basket.
France maintained the upper hand leading (53-39) with 28 minutes played.
Céline Dumerc then turned the game upside down as she kick started a three-point shooting contest. She scored four times in a space of 90 seconds for France, while Kaltsidou and Maltsi both scored once each from beyond the arc.
This enabled France to go into the last quarter with a 20-point advantage (65-45).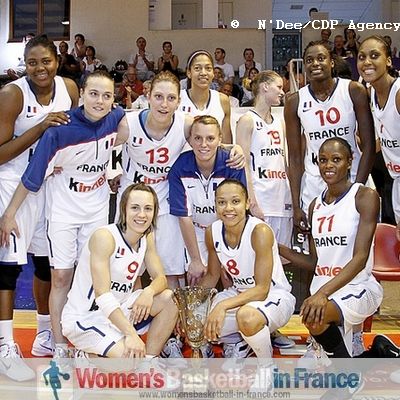 The festival in long distance shooting continued in the final quarter with Lawson-Wade and Laborde hitting the target as France maintained a double digit advantage.
Once again all the French players got on the score sheet as they concluded the senior international basketball festival in Bourg-en-Bresse with another victory.
Although Laborde played just 14 minutes, she hit 6-of-7 from the field for her 15 points.
France (79-62) Greece (18-17, 17-14, 30-14, 14-17)
France: Isabelle Yacoubou-Dehoui 6, Nwal-Endéné Miyem 8, Clémence Beikes 3, Sandrine Gruda 7, Edwige Lawson-Wade 9 (3 assists), Céline Dumerc 12 (3 assists), Jennifer Digbeu 7, Emilie Gomis 2, Aurélie Bonnan 0, Emméline Ndongue 8, Marion Laborde 15, Florence Lepron 2
Greece: Dimitra Kalentzou DNP, Evdokia Stamati 0, Zoi Dimitrakou 0, Olga Chatzinikolaou 2, Styliani Kaltsidou 20, Evanthia Maltsi 22, Pelagia Papamichail 7, Thaleia Kasapoglou 8, Katerina Sotiriou 0, Emmanouela Androulaki 0, Anna Spiridopoulou 1, Artemis Spanou 2
Belgium senior international basketball players
are getting ready for the AQR
With just 1 point scored during the first three minutes it appeared we were in for a slow tactical game.
Shay Doron was the most active player for Israel and scored the first points from open play after four minutes.
The game suddenly changed as Kim Mestdagh fired in a big three off a pass from Emma Meesseman and Belgium were on their way.
Mestdagh was to score again a minute later from the land of many. In a space of three minutes Belgium scored 12 unanswered points to lead (17-3).
Belgium's basketball was almost poetry in motion as they stretched a (21-8) first-quarter lead into a 22-point first half advantage (34-12).
However there was one sour note for Belgium as Emmanuella Mayombo had to leave the game after hurting her knee.
Israel tried to pick up their game during the third quarter but were unable to reduce the score. They still trailed by 22 points going into the final quarter.
Both coaches experimented with different systems during the final quarter, hence little defending. Israel managed just 27 points in the first 30 minutes and yet scored 24 in the final quarter alone.
However Belgium still outscored them with 31 points to end their senior international basketball preparation with an impressive victory.
Belgium's senior international basketball preparation is now over. They will travel to Italy to start their final campaign to try and qualify for EuroBasket 2011 in the Additional Qualification Round (AQR).
Belgium (80-51) Israel (21-8, 13-4, 15-15, 31-24)
Belgium: Romina Ciappina 4, Stéphanie Dubuc 6, Antonia Delaere 9, Miete Celus 6, Sofie Hendrickx 3, Kim Mestdagh 14 (5 assists), Noémie Mayombo 9, Emma Meesseman 20, Jaleesa Maes 4, Lieselot Malfait 2 (13 rebounds), Emmanuella Mayombo 3, Hariet Bende DNP
Israel: Liad Suez Karni 6, Meirav Dori 0, Noa Ganor 4, Liron Cohen 2, Shay Doron 8, Shiran Zairy 2, Laine Selwyn 11, Nomi Kolodny 0, Bar Galinski 0, Ekaterina Abramzon 7, Katia Levitsky 0, Jennifer Fleischer 9
---
Return to senior international basketball: Tournoi International d'Ain 2011
Return to the top of page
---
Senior international basketball picture credits:
womensbasketball-in-france.com
Bellenger/IS/FFBB
N'Dee/CDP Agency

Date created: 29 May 2011
---