Senior international basketball
Tournoi International d'Ain
Day 2
All Belgium's problems in putting together a senior international basketball team for this season can be briefly forgotten by Emma Meesseman's performance in the victory against Greece (84-80).
Four weeks ago Arvid Diels was not even sure who would be playing because of injuries, exams and players asking to be released.
However after this victory, Diels was very happy because his players were quickly into their stride and played for the full 40 minutes. Although Belgium still have a game to play in this competition, Diels is thinking about playing Germany next in the ADQ for EuroBasket and regrets missing to watch the friendly senior international basketball match between Germany and the Netherlands this weekend.
In the second game of the evening France dominated Israel from the tip-off to lead (20-6) by the end of the first quarter. With Sandrine Gruda and Emméline Ndongue (above in picture) scoring 12 points each France cruised to victory (76-40).
France, too strong for Israel
Pierre Vincent made one change to the team that beat Belgium on day one of the senior international basketball tournament in Ain by replacing Marion Laborde by Pauline Krawczyk.
France had a poor shooting day and actually missed a lot of simple shots but Israel were even worse.
All the same France dominated the first quarter and led (20-6). Vincent continued to turn his bench and experimented with different rotations.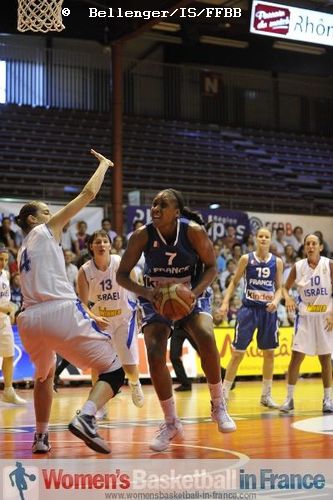 Céline Dumerc and Edwige Lawson-Wade played at times together as France maintained their advantage (30-15) while Israel switched to zone.
Apart from the shooting France dominated all the sectors of the game and went into the locker room leading (36-18).
After the interval France played much better and put the game out of reach of their opponents by the end of the third quarter (61-36).
Israel applied a full court press during the final quarter. But with Florence Lepron leading the way France stretched their advantage to win comfortably (70-46).
All 12 players got on the score sheet with just Sandrine Gruda (right) and Emméline Ndongue in double digits with 12 points each. Gruda also had 10 rebounds.
France (76-40) Israel (20-6, 16-12, 25-18, 15-4)
France: Isabelle Yacoubou-Dehoui 4, Nwal-Endéné Miyem 6, Clémence Beikes 2, Sandrine Gruda 12 (10 rebounds), Edwige Lawson-Wade 9 (3 assists), Céline Dumerc 4 (4 assists), Jennifer Digbeu 5, Emilie Gomis 8, Pauline Krawczyk 2, Aurélie Bonnan 3, Emméline Ndongue 12, Florence Lepron 7
Israel: Liad Suez Karni 2, Meirav Dori 5, Noa Ganor 2, Liron Cohen 2, Shay Doron 12, Shiran Zairy 2, Laine Selwyn 3, Nomi Kolodny 0, Bar Galinski 1, Ekaterina Abramzon 3, Katia Levitsky 2, Jennifer Fleischer 6
Belgium's youth are growing up quickly and enjoying senior international basketball
During the first 20 minutes Belgium went 5-of-7 from beyond the arc and a perfect 7-of-7 from the charity stripes to lead (38-32).
Emma Meesseman (left) also had a productive first half with 14 points and 8 rebounds.
Belgium remained aggressive after the break and despite foul problems for Lieselot Malfait remained in front (60-52).
Evanthia Maltsi went on the attack at the start of the final quarter and Greece scored the first 12 points to go in front (64-62).
The game became more intense but Greece were unable to pull away because Romina Ciappina was also having a near perfect shooting day (including 4-of-4 from beyond the arc).
Belgium did not panic despite the demolition act of Maltsi. When Emmanuelle Mayombo's trey hit the target Belgium held all the aces.
Maltsi hit 3 free throws (80-82) but her team-mate Anna Spiridopoulou missed a three-pointer in the dying seconds.
Sofie Hendrickx collected the rebound and got the ball to Emmanuelle Mayombo who was then fouled. She calmly hit the free throws and Belgium was home and dry.
Belgium went 10-of-13 from beyond the arc while Meesseman finished the game with 26 points.
For Greece Maltsi top scored with 29 points.
Greece (80-84) Belgium (18-19, 14-19, 20-22, 28-24)
Greece: Evdokia Stamati 0, Zoi Dimitrakou 8, Olga Chatzinikolaou 11, Styliani Kaltsidou 14, Evanthia Maltsi 29, Pelagia Papamichail 3, Thaleia Kasapoglou 2, Katerina Sotiriou 2, Emmanouela Androulaki 0, Anna Spiridopoulou 3, Artemis Spanou 8
Belgium: Romina Ciappina 20, Stéphanie Dubuc 0, Antonia Delaere 0, Miete Celus 10, Sofie Hendrickx 7, Kim Mestdagh 11, Noémie Mayombo 8, Emma Meesseman 26 (11 rebounds), Jaleesa Maes 2, Lieselot Malfait 0, Emmanuella Mayombo 5, Hariet Bende DNP
---
Return to senior international basketball: Tournoi International d'Ain 2011
Return to the top of page
---
Senior international basketball picture credits:
N'Dee/CDP Agency
Bellenger/IS/FFBB

Date created: 29 May 2011
---