Senior international basketball
Tournoi International de Picardie
Day 2
The second day of senior international basketball for women in Beauvais was less dramatic than the opening day. France maintained their unbeaten record by overcoming Russia while Canada confirmed their current form in getting past Belarus.
Canada bounced back from their overtime defeat against France by overcoming Belarus (61-55) in a tight game.
Kim Smith led the way for the winners with 16 points. The only other player to reach double digits with 10 points was Shona Thorburn.
In the second game, the hosts France won in a low scoring game against Russia (55-47).
Both teams defended hard which made scoring very difficult. All the same France went into the locker room leading (29-28).
The pace picked up after the break and both teams started to make their shots.
France did most the work inside the paint while Russia relied on their long distance shooting. However France still held onto the lead (41-38).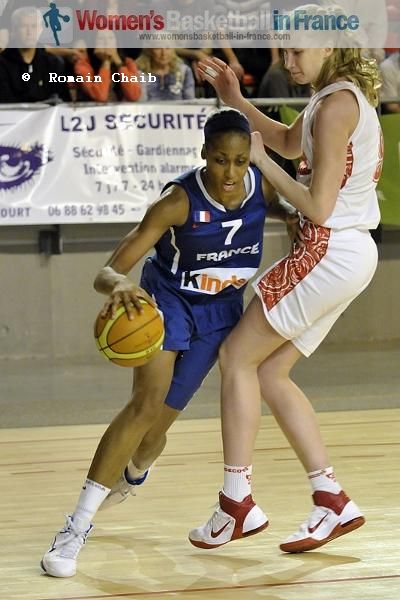 In the final quarter Sandrine Gruda (left) scored the first 3 points for the hosts. Russia were unable to score for almost eight minutes whereas France took full advantage to open a double-digit lead (52-38).
Russia had a little over four minutes to save the game but Pierre Vincent kept his players focused on finishing the game in regulation time.
Gruda and Emilie Gomis were the only players from France in double digits with 12 and 11 points each while for Russia it was Olga Arteshina with 12 points.
No matter what happens on the final day, France are the 2011 winners of the Tournoi International de Picardie.
---
Return to senior international basketball: Tournoi International de Picardie 2011
Return to the top of page
---
Senior international basketball picture credits:


Romain Chaib

Date created: 12 June 2011
---