Senior international basketball
Tournoi International de Picardie
When it comes to drama in women's senior international basketball then Belarus would win the prize. Over the last few years they have been known for their heroics in crunch time.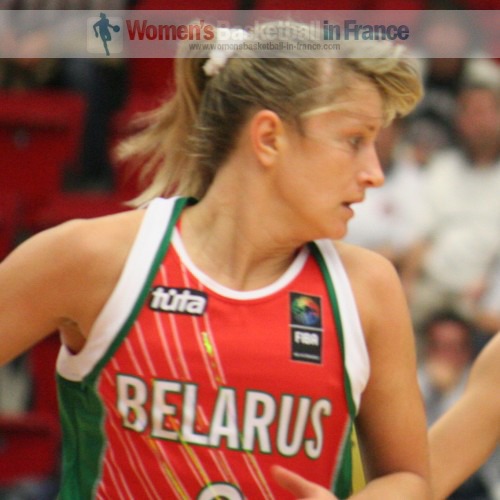 Russia dominated Belarus from the tip-off and had a maximum lead of 20 points during the second quarter. However going into the fourth quarter the advantage had been reduced to 14 points.
Belarus went on a late charge in the final quarter and with 45 seconds left to play they trailed by just 5 points.
But Russia held on to win (76-72).
Russia had four players in double digits: Svetlana Abrosimova and Marina Kuzina had 11 points each while Olga Arteshina and Evgeny Belyakov scored 10 points.
For Belarus Natallia Anufryienka was the leading scorer with 18 points while Anastasiya Verameyenka and Tatyana Troina contributed 13 and 12 points each.
France needed extra time to maintain 100% record
It was hard to believe that France required an extra five minutes to beat Canada (72-67) after their lightning start.
France led (10-2) with just two minutes played. However any chance of an easy victory vanished once Kim Smith from Canada started to hit her shots.
Canada fought tooth and nail in all sectors of the game and drew level (21-21) by the end of the first quarter.
France went back to the art of defending at the start of the second quarter and conceded just 3 points in five minutes. However they only scored 7 themselves.
Canada once again went on the charge and led briefly (30-29) after a trey by Shona Thorburn with three minutes left to play in the first half.
France were able to go into the locker room leading (37-32) after hitting 4-of-6 from the free-throw line.
The second half of the game was much more physical and the Canadians picked up the intensity.
Yet Clémence Beikes was in her element for France and kept them in front. France were still in difficulty but managed to open up a gap (53-45) going into the fourth quarter.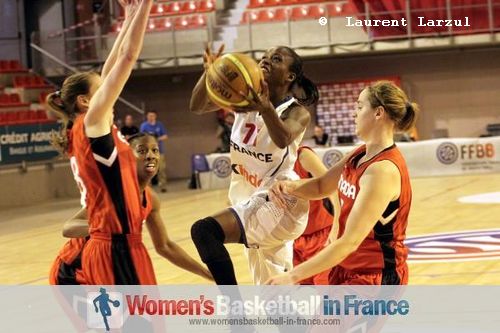 France could not hit a single shot in five minutes while their guests, led by Aubrey Chelsea, were on fire and regained the advantage (54-53).
The last five minutes of regulation time were hectic: France failed in putting away Canada and were forced into overtime.
Overtime became the "Miss Go" show as Emilie Gomis (above) scored 7 points for France to lead them to another senior international basketball victory.
France: Isabelle Yacoubou-Dehoui 4, Nwal-Endéné Miyem 0, Clémence Beikes 6, Sandrine Gruda 16, Edwige Lawson-Wade 7 (3 assists), Céline Dumerc 9, Jennifer Digbeu 3, Emilie Gomis 16, Aurélie Bonnan 2, Emméline Ndongue 9, Marion Laborde DNP, Florence Lepron 0 (4 assists)
Canada: Chelsea Aubry 7, Janelle Bekkering 0, Leanne Evans 0, Kalisha Keane 4, Lizanne Murphy 0, Krista Phillips 11, Courtnay Pilypaitis 4, Michelle Plouffe 0, Kim Smith 21, Alisha Tatham 1, Tamara Tatham 3, Shona Thorburn 10
---
Return to senior international basketball: Tournoi International de Picardie 2011
Return to the top of page
---
Senior international basketball picture credits:
womensbasketball-in-france.com
Laurent Larzul

Date created: 11 June 2011
---