Senior international basketball
Tournoi International d'Ain
Day 1
Pierre Vincent could not have asked for a better start to the senior international basketball season for France as they cruised to victory against Belgium (84-59).
Nwal-Endéné Miyem and Sandrine Gruda were the top scorers for France with 15 and 14 points each. Clémence Beikes was the only player to have more than 20 minutes of play-time while Florence Lepron was the only player from France not to score.
For Belgium it was a dramatic opening because Lieselot Malfait arrived just in time for the tip-off. While the final scoreline did not favour the guests, Emma Meesseman confirmed her status as a player to watch for the future with a strong display to lead her team with 16 points.
In the opening game Greece ran out winners over Israel (69-60) with Bourges Basket player Styliani Kaltsidou stealing the show with 19 points and 4 steals.
Successful senior international basketball return
for Edwige Lawson-Wade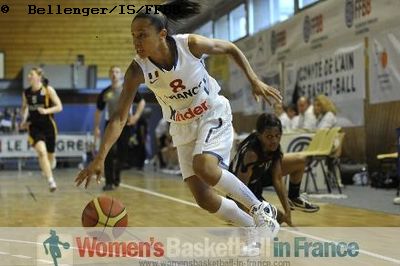 Edwige Lawson-Wade (in picture) scored 9 points and dished out 3 assists in her first game for France in almost four years. However it was Clémence Beikes with 8 points during the first six minutes that got France on their way (13-9).
Belgium did their best to stay in the game. But they did not have the physical presence to cope with players such as Isabelle Yacoubou-Dehoui, Nwal-Endéné Miyem and Sandrine Gruda (below in picture with ball). By half time they trailed (27-49).
The second half was much better for Belgium, especially the third quarter in which Emma Meesseman (left in picture on the right), helped by Stéphanie Dubuc, converted any French error into points.
Yet France were never in danger of losing the match and Pierre Vincent continued to turn his bench regularly as he tried out new systems.
For Arvid Diels, the Belgium coach, there were plenty of positives, they just missed out on scoring 60 points which is the objective for each match. The cuts into the paint from Noémie Mayombo and Antonia Delaere as well as the inside-outside variation of Meesseman were satisfying.
However he would like his players to try and draw more fouls.
France visibly stepped off the gas towards the end but still won by a comfortable margin.
France (84-59) Belgium (25-16, 24-11, 14-17, 21-15)
France: Isabelle Yacoubou-Dehoui 9, Nwal-Endéné Miyem 15, Clémence Beikes 8, Sandrine Gruda 14, Edwige Lawson-Wade 9 (3 assists), Céline Dumerc 4, Jennifer Digbeu 4, Emilie Gomis 8, Aurélie Bonnan 7, Emméline Ndongue 1, Marion Laborde 5, Florence Lepron 0
Belgium: Romina Ciappina 9, Stéphanie Dubuc 3, Antonia Delaere 7, Miete Celus 5, Sofie Hendrickx 7, Kim Mestdagh 3, Noémie Mayombo 8, Emma Meesseman 16, Jaleesa Maes, Lieselot Malfait 0, Emmanuella Mayombo 4, Hariet Bende DNP
Greece beat Israel to open the competition
Sometimes the statistics can tell you the story of the match. Israel took 8 shoots more than their opponents but went 1-of-12 from behind the arc while Greece managed 4-of-14.
Greece ended up winning the match by 9 points (69-60), the 3 extra three-pointers.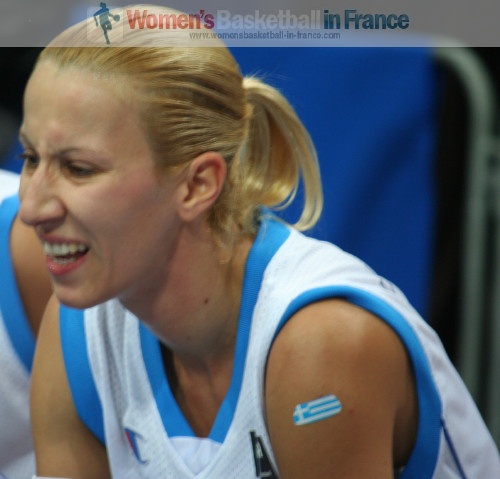 The first 20 minutes were not classic senior international basketball with a high number of unnecessary turnovers. However the match was nicely balanced (31-31) at the break.
Greece took control of the game for good early in the third quarter with a 7-0 run with 5 points coming from Evanthia Maltsi.
Styliani Kaltsidou (left) maintained her perfect free-throwing sequence (8-of-8) in the closing minutes to deny Shay Doron and Israel a way back into the game.
Greece (69-60) Israel (19-16, 11-15, 22-14, 16-15)
Greece:Dimitra Kalentzou 3, Evdokia Stamati 0, Zoi Dimitrakou 5, Olga Chatzinikolaou 4, Styliani Kaltsidou 19, Evanthia Maltsi 14, Pelagia Papamichail 10, Thaleia Kasapoglou 0, Katerina Sotiriou 2, Emmanouela Androulaki 0, Anna Spiridopoulou 12, Artemis Spanou 0
Israel: Liad Suez Karni 12, Meirav Dori 2, Noa Ganor 6, Liron Cohen 3, Shay Doron 18, Shiran Zairy 0, Laine Selwyn 9, Nomi Kolodny 0, Bar Galinski DNP, Ekaterina Abramzon 2, Katia Levitsky 8, Jennifer Fleischer 0
---
Return to senior international basketball: Tournoi International d'Ain 2011
Return to the top of page
---
senior international basketball picture credits:
womensbasketball-in-france.com
Bellenger/IS/FFBB

Date created: 28 May 2011
---