Senior international basketball
Tournoi International de Picardie
Day 3
Pierre Vincent's senior international basketball preparation for Eurobasket Women 2011 has come to an end in Beauvais with victory number 8.
France - already assured as the tournament winners - beat Belarus (73-61) with 15 points coming from Sandrine Gruda.
Jennifer Digbeu and Clémence Beikes were not in uniform for this match while Marion Laborde did not play.
Pierre Vincent experimented with a slightly different starting five with Céline Dumerc, Emilie Gomis, Aurélie Bonnan (in picture below on the left), Emméline Ndongue and Gruda.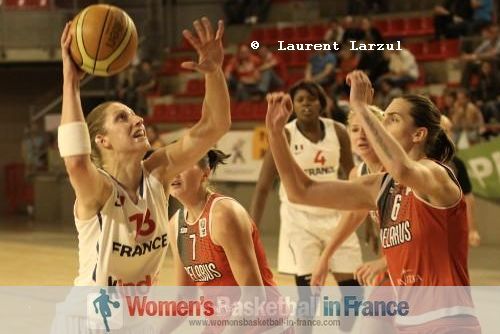 France got off to the best start and led (11-6) early to stay in front till the end of the first quarter (17-14).
Vincent continued to try out different player combinations. However at the same time Belarus' three-point shooters Natailya Marchenko and Ekaterina Snytina started to hit the target.
The result was the game remained close with the lead changing hands on several occasions.
However France went into the final quarter leading (50-47). After a three-minute burst of energy by Isabelle Yacoubou-Déhoui, the advantage had grown (61-49) and the contest was over.
Belarus went 8-of-16 from beyond the arc but they were powerless in stopping France inside the paint. Anastasiya Verameyenka was the leading scorer for Belarus with 15 points.
Russia took their frustration in having lost to France to hit Canada (22-9) in the opening quarter.
Canada fought back in the three remaining quarters with long distance shooting as well as with Kim Smith on fire. Yet Russia needed something special from Maria Stepanova to hang on to victory (71-66). Stepanova was the top scorer for her side with 13 points.
With this victory Russia claimed second place while Canada finished third.
---
Return to senior international basketball: Tournoi International de Picardie 2011
Return to the top of page
---
Senior international basketball picture credits:


Laurent Larzul

Date created: 13 June 2011