EuroBasket Women 2011
French roster
Pierre Vincent released the names of the 12 players for Eurobasket Women 2011 before
the final game during the Tournoi International d'Ain
.
It was announced that 2009 EuroBasket gold medal winner
Pauline Krawczyk
would join
Anaël Lardy and Paoline Salagnac on the reserve list
.
However the group France adventure for this summer is definitely over for Ana Cata-Chitiga.
Vincent explained that with the short time remaining to prepare for the European Championship that it was necessary to quickly get the players into competition mode so that each player could find their place within the team before group dynamics would take over.
He is happy with the way things are going so far and believes they are heading in the right direction. Yet he is aware they still have a lot of work to do in order to get things right.
The 12 players selected to represent France at EuroBasket Women 2011 in Poland are: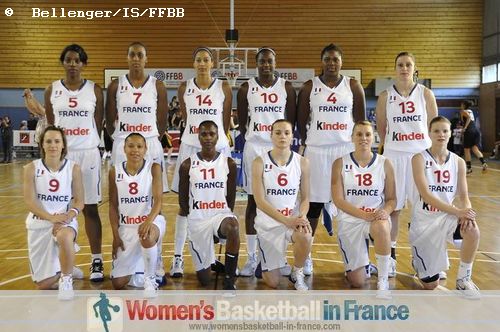 Clémence Beikes (Union Hainaut Basket) - 80 selections
Aurélie Bonnan (USO Mondeville) - 10 selections
Jennifer Digbeu (Bourges Basket) - 43 selections
Céline Dumerc (UMMC Ekaterinburg) - 146 selections
Emilie Gomis (Villeneuve d'Ascq) - 127 selections
Sandrine Gruda (UMMC Ekaterinburg) - 58 selections
Marion Laborde (Basket Landes) - 22 selections
Edwige Lawson-Wade (Ros Casares) - 156 selections
Florence Lepron (Tarbes) - 62 selections
Nwal-Endéné Miyem (Bourges Basket) - 53 selections
Emméline Ndongue (Bourges Basket) - 149 selections
Isabelle Yacoubou-Dehoui (Famila Basket Schio) - 56 selections

Dumerc, Gomis, Gruda, Lepron, Miyem, Ndongue and Yacoubou-Dehoui are the surviving members from the 2009 European champions. Lawson-Wade is also a former European champion. She was part of the French EuroBasket 2001 winning team.
Aurélie Bonnan is the only player making her début in a senior international competition from the current roster.
You can watch and listen to the comments from Dumerc, Ndongue, Vincent about their last game while Jean Pierre Siutat speaks about the objectives for the team.
---
Return from EuroBasket Women roster information to French Senior International Basketball news page
Go to Women Playing Basketball In France Home Page
Return to the top of page
---
Picture credits:


Bellenger/IS/FF
Date created: 30 May 2011
---