womensbasketball-in-france's
LF2 player of the month award
3 players share January

For the January LF2 player of the month award wbbif requested the help of basketball media experts from the different regions of France with clubs in LF2.
Trouvez les informations en français sur les meilleures joueuses en LF2 pour Janvier en cliquant ici.

We took this approach in selecting the LF2 player of the month because of their exposure of playing LFB teams in the Coupe de France.

With just two rounds of games in the second division and a number of teams playing just once many of our experts did not use game statistics to make their choice.
As a result of this process womensbasketball-in-france had to honour three players.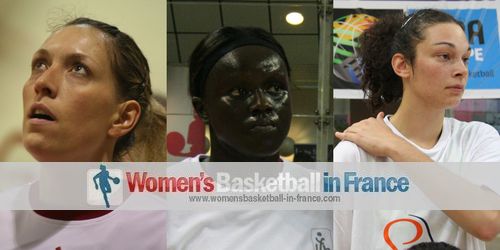 The winners are: Céline Schmitt (Illkirch-Graffenstaden), Jeanne Senghor-Sy (Cavigal Nice) and Manon Morel (US Laveyron).
In the last three seasons (2009-2012) Schmitt scored over 1000 points and picked up over 500 rebounds. She is one of the most experienced players in the division. This season she is almost averaging a double with 16.8 points and 9.8 rebounds per game.
Senghor-Sy is the backbone of Cavigal Nice. The former Senegalise international is a rock in the paint. On the offensive end she has made 62% of her shots in the paint. In defense she is averaging 3.4 blocks per game. This season she is averaging 13.6 points and 8.8 rebounds per game.

Morel is enjoying her new role in the team and has led the scoring of her team in several games recently. Morel who is 20 years old missed most of the 2011-12 season after suffering a knee injury (ACL). Her cup performance against Lattes Montpellier was enough to give her a share of the award.

3 au lieu de 1 joueuse reçoit:
meilleure joueuse en LF2 pour Janvier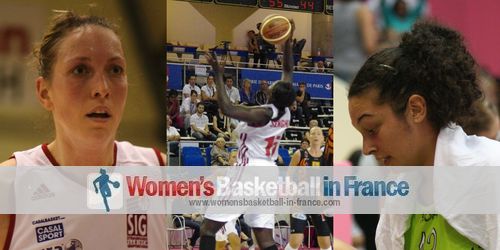 wbbif, en accord avec le jury, a décidé de désigner trois joueuses en prenant en compte les peu de matchs joués en Janvier et en comparant les efforts des élues pendant la saison en cours ou même des saisons passées.
Céline Schmitt (en haut à gauche) a déjà dépassée ses moyennes en points et rebonds cette saison par rapport aux trois dernières avec
16.8 points and 9.8 rebonds de moyenne pour 2012-13.
Jeanne Senghor-Sy (en haut au milieu) est la plus forte en défense (3,4 contres de moyenne) et contribue aussi beaucoup de points, 13,5 points, sous le panier avec 62 % de réussite.
Manon Morel (en haut à droite) a enfin eu la chance de montrer ses talents après une saison 2011-12 dans l'infirmerie avec une déchirure des ligaments croisés. A 20 ans elle célèbre son retour, surtout dans la Coupe de France contre Montpellier ou elle est la meilleure marquese pour US Laveyron avec 14 points et 50 % de réussite.

---
Like this page / Aimez cette page