LFB round 18 - Teams in the bottom half of the table strike back

It was a good weekend for clubs at the bottom end of the LFB regular season standings with victories for Aix-en-Provence, Charleville-Mézières and Villeneuve d'Ascq. However for Hainaut Basket the nightmare continues after blowing a 16-point lead.
Hainaut Basket had Tarbes on the run for the first 20 minutes leading (45-29) and a chance of defeating them for the second time this season.
However during the break the coach from Tarbes Cyril Siscic gave his players a good telling off before drawing up new tactics for the rest of the match.
Siscic's players hit their guests with a 16-0 run to get themselves back in the match. Hainaut Basket scored just 5 points during the third quarter, which was just enough to hold onto their advantage going into the final quarter (50-49).
The last quarter was scrappy and Tarbes went in front for good with 7 1/2 minutes to play through Angelica Robinson. 
Tarbes won the game (64-60)  with 22 points and 14 rebounds by Robinson. Joyce Cousseins-Smith and Kristen McCarthy scored 13 and 10 points each.
For Hainaut Basket Amanda Jackson was back and scored 14 points while Ify Ibekwe compiled another double-double, 15 points and 14 rebounds.
Hainaut Basket are bottom of the LFB standings with three games behind the teams just above the relegation zone.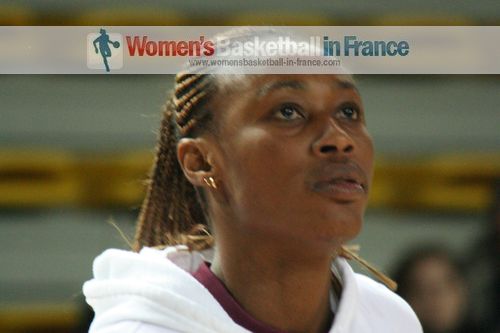 The best LFB match of the day between Arras and Lattes-Montpellier brought together two of the most explosive players in the LFB: Pauline Akonga-N'Simbo (in picture above) from Arras and Géraldine Robert from Lattes-Montpellier. Both players picked up a technical foul during the game.

Akonga-N'Simbo scored 18 points while Robert (14 rebounds) was the leading scorer in the game with 21 points.
In a crazy match that had 18 lead changes and 3 technical fouls Arras came out on top (75-71).
With four minutes to play Fatimatou Sacko did not help her team tied (61-61) by fouling out and then talking her way into a technical foul (her sixth) which gifted Arras 2 points from the free-throw line.

Arras actually won the game from the free-throw line in which they knocked down 20-from-24 attempts compared to Montpellier's 14-from 21.
Dawn Evans who was the top scorer from Arras with 20 points went 14 of 16 from the free-throw line.

Nantes-Rezé's team was almost wiped out with illness: Viktoria Mircheva and Zoé Chalumeau had to stay home in bed while Marielle Amant and Claire Stievenard (in picture) had the flu. All the same Amant managed to play for a few minutes in the defeat against Perpignan Basket (75-84).
An 18-0 run during the second quarter was all Perpignan needed to take control of the game going into the break leading (47-37). Angie Bjorklund who finished the game with 21 points led all scorers at half time with 19 points.
Elodie Bertal had her best offensive game of the season with 19 points for the winners. Antonia Bennett on her LFB début for Nantes-Rezé scored 20 points.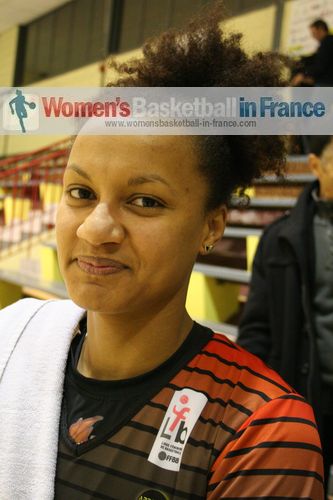 Romuald Yernaux got the first part of his LFB survival strategy correct with Charleville-Mézières thumping USO Mondeville (69-58). 
During the first 20 minutes Amel Bouderra (16 points and 7 assists) and Yacine Séné (10 points - in picture) just missed one shot between them as Charleville raced off to a (44-28) lead.
It was not a good game for USO Mondeville who were already one player down, Amanda Lassiter. Their top scorer Noel Quinn (16 points) was hurt with five minutes to play, and their captain Ingrid Tanqueray also limped off just before the end of the match. K. B. Sharp was the only other player in double digits.

For Charleville Djéné Diawara and Sheana Mosch also finished in double-digit scores with 18 and 15 points respectively.

For the first time this season Villeneuve d'Ascq had five players in double-digit scores. In addition they played well defensively, keeping Lyon away from the paint and forcing them to shoot from far.
Lyon hit just 1-of-15 from the three-point line while Villeneuve d'Ascq went 5-of-13 and won the match (74-61).
Aix-en-Provence again in full strength with Shona Thorburn back in the line-up won against Basket Landes (70-59) with Adja Konteh and Marianna Tolo scoring 17 and 16 points respectively.

Charleville-Mézières 69-58 USO Mondeville
Nantes-Rezé 75-84 Perpignan Basket
Tarbes 64-60 Hainaut Basket
Villeneuve d'Ascq 74-61 Lyon BF
Aix-en-Provence 70-59 Basket Landes
Arras 75-71 Lattes Montpellier
Toulouse Metropole 48-77 Bourges Basket

---
Visit our 2012-2013 Ligue Féminine de Basketball section

Visit our home page
Visit our "What's New" page
Picture credits:
womensbasketball-in-france.com

Date created: 03 February 2013
Like this page / Aimez cette page