Montpellier lead the LFB
Hosts win in round 5

The home teams dominated the fifth round of LFB action with a perfect evening in which all seven hosts won. Lattes Montpellier are now alone on the top of the regular season standing as the only team with a perfect record.
At the other end of the table Hainaut Basket got their first win of the season.

Laurent Buffard, the coach from Lyon BF, had been so angry after his team's defeat last week against Nantes-Rezé that he blasted his players in the after-game press conference.
Romy Bär got criticised the most because she had been classified as exhausted due to her playing time with Germany during the EuroBasket Women qualifiers. This week she is the wbbif player of the week.

Buffard decided to shake things up for their match against Villeneuve by bringing Sarah Chevaugeon into the starting line-up. In addition Audrey Sauret was also in the starting five for the first time this season.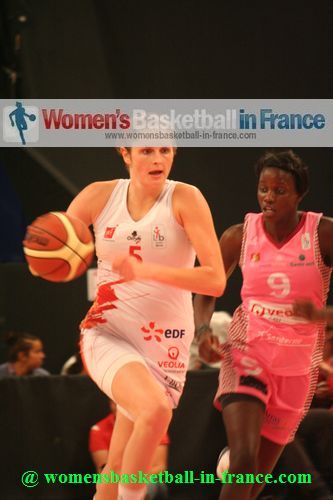 With the return of Mistie Mims for her first game of the season, Romy Bär (in picture) was back to her offensive best and led Lyon BF to victory against Villeneuve d'Ascq (89-75).
Bär scored 26 points, picked up 4 steals and dished out a couple of assists. She was 4-of-6 from behind the arc and a perfect 6-of-6 from the free-throw line.
Mistie Mims marked her comeback to France by scoring on average 1 point per minute she was on the court to contribute 25 points.
Emilija Podrug was the other player in double digits with 12 points while also dishing out 7 assists like Audrey Sauret.
However Lyon made hard work of the victory because their opponents Lenae Williams (20 points), Bintou Dieme (13 points and 4 assists), Amélie Pochet (11 points) and Alice Nayo (10) picked themselves up after a poor first quarter.
Fred Dusart, the coach of Villeneuve d'Ascq, needs to find a solution to help Olayinka Sanni from getting herself into foul problem. She had 3 in the first 20 minutes and 15 seconds into the third quarter she picked up her 4th. His team finds it difficult to win games without Sanni's point contribution.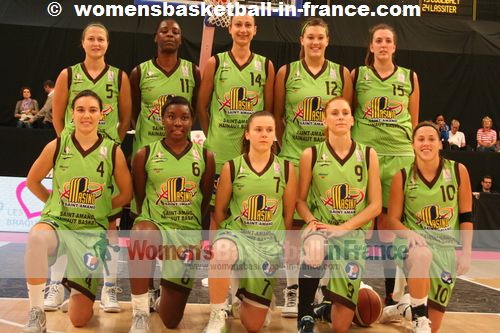 Hainaut Basket finally recorded their first LFB victory of the season in a see-saw battle against Tarbes (52-50).
The game went down to the wire when Paoline Salagnac from Tarbes failed practically on the buzzer in her three-point attempt.
It was a scrappy game in which Laura Garcia (19 points) was the game hero for the hosts while Marie-Frédérique Ayissi's offensive rebounding was crucial.

Cyril Sicsic's should not be happy with himself because the technical foul he picked up, gifted the hosts 2 points from the charity stripes which turned out to be the difference in the final score.
However if Angela Robinson from Tarbes had converted her shots under the basket then the outcome might have been different.

What else happened in the LFB in round 5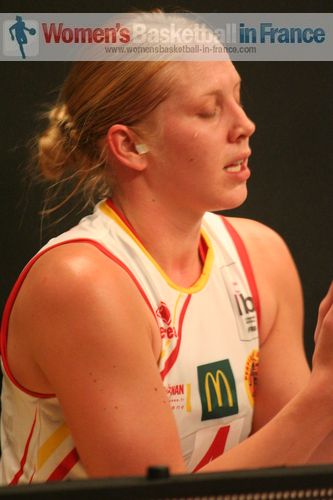 Australian players continue to make the headline news this season. This weekend it was the turn of Abby Bishop (in picture) from Perpignan Basket who went 7-of-9 from the field in her game high 21 points in the victory against Nantes-Rezé (93-67).
Perpignan were on fire finishing the day with a 62% success rate from the floor. They also went 12-of-24 from behind the arc.
Angie Bjorklund followed up with 18 points while Pauline Lo and Isabelle Strunc had 11 points each. Iva Ciglar and Fatou Dieng dished out 5 assists each.
For Nantes-Rezé Viktoria Mircheva and Gunta Basko-Melnbarde had 15 and 12 points each in their team's first defeat of the season.
Lattes Montpellier started slowly against Arras (22-20) after ten minutes. But then they blew their opponents away (70-48) with 13 points apiece by Ana Lelas and Géraldine Robert. Gaëlle Skrela and Edwige Lawson-Wade (6 assists) both finished with 10 points.
Ines Ajanovic and Dawn Evan with 11 and 10 points were the only players in double digits from Nantes.
With this fifth consecutive victory Montpellier move to the top of the LFB regular season standings.

Bourges Basket got back to winning ways against Toulouse (67-50) without Italian international Simona Ballardini. Ballardini was hurt last week and had to sit out what would have been her final game. Céline Dumerc led the way with 15 points, 4 assists and 5 steals.
USO Mondeville were not convincing in their victory against Charleville-Mézières (55-49). Yet Giedre Paugaite with her 20 points for Mondeville showed that she was ready for the start of the EuroLeague Women.
Basket Landes had an easy victory over Aix-en-Provence (81-54). Olivia Epoupa with 19 points and Valériane Ayayi with 11 points and 10 rebounds were the leading players.

LFB round 5 results:

Lyon BF 89-75 Villeneuve d'Ascq
Basket Landes 79-54 Aix-en-Provence
Lattes Montpellier 70-48 Arras
Bourges Basket 67-50 Toulouse Métropole
USO Mondeville 55-49 Charleville-Mézières
Hainaut Basket 52-50 Tarbes
Perpignan Basket 93-67 Nantes-Rezé
---
Visit our 2012-2013 Ligue Féminine de Basket section

Visit our home page
Visit our "What's New" page
picture credits:
womensbasketball-in-france.com

Date created: 21 October 2012
Like this page / Aimez cette page