Nantes-Rezé are LFB joint leaders

Nantes-Rezé share the lead in the LFB regular season standings with Lattes Montpellier after round 4. Nantes-Rezé beat Lyon BF (74-61) to stay perfect for the season while Bourges Basket's unbeaten run came to an end in Aix-en-Provence.

It had been a tough week for Nantes-Rezé because of an injury to Belarus international Tatyana Troïna.
The result of the IRM only confirmed what was already known that she damaged her ACL. She is out for a minimum of six months so her season with the club is over.
Gunta Basko-Melnbarde will come in for Troïna on a medical replacement contract. At the present moment Troïna still has a chance of recovering in time for EuroBasket Women 2013.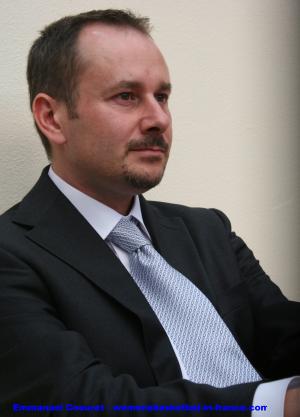 For the first time in his LFB career as head coach, Emmanuel Cœuret has won four games in a row. His team's victory against Lyon BF (74-61) was against their coach from last season Laurent Buffard.
Caroline Aubert, Nantes-Rezé's captain went 4-of-6 from behind the arc during the first 20 minutes to lead her team into the locker room with a 1-point advantage (35-34).
Her team had led by 12 points at the end of the first quarter but were out-muscled in a physical second quarter. However Lyon's style resulted in key players picking up early fouls.

The foul problems for Mame-Marie Sy-Diop and Danielle Page from Lyon were to cause them problems for the rest of the game.
With Melanie Plust not playing and Mistie Mims still in America Buffard's rotation was limited with Emilija Podrug and Audrey Sauret not fully fit.

With the absence of an inside force for Lyon due to the high foul counter, Bernadette N'Goyisa (13 points) was able to dominate the paint and make room for Marielle Amant (12 points) to score easy baskets. Nantes continued to hunt down lose balls and slowly built on their lead.
Yet the three-point shooting of Leslie Ardon and Sarah Chevaugeon kept Lyon within striking distance. But with a 7-point deficit going into the final quarter and Romy Bär receiving treatment Lyon were on the back foot.
Bär did return for the last five minutes but by then Page had fouled out and the game was lost.
Nantes-Rezé were tidy and efficient while sharing the ball.
Viktoria Mircheva (right) led the way with 16 points while Aubert finished with 14 points and 4 assists. Isis Arrondo did not score but had 6 assists while Claire Stievenard had a solid game. The only issue for Nantes-Rezé is the injury to Yuliya Andreyeva who rolled her ankle after sliding into Bär at the end of the third quarter.
For Lyon Podrug still led the scoring with 14 points while Page and Ardon scored 13 and 11 points respectively.
Melanie Plust is out for the next month with a sprained ankle and Lyon have signed Bernadett Nemeth from Hungary for four weeks.
What else happened in the LFB in round 4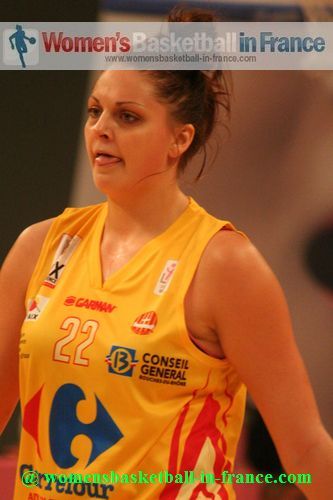 Céline Dumerc said before her game against Aix-en-Provence that the championship would be tough and that there would be no easy games. A little of two hours later Aix-en-Provence had beaten Bourges Basket (83-79).
The 19 points, 14 rebounds and 2 big blocks by Cayla Francis (in picture) not only won her the player of the match but most likely the player of the week award. However it was a total team performance with all seven players scoring. For Bourges Dumerc was the leading scorer with 17 points and 9 assists.
In the LFB Webcast-TV Lattes-Montpellier cruised past Villeneuve d'Ascq (72-59) on the back of a Fatimatou Sacko double-double of 23 points and 13 rebounds.
Charleville-Mézières beat Basket Landes at home (42-35) with 19 points coming from their captain Yacine Séné while Arras huffed and puffed their way to victory over USO Mondeville (59-53).
Two weeks ago Julie Legoupil from Toulouse hit a three-pointer from the half-way line. This weekend she went 3-of-5 from beyond the arc to lead her team with 18 points in the victory against Hainaut Basket (72-69).
Toulouse had a 10-point lead going into the final quarter and should have cruised to victory. But they appear to like giving their coach a hard time allowing Hainaut Basket, the only team without a victory in the LFB this season, to come back into the game.
Tarbes got their first victory of the season (60-53) against Perpignan Basket. Paoline Salagnac led with 19 points and 2 assists for Tarbes. However the game was won in defense as they only allowed Héléna Ciak five shots (she went 1-of-5) in her 34 minutes on the court.

All the results from round 4 of the Ligue Féminine de basketball
Villeneuve d'Ascq 59-72 Lattes Montpellier
Charleville-Mézières 42-35 Basket Landes
Nantes Rezé 74-61 Lyon BF
Toulouse Métropole 72-69 Hainaut Basket
Tarbes 60-53 Perpignan Basket
Arras 59-53 USO Mondeville
Aix-en-Provence 83-79 Bourges Basket

---
Visit our 2012-2013 Ligue Féminine de Basket section

Visit our home page
Visit our "What's New" page
picture credits:
womensbasketball-in-france.com

Date created: 14 October 2012
Like this page / Aimez cette page