LFB round 14 finally over:
Bourges Basket beat Perpignan Basket

The LFB round 14 has finally come to an end with Bourges Basket beating Perpignan Basket (56-47). Bourges Basket are now officially alone in second place, one game down on the leaders Lattes Montpellier and two games clear off Perpignan in third place.
The game which was broadcast live by Perpignan Basket's new Web TV partner profil tv was won by the current French Champions (56-47).

The game was defensive from the start. Bourges Basket lead at half time (29-27) mainly because of poor free-throwing success from their hosts (0-from-8).
During the third quarter Nwal-Endéné Miyem from Bourges was on fire offensively with 10 points. Hence her teams moved 9 points clear (44-35).

Perpignan tried but failed to get a run during the final quarter despite plenty of encouragement from the home supporters.
Bourges were not spectacular but were steady from the free-throw line, hitting 14-of-19 as they paced themselves towards another victory.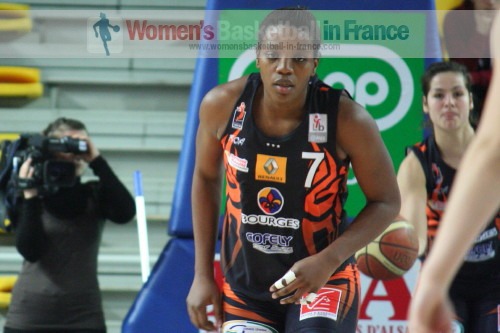 Perpignan who did not play badly lost the match in two areas: poor free-throwing 1-of-10 and conceding 16 points from turnovers. 
Perpignan Basket: Abby Bishop 4, Diandra Tchatchouang 8, Clémentine Samson 0, Laina Badiane DNP, Isabelle Strunc 0, Fatou Dieng 6, Iva Ciglar 4, Elodie Bertal 11, Angie Bjorklund 12 (4 assists, 3 steals), Héléna Ciak 12 (12 rebounds)

Bourges Basket: Romane Bernies 6, Nwal-Endéné Miyem 16 (in picture), Styliani Kaltsidou 6, Céline Dumerc 6 (4 assists), Pauline Krawczyk 0, Stephany Skrba 3, Emméline Ndongue 9, Christelle Diallo 2, Johannah Leedham 8

With just seven games to go in the LFB regular season Bourges Basket, Lattes Montpellier and Perpignan Basket are the only teams that are mathematically safe from relegation.

2012-2013 LFB season standings after 19 rounds of games

| | | | | | | | | | |
| --- | --- | --- | --- | --- | --- | --- | --- | --- | --- |
| POS | Team Name | PLD | W | P | L | SF | SA | SD | PTS |
| 1 | Lattes Montpellier | 19 | 16 | 0 | 3 | 1363 | 1135 | 228 | 35 |
| 2 | Bourges Basket | 19 | 15 | 0 | 4 | 1216 | 1050 | 166 | 34 |
| 3 | Perpignan Basket | 19 | 13 | 0 | 6 | 1273 | 1164 | 109 | 32 |
| 4 | Tarbes | 19 | 11 | 0 | 8 | 1247 | 1197 | 50 | 30 |
| 5 | Basket Landes | 19 | 11 | 0 | 8 | 1185 | 1135 | 50 | 30 |
| 6 | Lyon BF | 19 | 11 | 0 | 8 | 1213 | 1159 | 54 | 30 |
| 7 | Nantes-Rezé | 19 | 9 | 0 | 10 | 1257 | 1315 | -58 | 28 |
| 8 | USO Mondeville | 19 | 8 | 0 | 11 | 1229 | 1172 | 57 | 27 |
| 9 | Toulouse Métropole | 19 | 8 | 0 | 11 | 1127 | 1223 | -96 | 27 |
| 10 | Aix-en-Provence | 19 | 7 | 0 | 12 | 1284 | 1349 | -65 | 26 |
| 11 | Charleville-Mézières | 19 | 7 | 0 | 12 | 1080 | 1168 | -88 | 26 |
| 12 | Villeneuve d'Ascq | 19 | 7 | 0 | 12 | 1240 | 1374 | -134 | 26 |
| 13 | Hainaut Basket | 19 | 5 | 0 | 14 | 1127 | 1257 | -135 | 24 |
| 14 | Arras | 19 | 5 | 0 | 14 | 1112 | 1255 | -138 | 24 |
Like this page / Aimez cette page