LFB Basketball news: Tarbes confirms the signing of Kristen McCarthy

Kimberly Smith decided to end her LFB adventure with Tarbes after their victory against Basket Landes (round 14) in the last game before the Christmas break.
Smith who needs to take time off because of a persistent foot injury will make a decision some time in 2013 whether to continue her basketball career.

Kristen McCarthy is the player coming in for Smith who had been on a medical replacement contract for Lauren Ervin. As usual Tarbes' announcement has not been clear but it could probably mean if Ervin were to come back, McCarthy would have to go.
For fans of NCCA basketball (women's college hoops), especially of the Atlantic Conference (A10), McCarthy is no stranger.
She played in 131 games (university record) for Temple University starting 120 times. During her sophomore year (2009-2010) she set her first school record in scoring 42 points during a match.
She finished her university career in 2012 with a total of 1619 points and many personal accolades while graduating in broadcasting telecommunication mass media.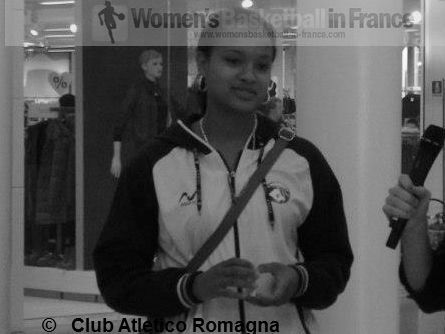 McCarthy did not make the WNBA draft but signed her first professional contract with Club Atletico Romagna, Faenza in Italy.
She played in 10 championship games for the club averaging 10.3 points and 5.6 rebounds while playing around 24 minutes per game. The club finished the first half of the season with 3 wins and 7 defeats.
Due to Atletico Romagna's financial problems, McCarthy finds herself playing basketball in France with the 2010 LFB Champions for the remaining part of the European season.
McCarthy has a profile similar to Smith and is sure to bring a lot of energy into the Tarbes game. She was known as a hard worker in the college game and for 110% work ethics.
Her three months in Italy have enabled her to make the necessary adjustments to the European way of playing basketball which should help her to get quickly into her stride with her new club in France.

---
Like this page / Aimez cette page