LFB mixed fortunes in round 17
on the free-throw line

Pauline Akonga-N'Simbo is back in the LFB after taking time off to have her first child. She scored 11 points in 16 minutes for Arras in the victory against Mondeville. In the two other games from round 17 played on Saturday, Bourges beat Aix-en-Provence and Tarbes took down Perpignan Basket in overtime.

Marc Silvert, the new coach of Arras, made it two wins from two games as Arras won on the road against USO Mondeville (75-71).
Free throwing was the key to victory with Arras hitting 29-from-32 attempts. Dawn Evans and Akonga N'Simbo did not miss scoring 11 and 7 points in this exercise.
Mondeville had the better start to the match with the first 7 points of the game. But early foul problems for Naignouma Coulibaly with 2 slowed them down.

Arras had foul problems of their own with Olesia Malashenko (in picture) picking up 3 in the first quarter. But with 6-of-7 from the charity stripes (free-throw line) they only trailed by 4 points at the end of the first quarter (17-21).

Mondeville lost their advantage during the second quarter with  Laëtitia Kamba and Giedre Paugaite picking up their 3rd fouls.
Arras' festival from the free-throw line was enough for them to go into the interval ahead (38-33).
After the break Mondeville were able to pull themselves together and were back on level terms going into the final quarter.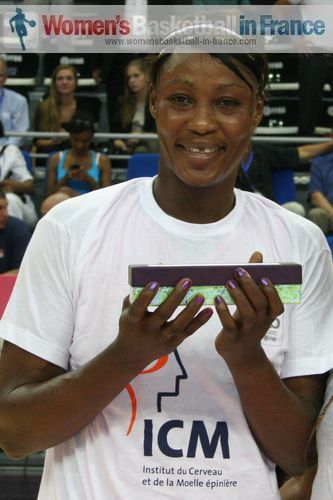 It was still anybody's game with three minutes to play (63-63). Akonga N'Simbo (in picture) put Arras in the lead for good with 2:39 to play and Malashenko doubled the advantage as the match went into money time (last two minutes) with their last field goal of the match (67-63).
Arras finished with a perfect 8-of-8 from the free-throw line to hang on to the victory. Malashenko finished the game with 19 points while Evans scored 15 points and dished out 11 assists. Sandra Dijon-Gérardin just missed a double-double with 14 points and 9 rebounds.
For USO Mondeville Amanda Lassiter and K. B. Sharp scored 18 and 17 points each while Giedre Paugaite chipped in 11 points.
This defeat has made USO Mondeville's LFB championship play-off dreams more difficult.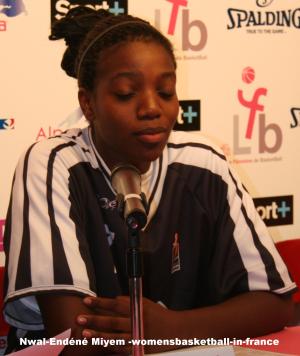 Bourges Basket were without Nwal-Endéné Miyem (right) but had Great Britain international Jo Leedham in the line-up for the first time. Shona Thorburn was also missing for Aix-en-Provence

Bourges started well putting a 16-0 run together to open up a 12-point advantage against Aix-en-Provence after six minutes of play (16-4). Bourges stretched their lead to 15 points by the end of the first quarter (26-11).
Bruno Blier, the coach from Aix-en-Provence, cost his team 2 points  from the charity stripes early in the second quarter after picking up a technical foul for contesting a call with the officials.

It was still one-way traffic until half time for Bourges (49-26).
However the second half of the match was different with Aix-en-Provence chipping slowly away at the score.

Although Bourges were in no danger of losing the match, leading by 20 points in the final quarter, Styliani Kaltsidou was called for a technical foul for overreacting to a call with six minutes to play.
Bourges Basket avenged their LFB round 4 defeat on the road against Aix-en-Provence (74-64).

Kaltsidou led the Bourges scoring with 15 points while Céline Dumerc added 13 points and 8 assists to her LFB season totals. Leedham, Emméline Ndongue and Christelle Diallo scored 12, 11 and 10 points each.
For Aix-en-Provence Adja Konteh was the top scorer with 18 points. Lizanne Murphy, Marianna Tolo and Cayla Francis also had double-digits scores with 16, 12 and 10 points respectively.

Perpignan Basket lost at home in double overtime to Tarbes (73-78). It was a tough night for Diandra Tchatchouang (in picture) who had the chance to win the match in regulation time from the free-throw line.
With her side trailing (63-64), she missed the first and then found herself needing to make the second one to force overtime. As she had missed her previous six attempts, it was a tough call. Her only free throw of the night to drop meant that the game went to overtime (64-64).
As the teams were still locked together (71-71) five minutes later, the game went into double overtime. Paoline Salagnac was the leading scorer for Tarbes with 17 points while Tchatchouang also scored 17 points for Perpignan. Tchatchouang also picked up 16 rebounds but her 1-of-9 from the free-throw line spoilt her performance.
This is the first defeat in the LFB for Perpignan Basket since the start of the second round (return games).

---
Visit our 2012-2013 Ligue Féminine de Basketball section

Visit our home page
Visit our "What's New" page
Picture credits:
womensbasketball-in-france.com

Date created: 20 January 2013
Like this page / Aimez cette page