LFB strugglers stepped up in the
last round of the first phase

The first half of the 2012-2013 LFB regular season ended with a bang on Sunday, 16 December 2012. Hainaut Basket, last in the regular season standing, beat Bourges Basket while Lattes Montpellier huffed and puffed their way to victory against Aix-en-Provence.

Basket Landes needed the special skills of Olivia Epoupa to beat Toulouse while Tarbes walked over Lyon.
In the case of Charleville-Mézières Amel Boudarra had her best game of the season as her team overpowered Nantes-Rezé.
In the LFB games played the day before Arras and Perpignan came out on top. All these results mean that Lattes Montpellier are alone at the top three games clear of the teams in second place and are now the clear favorites to win the regular season title.

Amel Bouderra and Djéné Diawara regained the scoring touch

With Anne-Sophie Pagnier and Aminata Nar Diop ruled out with injury Charleville-Mézières were down to six players for their LFB match against Nantes-Rezé.
Things did not look good for the Flammes Carolo with Nantes-Rezé scoring the first 11 points of the game. Although the hosts fought back, 2 first-quarter fouls by Aurélie Bonnan did not help their cause as they trailed (12-17) by the end of the first quarter.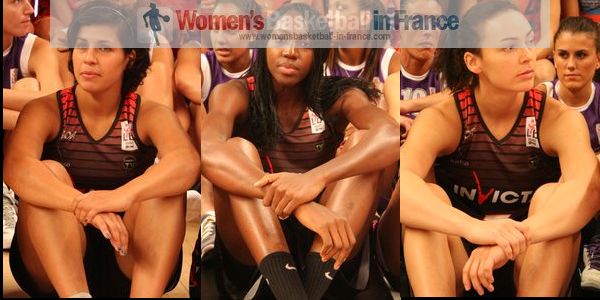 During the second quarter there were dramatic changes with Bouderra, Diawara (23 points) and Sheana Mosch (all in picture) regaining their scoring touch.
At the same time the tone of the match altered turning into a festival of spectacular baskets which included another Ardennes TV buzzer beater by Bouderra.
A 10-0 run during the third quarter put the hosts in control of the game for good. Charleville-Mézières' victory (84-71) is the third consecutive one in the LFB. Bouderra finished with 29 points, 4 steals and 3 assists while Mosch added 21. For Nantes, Sarah Michel, Gunta Baško-Melnbārd and Marielle Amant scored 13, 12 and 10 points respectively.

Stephanie Murphy says bye bye in style
to the Union Hainaut basketball fans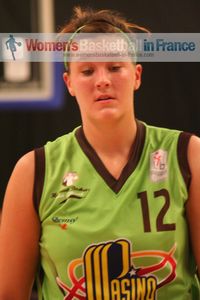 Stefanie Murphy's contract with Hainaut Basket has not been extended beyond Christmas. However this did not stop her from playing her probably best game of the season. She led all scoring with 23 points as Hainaut Basket beat Bourges Basket (71-64).
The match was streamed live on our web-tv service. It is very likely that Hainaut Basket make a highlight video from this game.
Bourges out-rebounded, scored more free throws and had less turnovers than Hainaut Basket but conceded 20 points on second-chance opportunities while only scoring 10 points themselves.
Hainaut Basket hustled more than Bourges Basket that allowed them to taste victory for only the second time in the LFB this season. Amanda Jackson and Laura Garcia were also big scorers with 20 and 17 points respectively. For Bourges Basket Nwal-Endéné Miyem, Cathy Joens and Emméline Ndongue (10 rebounds) scored 19, 16 and 10 points each.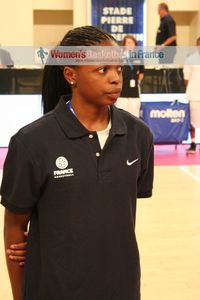 Epoupa (in picture) is the LFB player of the week. She scored 28 points, dished out 6 assists and made 3 steals while also drawing 7 fouls and picking up 9 rebounds as Basket Landes won on the road against Toulouse (63-60). Epoupa's two free throws in the last second of the game secured the victory.
Lattes Montpellier like so many teams this season had to dig deep to get past Aix-en-Provence (77-70). Géraldine Robert made sure that Montpellier came away from Aix-en-Provence with all the points scoring 20 points, taking 10 rebounds and contributing 5 assists.
Tarbes made home court advantage count as they survived a 22-point haul by Mistie Mims from Lyon to win (63-52). Jovana Rad had 20 points while captain Paoline Salagnac added 14 points.
LFB round 13 results:
Charleville-Mézières 84-71 Nantes Rezé
Hainaut Basket 71-64 Bourges Basket
Toulouse Métropole 60-63 Basket Landes
Tarbes 63-52 Lyon BF
Aix-en-Provence 70-77 Lattes Montpellier
Perpignan Basket 66-55 USO Mondeville
Arras 71-62 Villeneuve d'Ascq
LFB regular season standing at the half-way point

| | | | | | | | | | |
| --- | --- | --- | --- | --- | --- | --- | --- | --- | --- |
| POS | Team Name | PLD | W | P | L | SF | SA | SD | PTS |
| 1 | Lattes Montpellier | 13 | 12 | 0 | 1 | 930 | 747 | 183 | 25 |
| 2 | Bourges Basket | 13 | 9 | 0 | 4 | 813 | 760 | 53 | 22 |
| 3 | Perpignan Basket | 13 | 9 | 0 | 4 | 838 | 756 | 82 | 22 |
| 4 | Lyon BF | 13 | 8 | 0 | 5 | 838 | 794 | 44 | 21 |
| 5 | Basket Landes | 13 | 8 | 0 | 5 | 809 | 754 | 55 | 21 |
| 6 | Toulouse Métropole | 13 | 7 | 0 | 6 | 789 | 806 | -17 | 20 |
| 7 | Nantes-Rezé | 13 | 7 | 0 | 6 | 861 | 899 | -38 | 20 |
| 8 | USO Mondeville | 13 | 6 | 0 | 7 | 837 | 764 | 73 | 19 |
| 9 | Tarbes | 13 | 6 | 0 | 7 | 826 | 820 | 6 | 19 |
| 10 | Charleville-Mézières | 13 | 6 | 0 | 7 | 754 | 782 | -28 | 19 |
| 11 | Aix-en-Provence | 13 | 5 | 0 | 8 | 850 | 906 | -56 | 18 |
| 12 | Arras | 13 | 3 | 0 | 10 | 748 | 849 | -101 | 16 |
| 13 | Villeneuve d'Ascq | 13 | 3 | 0 | 10 | 834 | 975 | -141 | 16 |
| 14 | Hainaut Basket | 13 | 2 | 0 | 11 | 754 | 869 | -115 | 15 |
---
Visit our 2012-2013 Ligue Féminine de Basketball section

Visit our home page
Visit our "What's New" page
picture credits:
womensbasketball-in-france.com

Date created: 16 December 2012
Like this page / Aimez cette page