Toulouse Métropole continue
their climb on the LFB ladder

Toulouse Métropole are now second in the LFB with Bourges Basket and Perpignan after beating Nantes-Rezé (67-62). In the other Sunday games Villeneuve d'Ascq won against Hainaut Basket in the north derby while Tarbes defeated Charleville-Mézières.
In the game between the bottom two clubs in the regular season standings Villeneuve d'Ascq won the hotly contested north derby against Hainaut Basket (72-68).
Lenae Williams exploded for the first time this season on the court with 27 points for winners. She hit 8-from-17 points from beyond the arc. Yet the match winner for the hosts was Emma Meesseman with her defensive qualities.
Meesseman was also cool from the charity stripe during the final seconds that secured the victory. She finished with 17 points (7-of-7 from the free-throw line), 3 blocks and 7 rebounds.
Hainaut Basket had their chances to win the game with their dominance in the paint and a balanced offensive scoring with four players in double digits: Emilie Silbande (13), Ashley Houts (14), Marie-Frédérique Ayissi (10) and Stefanie Murphy (12).

However a couple of poor executions during the last couple of minutes turned out to be fatal.
Sheana Mosch was at home in the USA on Friday when she received confirmation about her clearance to finally play for Charleville-Mézières.
Although Charleville-Mézières were beaten at home (58-62) by Tarbes, Mosch had some of the best moments in the game, marking her début with 15 points.
While her two-point quarter-ending buzzer beater at half time gave the fans something to cheer about, it was a two-pointer with 58 seconds left to play that gave everybody hope (58-58).

As for the game itself Kim Smith scored 11 first-quarter points as she single-handedly put Tarbes in front (12-8). Tarbes did not control the second quarter but still went into the interval leading (28-25).
Smith regained her scoring touch during the third quarter with her side opening up a 14-point lead going into the final quarter.

Charleville-Mézières rallied back in the final quarter with Mosch and Ekaterina Dimitrova to then draw level with 58 seconds to play. Tarbes played smart in the last few seconds. 2 baskets by Naura El Gargati sealed the victory.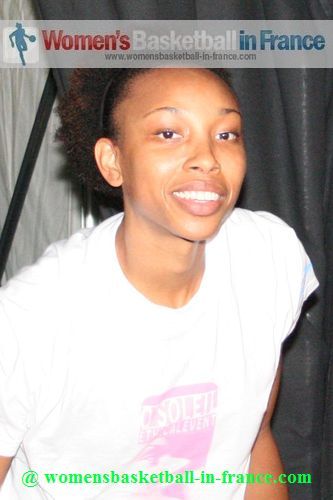 Toulouse Métropole won their 7th game of the season with a road win against Nantes-Rezé (67-62). While the three-point shooting was off with just 1-from-14, they were strong collectively in offence.
The shared 12 assists and Adrijana Knezevic, Carrem Gay (in picture), Demetress Adams and Agathe Degorces shared 12 assists while scoring 14, 13, 12 and 10 points respectively.

Nantes-Rezé dropped their first home game of the season while suffering their third consecutive defeat. Their mid-week travel to Russia appeared to have snapped them of some energy as they were out of step for most of the game.
Although Marielle Amant scored 18 points and Claire Stievenard fired in 3 three-pointers, overall Nantes-Reze did not have a good shooting day.
So after 10 weeks of LFB action Montpellier are 2 games clear of Bourges Basket, Perpignan Basket and Toulouse Métropole in joint second place.
Round 10 LFB results:
Lyon BF 81-55 Perpignan Basket
Basket Landes 69-84 USO Mondeville
Lattes Montpellier 76-51 Bourges Basket
Aix-en-Provence 73-66 Arras
Charleville-Mézières 58-62 Tarbes
Nantes-Rezé 62-67 Toulouse Métropole
Villeneuve d'Ascq 72-68 Hainaut Basket
---
Visit our 2012-2013 Ligue Féminine de Basketball section

Visit our home page
Visit our "What's New" page
LFB picture credits:
womensbasketball-in-france.com

Date created: 26 November 2012
Like this page / Aimez cette page