Playing for second place in the LFB
The contest for second place in the LFB is becoming more intense with defeats for Bourges Basket and Perpignan Basket.
Lattes Montpellier are flying at the top while at the bottom end of the table, EuroLeague Women participants Arras are finding the going tough domestically after losing again.
Aix-en-Provence moved themselves further away from the LFB relegation zone with a victory against Arras (73-66).
Aix-en-Provence were more more accurate in their shooting, hitting the
LFB team rosters - Effectifs: LFB
target 51% while taking 18 shots less than Arras.
Cayla Francis with 16 points and 9 rebounds was the leading player for Aix-en-Provence. But the 12 points from Adja Konteh (who had played for Arras between 2010-2012) turned out to be the difference between the two teams.
Arras were led by 18 points from their captain Johanne Gomis-Halilovic while Krissy Bade returned after a two-week injury break.
Lattes Montpellier had had a tough week, losing for the first time in the LFB this season followed by a defeat in the EuroCup Women competition while Bourges Basket had a week off from EuroLeague Women action.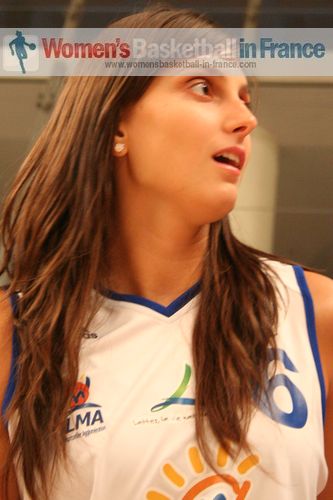 Lattes Montpellier had no mercy for Bourges Basket and won the game with a comfortable margin (76-51). A 13-0 run during the first quarter put Montpellier on the path to victory (21-7).
Crisp passing by Virginie Brémont (7 assists) and Gaëlle Skrela (4 assists) and a balanced offensive effort with 13 points coming from Ana Lelas and 12 points apiece by Ana Cata-Chitiga (in picture), Edwige Lawson-Wade and Fatimatou Sacko was the key to victory.
For Bourges Basket Céline Dumerc scored 15 points and dished out 7 assists. However her team was not in the game. It was also not the start that Cathy Joens would have been expecting for her first game of the season.
Mistie Mims appears to have recovered from her injury from last weekend as she fired in 17 points in the victory of Lyon BF (81-55) against Perpignan Basket.
Lyon had the game wrapped up by half time (45-23) and were never in danger of losing it. With the exception of Marie Sanchez who played for 65 seconds, all the players scored at least 3 points. Alexia Plagnard and Leslie Ardon helped themselves to 6 assists.

Melanie Plust made her return after more than six weeks. Yet Audrey Sauret is out for at least eight weeks. This means that Bernadett Németh continues her stay at the club as a medical replacement.
Although Perpignan had four players in double digits they simply were not in the match.
For the moment Bourges and Perpignan are in joint second place and they are going to be joined by the winner of the Sunday LFB match between Nantes-Rezé and Toulouse Métropole.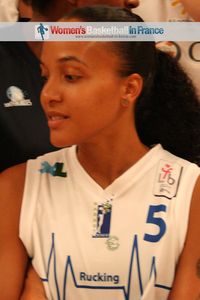 Carmen Guzman (in picture) had the performance of the evening. She made 8-from-11 shots from the floor in reaching 22 points. She also dished out 8 assists and picked up 3 steals for Basket Landes to beat USO Mondeville (69-64) in the most evenly contested match of the evening.
The lead changed hands 13 times while the game was tied on 5 occasions. Basket Landes did a lot of damage from the three-point shooting range with 10-from-20 while Mondeville were a modest 4-of-12 in this exercise.
Basket Landes took the lead practically on the third-quarter ending buzzer with a three-pointer by Olivia Epoupa (54-51).
Mondeville only got 3 points from their bench compared to 14 points for Basket Landes. This low production may have cost them the game. Basket Landes and Mondeville both have 6 wins and 4 defeats.
Round 10 results from Saturday night:

Lyon BF 81-55 Perpignan Basket
Basket Landes 69-84 USO Mondeville
Lattes Montpellier 76-51 Bourges Basket
Aix-en-Provence 73-66 Arras
---
Visit our 2012-2013 Ligue Féminine de Basketball section

Visit our home page
Visit our "What's New" page
picture credits:
womensbasketball-in-france.com

Date created: 25 November 2012
Like this page / Aimez cette page