2012 FIBA Europe U16 Championship
semi-final day

Belgium and Italy are the semi-finalists that have not have been crowned FIBA Europe Champions at U16 level. Spain and Russia (former Soviet Union) who meet in the first semi-final are the dominating nations in this age group.
Like in the Olympics of 2008, Spain and Italy have qualified for the final. Spain once again left it till the final quarter before handing Russia their first defeat (51-46).
In the other semi-final Italy avenged their defeat at the same stage against Belgium from last year in a hard fought game (58-50).
In the classification games for fifth place, the Czech Republic beat Hungary (60-54) while France overcame the Slovak Republic (79-53).
In the relegation group, Germany lost (62-63) to Serbia and will return with England back to Division B. Turkey beat England (64-34) in the other game.
Turkey will meet Serbia in the final match from this group with the winner staying in Division A while the loser will be relegated.
You can move to any of our FIBA Europe U16 reports by clicking on the links below or by scrolling down the page:
Picture Gallery
Spain qualify to defend title
Italy see off Belgium

What else happened on day 8

Day 8 - FIBA Europe U16 European Championship picture gallery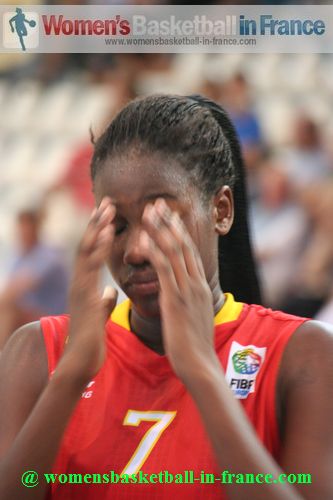 Move your mouse on the small pictures to view
Return to FIBA Europe report index at top of page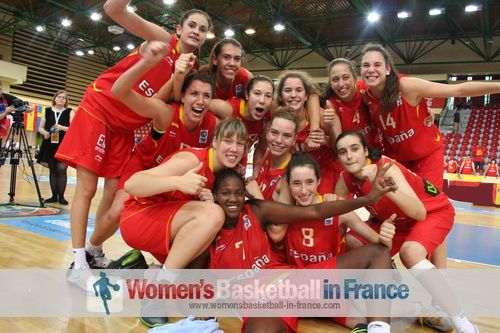 FIBA Europe U16 Queens Spain in the final again
The first four minutes of the game were mainly observations as neither team was able to make many openings. All the same Russia edged in front (7-6) after a three-ball by Daria Kolosovskaya.

The Russian coach still called a time-out and changed her attack system. The result was 6 quick points for her team and a Spanish time-out.

Laura Quevedo hit a nicely timed jump shot for Spain. Yet the Russians came storming down the court with Atnastasia Borovykh knocking in a three from the 45 degree angle to maintain the advantage.

Spain competed well for the rebounds and with typical hustle play by Angela Salvadores and cool finishing by Quevedo Spain trailed (12-16) by the end of the first quarter.

Spain continued to press and play zone at the start of the second quarter and hit the first 5 points, a trey by Quevedo and a driving jump shot by Salvadores.

With both teams playing zone the flood gates opened with both teams hitting shot after shot. The Russians were better and regain the lead (23-21) midway through the quarter.

Russia started to win the battle of the boards and picked up several second chance opportunities as they began to pull away. However the three-point shooting of Borovykh from Russia was doing the damage (30-23).
This forced the Spanish coaching staff to call for a time-out with 98 seconds left to play in the first half.

Loose balls proved to be costly for Russia as Nogaye Lo Sylla from Spain picked the ball off Ksenia Levchenko and then scored 3 valuable points (2+1).

Russia still went into the locker room leadig (30-26) thanks to the three-point shooting of Kolosovskaya and Borovykh.
The third quarter started with Spain on top as they fought tooth and nail for every ball. They eventually drew level with a trey by Quevedo (33-33).
Afterwards Ksenia Kuzmina took over for Russia for her side to once again gain the upper hand.
The quarter had a curious finish with the Russian coach using her second time-out with five seconds left to play. She drew up a play for Borovykh whose three-point shot hit the rim and bounced out.
Russia went into the final quarter leading (39-33).
After almost five minutes without scoring Spain's Elbena Capella knocked down an uncontested three-ball for Spain. The Spanish players were looking more comfortable.
With Evaristo Pérez their coach pacing up and down in his coaching area, the pendulum was swinging in favour of Spain.
A lost ball in the middle of the court which was scrambled away by Flores and then won by Salvadores got to open Capella to strike a three-pointer. With five minutes to play Spain went in front (42-41) and in complete control. Capella (10 points in the final quarter) was on fire as Spain moved ahead (46-41) with less than three minutes to play.
For some reason Russia failed in using their superior inside present and with just one time-out left the Russian team fell apart. They continued trying to shoot their way to victory against a very organised Spanish team but failed.
The FIBA Europe modern day queens of U16 basketball are back in another final after seeing off undefeated Russia (51-46).
Spain: Maria Cazorla 0, Angela Salvadores 10, Carla Romeu 2, Nogaye Lo Sylla 3, Cristina Molinuevo DNP, Laura Quevedo 15, Laia Clavero DNP, Elena Capella 12, Itsaso Conde DNP, Laia Flores 2, Helena Orts 7, Sara Zaragoza DNP
Russia: Daria Ibragimova DNP, Tatiana Sema 5, Nina Glonti 14, Daria Kolosovskaya 6, Anastasia Borovykh 6, Ksenia Levchenko 4, Olga Aksenova 2, Svetlana Boykova 2, Zhosselina Maiga 5, Olga Orlova 2, Elizaveta Bratchikova 0, Ksenia Kuzmina 6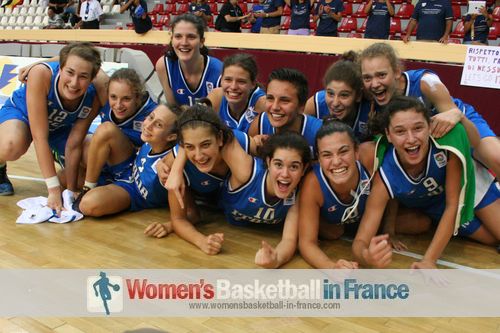 Belgium could not catch up Italy
A quick confident start during the first three minutes of the game by both teams led to a (4-4).

Italy then started to push the pace. Cecilia Zandalasini went coast to coast to score while on the very next play she went on a drive to dish out a pass to Marzia Tagliamento in the paint for her to score and Italy were leading (10-6).

Belgium were soon back with Kyara Linskens throwing her weight in the paint and typical hustle by Julie Allemand.

Neither team was playing any type of system with most of the points coming from fast breaks.

Italy called for the first time-out of the game at (14-10) with just over one minute to play in the first quarter.

Italy went into the second quarter with 4 points ahead (16-12) and finished heading into the locker room with an 8-point lead (32-24).
Basically the ball refused to drop for Belgium while Italy went 7-of-15 from the floor.

At these FIBA Europe U16 Championships only the Netherlands demonstrated in one game how to play zone.
Belgium gave a little demonstration on how to play against zone at the start of the third quarter with a 6-0 run. But the Italians learned fast and pushed Belgium further and further out. Belgium only had air ball after air ball.

In the meanwhile Italy started to find their way to the basket and finished the quarter with an 11-0 run to take a 15-point lead into the final quarter (45-30).

In the last quarter Italy continued to score while Belgium continued to miss. Italy's advantage grew (49-30) with eight minutes to play.
As the old saying goes if you continue to shoot, the ball will eventually drop into the basket. Belgium finally got a basket and then Allemand started her show with 8-out-of-10 points which was then followed by a shooting festival from Laeticia Mpoyi.
However Italy, paced by Martina Kacerik and Zandalasini held on to win (56-50).
Belgium: Fauve Bastiaenssen 0, Julie Allemand 17, Eline Maesschalck 0, Eva Devlieghe 4, Sofia Ouahabi 0, Phebe Raman 0, Phebe Raman 4, Emma Uittenhove 3, Loes Breughe 0, Heleen Nauwelaers 0, Kyara Linskens 14, Laeticia Mpoyi 8, Serena-Lynn Geldof 0
Italy: Sofia Vespignani 3, Isabel Romano 2, Arianna Landi 0, Martina Kacerik 8, Marzia Tagliamento 16, Cecilia Zandalasin 17, Alessia Cabrini 2, Arianna Beretta 0, Ilenia Cordola 3, Francesca Russo 3, Marta Lorenzin 0, Annalisa Vitari 4

FIBA Europe U16 news from Miskolc and Tallinn
Germany lost in a heart breaker to Serbia (62-63) and are officially relegated to Division B next season. However the highly entertaining match was spoilt with the serious knee injury to German Jennifer Crowder.
After she was taken off the court somebody from her family was allowed to come down from the stands to stay with her until the end of the game.
France have already improved on last year's 7th place finish by qualifying for the fifth place classification match after beating the Slovak Republic (79-53).
The Slovak Republic played well for the first 20 minutes of the match and led at half time (33-29). For the second time on this day a player went down clutching her knee, this time it was Linda Prochazkova from the Slovak Republic. She was later seen with ice around her ankle.
France went to work in the third quarter and put together a 19-0 run to end the game as a contest (50-36) with 28 minutes played.
France cruised the rest of the way with all 12 players getting onto the court. Marie Milapie had her best game of the tournament so far with 14 points and 6 rebounds, while Louise Dambach and Katia Clanet scored 12 points each and also picked up 3 steals apiece.
When FIBA Europe decided on having three teams getting relegated they could not have imagined the current situation in which the winner of the final group game would survive.
So after five rounds of games Turkey and Serbia will face each other in another in a "winner-take-all match".
In the FIBA Europe Division B tournament Bulgaria and Lithuania are returning to Division A next summer after clinching promotion by winning their semi-final games.
The third place will go to the winner of the bronze medal match between Latvia and Portugal.
Return to FIBA Europe report index at top of page
---
Visit our U16 History
Go to FIBA section
Go to "What's New" page
Go to Home page
Return to the top of page
---
FIBA Europe U16 basketball picture credits:

womensbasketball-in-france.com

Date created: 21 July 2012
Like this page / Aimez cette page