2012 FIBA Europe U16 Championship
Quarter-final day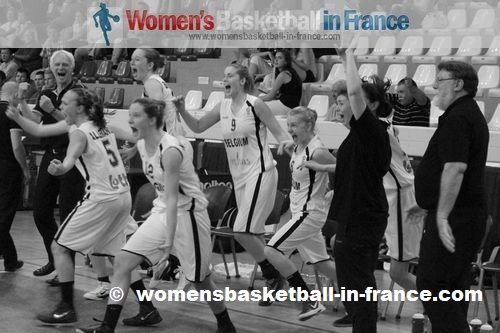 Day 7 of the FIBA Europe U16 European Championship in Miskolc is the start of the festival of emotion as the championship draws to it close.
For the four teams that win, the dream for the title remains while for the losers it will be play-off time.
The first quarter-final between France and Belgium turned into a classic encounter between two similar teams.
Although France drew level to force overtime against Belgium (56-56) in a match full of suspense, they did not have enough fire power to out-shoot their opponents and lost (60-67).
Belgium were led by Julie Allemand who finished with 21 points. But it was her three-pointer at the start of overtime that secured her side the victory. (You can watch our video interview with Allemand and Kyara Linskens and their coach at the end of the match report.)
In the second quarter-final encounter Spain had to fight to finally win against Hungary (57-55) while in the third quarter-final match Russia rolled over the Czech Republic to ensure a semi-final spot by winning (63-30).
Italy are the last team to garner a semi-final place after defeating the Slovak Republic (75-36).
In the classification games for 9th to 12th place Greece beat the Netherlands (56-53) while Croatia won against Sweden (69-61).
In the first relegation match of the day Germany succumbed to Turkey (48-55) while England yet again failed to win. They lost to Serbia (51-68).
England are officially relegated to the FIBA Europe Division B for next year.

The semi-final matches are as follows:
Russia vs.Spain
Belgium vs. Italy
You can move to any of our FIBA Europe U16 reports by clicking on the links below or by scrolling down the page:
Picture Gallery
Belgium celebrate after win against France
Spain overcome Hungary

Russia cruise past the Czech Republic

Italy have the upper hand against Slovak Republic in the second half
Day 7 - FIBA Europe U16 European Championship picture gallery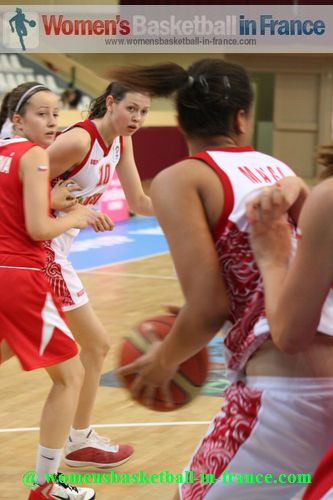 Move your mouse on the small pictures to view
Return to FIBA Europe report index at top of page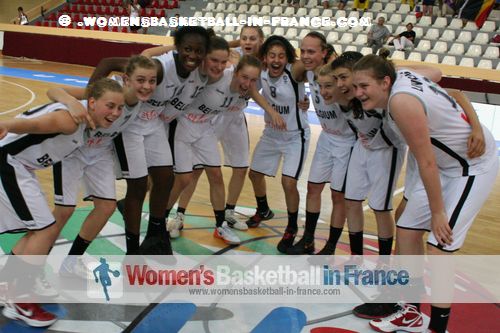 Belgium took down France in overtime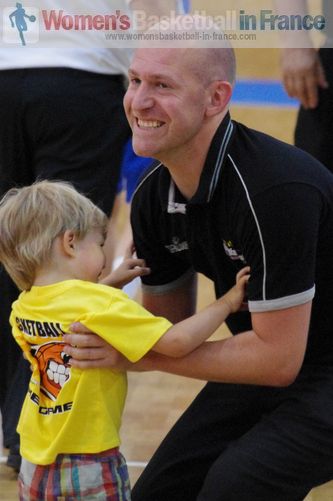 Belgium scored the first basket after 90 seconds of dominating the possession.

The high low-pass combinations as well as the alternate inside-outside play worked well for Belgium at the start with Eva Devliegher and Kyara Linskens scoring for an early lead (4-0).

France had to hustle. Lisa Berkani hit a three-ball and moments later she went on a coast to coast to put France (7-4) in front to complete a 7-0 run.

As expected Julie Allemand and Devliegher were driving Belgium while for France Berkani was a lady on a mission with 8 points for her side to lead (16-10).

Things got worse for Belgium as they left Berkani free on the baseline. She hit her 13th point with this three (19-10) and the Belgian coach called the first time-out at 2:05 to play in the first quarter.
France stopped scoring while Belgium hit the last 4 points to reduce the deficit to (14-19).
After a delay in the start of the second quarter due to a power cut the supporters of both teams were treated to a FIBA Europe U16 classic of youth basketball with excellent shooting as well as defending.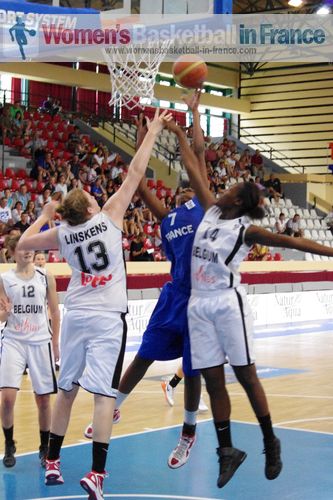 Then Laeticia Mpoyi came up with clutch shot after clutch shot for Belgium while Louise Dambach came up with the block of the match.
With Belgium's ability to switch their attacks to allow them to catch up and with Allemand going more or less coast to coast (29-30), it was the turn of the French coach to call a time-out with 17 minutes played.
The different attacks by the Belgium team caused France all sorts of troubles allowing Serena-Lynn Geldof, Mpoyi and Heleen Nauwelaers to hit big shots for their side to edge in front (35-34) at the break.
Berkani tied the game for France at the start of the third quarter. But Devliegher hit a big three for Belgium, so France were again on the back foot.
Neither team was playing any system. However Belgium moved the ball around quicker and had more players who were prepared to shoot.
Although France's defense was fine their offensive options were limited. Hence Belgium led (42-37) after 17 minutes.
When Belgium's advantage had gone up to (49-39), a three-pointer by Marylie Limousin for the last score of the quarter kept France in the game (42-46).
Belgium went immediately on the attack to score 6 unanswered points. France did not panic and went on a 7-0 run of their own. With four minutes to play Belgium's advantage was just 3 points (52-49).
France had the chance to tie the game when Ornella Bankole was fouled while putting in the lay-up.

However she missed the free throw and Belgium stayed in front (52-51).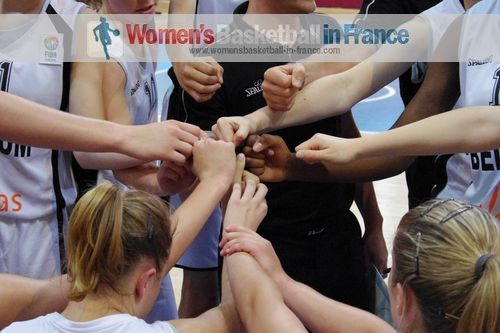 On the next six attacks both teams failed to score so Belgium coach called for a time-out.
Belgium were on the back foot and France tied the game with a rain-maker by Marylie Limousin with 40 seconds to play.
A festival of missed shots and time-outs resulted in the game going to overtime (56-56).
Allemand with a three-pointer and Linskens with a 2-pointer gave Belgium a 5-0 start in overtime. The French coaching staff called a time-out with three minutes left to play.
However France never came back and Belgium are in the semi-final while France will have to settle for the first place in the classification round.
Belgium: Fauve Bastiaenssen DNP, Julie Allemand 21, Eline Maesschalck DNP, Eva Devlieghe 9, Sofia Ouahabi 0, Phebe Raman 0, Emma Uittenhove 2, Loes Breughe 8, Heleen Nauwelaers 9, Kyara Linskens 8, Laeticia Mpoyi 8, Serena-Lynn Geldof 2
France: Alix Duchet 4, Marylie Limousin 6, Lisa Berkani 15, Marie Milapie 5, Katia Clane 6, Louise Dambach 14, Carla Blatrie 0, Maimouna Ba DNP, Ornella Bankol 2, Mathilde Combes 8, Camille Cirgue 0, Angélina Turme DNP

Return to FIBA Europe report index at top of page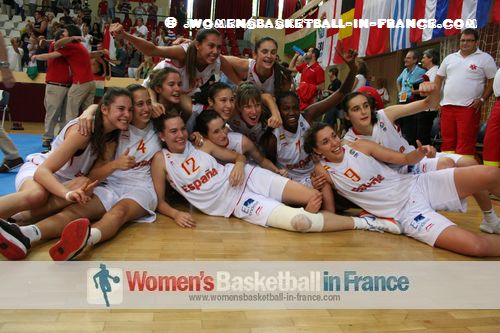 Spain overcome Hungary
Spain had an electrifying start to the game with an 8-0 run. Thanks to the trio of Nogaye Lo Sylla, Elena Capella and Laia Flores they also had the better of the first quarter. Hungary finally settled and with 6 points coming from Debora Dubei they were able to draw closer by the end of the first quarter (11-18).

Spain struggled with concentration in this tournament while Hungary driven by Bernadett Horvath with 11 second-quarter points came storming back to even briefly go in front. However with some hustle play by Flores and excellent defending by Lo Sylla Spain were able to walk into the locker room leading (30-29).

The third quarter was the type of basketball we have seen in this FIBA tournament with coaches powerless to stop players from taking bad options. At the same time it was classical with both teams playing hard for everything. In the middle of a number of 24-second violations and the usual problems with zone defense there was some excellent youth basketball.

The lead changed hands four times with Spain holding onto the lead (45-44).

It appears that Spain are the strongest team when it comes to final- quarter heroics. With just over five minutes to play they struck with what turned out into the final blow. They had put themselves in the driving seat with an 8-0 with money-time approaching (that is the last two minutes).

Yet Hungary managed to get back into the game. With Horvath hitting a big three with 12 seconds to play and no time-outs left the spectators had a nail biting finish.

Spain missed a couple of free throws but Hungary had only three seconds to get down the court. They did not reach the halfway line, so Dubia had to launch a three-point attempt that fell well short and also destroyed their aspiration for a semi-final place as they lost (55-57).

Spain: Maria Cazorla 0, Angela Salvadores 4, Carla Romeu 5, Nogaye Lo Sylla 12, Cristina Molinuevo DNP, Laura Quevedo 9, Laia Clavero DNP, Elena Capella 9, Itsaso Conde DNP, Laia Flores 12, Helena Orts 6, Sara Zaragoza DNP
Hungary: Debora Dube 22, Virag Weninger 0, Palma Kaposi 5, Bernadett Horvath 17, Timea Toth 0, Nina Aho 2, Ágnes Dobos 5, Eniko Kuttor 2, Fruzsina Weber 0, Anna Abahazy DNP, Fanni Farkas 2, Anna Gundel-Takacs DNP


Return to FIBA Europe report index at top of page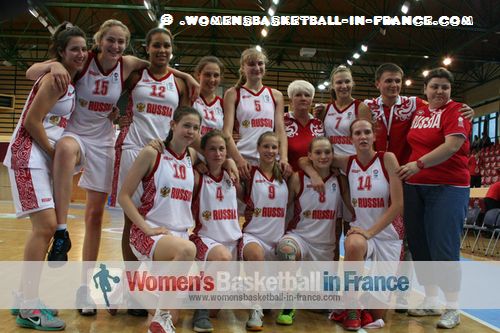 Russia: taller and much stronger than the Czech Republic
The Russians made use of their hight to dominate the Czech Republic from the start of the match and led (9-2) midway through the opening quarter.
The Czech Republic were not able to take advantage of their speed to break down the Russian fortress and ended up attempting long range shots.
For Russia Daria Kolosovskaya was the most active player on the court with 10 first-quarter points as her team went 10 points clear (16-6).

In the second quarter the Czech Republic just did not seem to know what to do. They just passed the ball a lot to Gabriela Andelová who was expected to hit threes after threes. However she only hit the target once.
So Russia continued to pile on points on fast breaks and despite a high number of turnovers they led at half time (32-16).
The game fizzled out as a contest as Russia cruised to victory (63-30).
Russia: Daria Ibragimova 0, Tatiana Sema 9, Nina Glonti 4, Daria Kolosovskaya 12, Anastasia Borovykh 4, Ksenia Levchenko 8, Olga Aksenova 4, Svetlana Boykova 2, Zhosselina Maiga 6, Olga Orlova 0; Elizaveta Bratchikova 10, Ksenia Kuzmina 4

Czech Republic: Gabriela Andelová 3, Eva Kopecká 4, Aneta Mainclová 3, Lucie Cervenková 4, Tereza Kraciková 4, Katerina Pracharová 2, Eva Moucková 2, Michaela Kanuková 0, Klára Krivánková 0, Hana Veselá 6, Eliska Mircová DNP, Sarah Beránková 2

Return to FIBA Europe report index at top of page
Italy had it easy after the break
Italy started the match well and raced off to a (9-2) early lead. But for some reason they slowed down the pace and let the Slovak Republic back in the game.
Natalia Jelencikova started the Slovak run as her side outscored Italy 10-4 to finish the quarter trailing by just 2 points (12-14).
For Italy Cecilia Zandalasin had already scored 8 points
Veronika Remenarova brought the team on level terms (14-14) at the start of the second quarter.
Then the two teams more or less traded basket for basket for about three minutes with Italy coming out on top (24-20).
What the Slovak Republic do better than most teams is hustle. They dive on the floor for everything whereas the Italians are trying to play neat basketball. The end effect was that the game became more intense.
The Slovak Republic stuck to player on player defense but always double teamed Zandalasin who only scored 2 points during this quarter.
The Italians needed a couple of time-outs to finally find a system to break down their opponents' play to go into the locker room leading (32-24).
The Slovak Republic had no energy after the break and scored just 3 points during the third quarter. Italy had a free run scoring 18 unanswered points to end the game as a contest by the end of the third quarter (49-27).
Italy failed to hit a single three-pointer in the game but had no trouble in rounding up the game 26-9 for a comfortable victory (75-36).
Italy: Sofia Vespignani 2, Isabel Romano 9, Arianna Landi 5, Martina Kacerik 6, Marzia Tagliamento 4, Cecilia Zandalasin 13, Alessia Cabrini 6, Arianna Beretta 2, Ilenia Cordola 7, Francesca Russo 8, Marta Lorenzin 4, Annalisa Vitari 8

Slovak Republic: Natalia Jelencikova 6, Lucia Ondrejkova 8, Katarina Urbaniova 8, Linda Prochazkova 0, Karin Miksadova 2, Julia Lelkes 0, Kristina Matuskova 2, Lucia Striesova 0, Denisa Blanarova 0, Miroslava Mistinova 0, Alzbeta Bubenikovan 2, Veronika Remenarova 0


Return to FIBA Europe report index at top of page
---
Visit our U16 History
Go to FIBA section
Go to "What's New" page
Go to Home page
Return to the top of page
---
FIBA Europe U16 basketball picture credits:

womensbasketball-in-france.com

Date created: 20 July 2012
Like this page / Aimez cette page