2012 FIBA Europe
U16 European Championship
Surprising starts in Group D for
Netherlands and Italy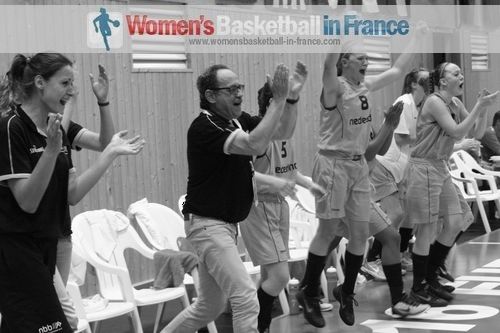 In their 2012 FIBA Europe U16 European Championship the Netherlands got off to a perfect start with a solid victory over Germany (64-38) with strong post play by Janis Ndiba and Emese Hof.
German head coach Alexandra Maerz said before the game that her team were a little small and that this tournament was going to be tough for them as their group was strong.
Maerz who is a very experienced youth coach never panics during the game while she calmly explains to her players what to do during time-outs. Emma Stach is the team's best player giving the Netherlands a lot of problems.
The one thing that Germany did well was to completely stop the three-point shooters from the Netherlands (0-from-11).
The Netherlands' victory was constructed on simple high-low post play that was throw the ball to the big player in the paint, who then scored or picked up the offensive rebound.
Emese Hof
(in video) who is an experienced youth international at this level showed her younger team-mates what to do as the Netherlands took control of the game with a (19-9) first-quarter lead.
Stach kept Germany in the game until the break with her trade mark tear drop shot from the baseline (21-35).
The Netherlands had no luck from the land of many but their half-court press and clever running off the ball enabled them to pull away for good in the second half and win the game (64-38).
Emese Hof explained in our video after the game what this victory moaned to them in terms of their FIBA Europe Division A status.
Netherlands: Eveline Kallenberg 3, Beau Baars Deborah Vos 0, Fenne van der Wielen 2, Fleur Kuijt 5, Iris Zwart 2, Esther Fokke 7, Asa Kantebeen 0, Deborah Vos 4, Janis Ndiba 18, Charlotte van Kleef DNP, Emese Hof 23, Laura Steggink DNP
Germany: Marija Krstanovic 3, Alexandra Wilke DNP, Nele Aha 5, Lena Wenke 3, Paulina Körner 0, Nadjeschda Ilmberger 0, Patricia Broßmann 10, Lisa Janko 0, Emma Stach 17, Cynthia Homburger 0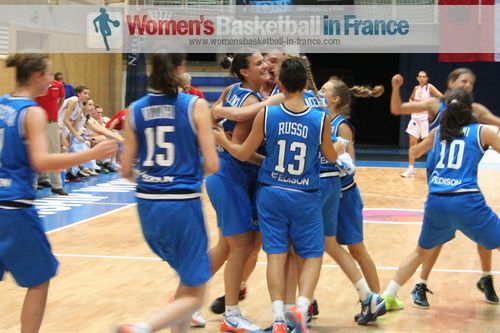 Italy start FIBA Europe U16 European championship with a bank
When it comes to youth international basketball at its best then the match between Italy and Spain was a good advertisement.
There were some excellent moments and then at times it was clear that it was U16 girls playing basketball.
The game was won by Italy in the first five minutes (12-5) because from that moment Spain were always on the back foot.
Spain chased well and were unlucky to not only trail by 2 points at the end of the fist quarter after their buzzer beater was disallowed (12-16).
During the second and third quarter Spain used a lot of energy to catch up with the Italians as they had pulled themselves together. They matched Italy basket for basket and even led briefly.
However Italy went into the final quarter leading (39-36) and finally their full court press paid out as they overpowered Spain with clinical finishing to blow their opponents away.
Spain: Maria Cazorla 0, Medina, Angela Salvadores 16, Carla Romeu 2, Nogaye Lo Sylla 2, Cristina Molinuevo 0, Laura Quevedo 8, Laia Clavero 0, Elena Capella 6, Itsaso Conde 5, Laia Flores 4, Helena Orts 5, Sara Zaragoza DNP
Italy: Sofia Vespignani 0, Isabel Romano 2, Arianna Landi 4, Martina Kacerik 16, Marzia Tagliamento 13, Cecilia Zandalasin 17, Alessia Cabrini 0, Arianna Beretta 8, Ilenia Cordola 5, Francesca Russo 0, Marta Lorenzin DNP, Annalisa Vitari 7
---
Return to the top of page
---
FIBA Europe U16 Championship picture credits:


womensbasketball-in-france.com

Date created: 13 July 2012
Last Updated: 14 July 2012