FIBA Europe U16 Division B
Promotion for another traditional division B nation
England have been a loyal federation to the FIBA Europe division B championships since its début. No matter the situation they have always presented a team.
England have finally gained promotion by beating Latvia. On the other hand Germany who have dominated this competition are making a return trip to the elite division by defeating Bulgaria in the second semi-final.
England and Germany have been led in this tournament by players who had shone during the 2010 edition.
For England Shequila Joseph who happens to be the junior sister of Kashmere Joseph, a former youth international star, is leading the team offensively while Cheridene Green is doing the rebounding.
For Germany Noémie Rouault is the double-double queen of this competition. She is averaging over 17 points and 16 rebounds again so far. This year she is receiving plenty of support from newcomer Emma Stach who is leading the scoring with almost 19 points per game.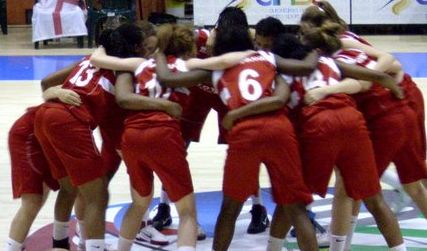 England beat Latvia (51-40) in the first semi-final with Jay-Ann Bravo-Harriott and Green doing the damage offensively with 15 points each.
Latvia led (9-2) after five minutes but did not score again until the 17th minute. In that time England scored 15 points and went in front for good (17-9).
The rest of the game was evenly balanced in all aspects, poor free throwing and shooting, lot of turnovers, but plenty of passion.
Karen Burton, the English coach, decided to use just seven players. Joseph also finished in double digits with 12 points and dished out 3 assists.
For Latvia Sigita Dzarcane was the best performer with 11 points and 8 rebounds.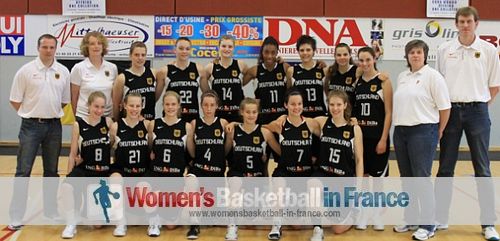 Germany were given a stiff test by Bulgaria and German coach Patrick Bär admitted after the victory (71-64) that the Bulgarians played a clever game in the first half that put his players under a lot of pressure.
However in the second half they made some adjustments, battled hard, rebounded and wanted the victory more. However overtime could have been avoided.
For Germany Emma Stach's perfect free throwing (7-from-7) almost helped her side to a regular time victory. However Borislava Hristova (26from Bulgaria fired in a trey to send the game to overtime (60-60).
Noémie Rouault was once again winning most of the rebounds with a total of 28 as Germany dominated overtime.
---
Leave FIBA Europe U16 European Championship 2011 page and go to U16 history
Return to the top of page
---
FIBA Europe basketball picture credits:


Deutscher Basketball Bund

Date created: 19 August 2011
---