FIBA Europe Under 16 Division B
Qualification picture is not clear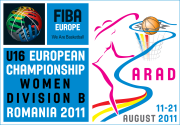 The promotion in the FIBA Europe U16 European Championship for Women Division B competition has always been difficult to predict since "traditional divisions" such as Finland and the Netherlands have made the jump to Division A and have not returned as of yet.
Of the 12 teams in the qualifying round England, Portugal, Romania and Slovenia are the four nations that have never been promoted in this age group to Division A.
Portugal started the day undefeated and a victory against England would have assured them a place in the quarter-final.
Karen Burton, the coach for England, needed a win also to improve the chance of England qualifying for the next phase.
The match itself was not a classic. But England with a much better shot selection came out on top (55-51). They took 18 shots less than their opponents but almost undid the good work with poor free throwing 17-from-30.
Portugal led (50-45) with five minutes to play and were in control. England got a break with three minutes remaining when Jay-Ann Bravo-Harriott made two free throws.
England then leveled the score off a three-ball by Shequila Joseph (50-50) with just over two minutes to play.
Portugal continued to fire shots off from beyond the arc with no success and then with a minute to play Bravo-Harriott scored and put England in the lead for good.
2 more points by Cheridene Green gave England the breathing space they needed with 30 seconds to play.
The remaining scores came from the charity stripes.
Joana Soeiro from Portugal was the best player in the match and led her team with 25 points.
Due to the fact that Ukraine beat Estonia (47-42) and Latvia beat Slovenia (63-62), no team from Group F have qualified for the quarter-final. Only Estonia is eliminated.
In Group E, Lithuania needed a three-pointer by Dalia Belickaite in the last minute to put down Denmark (69-66) to remain unbeaten.
Germany kept things perfect by beating hosts Romania (74-63). They did the damage in the first ten minutes by building a (23-8) lead.
Emma Stach led the scoring with 19 points but it was Noémie Rouault who stole the show with 18 points and 18 rebounds for Germany.
Germany face Lithuania to determine which team finishes on top of the group.
Bulgaria eliminated Switzerland (74-45) from the qualification race and as a result stay in the battle for a place in the quarter-final.
---
Leave FIBA Europe U16 European Championship 2011 page and go to U16 history
Return to the top of page
---
Basketball picture credits:




Date created: 16 August 2011
---