FIBA Europe Under 16 Division B
Joy for Switzerland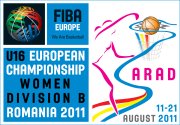 The FIBA Europe U16 European Championship Division B tournament is currently the second international youth basketball festival taking place in Romania.
With Belarus not appearing England, Estonia and Slovenia from Group C have already qualified for the quantifying round.
Romania opened the competition against Lithuania, a team relegated from Division A and came out second best.
Lithuania scored the first 5 points of the game to never look back as they cruised to victory (62-47) with 17 points coming from Justina Kraujunaite.
In the other game from Group C Bulgaria needed a third-quarter 18-7 blitz to overcome Israel (65-50).
Borislava Hristova did most of the damage with 28 points, 10 rebounds, 5 steals and 1 block in her match winning performance.
Yet the team's performance of the day belongs to Switzerland who beat Ireland (74-43).
Switzerland's last preliminary round victory was in 2008 during their first appearance in a Division B event. They went on to finish 13th that year.
Ireland do not present teams these days at U18 and U20 level and have a history of being one of the most physical teams, an asset that makes them difficult to play against.
Switzerland put together a 14-0 run during the first quarter to lead (19-4) with seven minutes played. They went into the second quarter (24-10) ahead. By half time they had stretched the advantage to 16 points (37-21).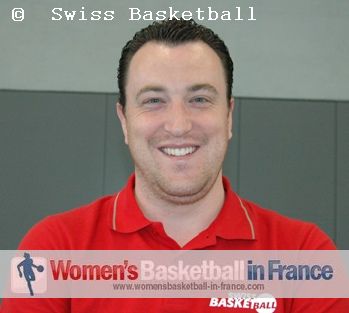 Ireland could do nothing right and with Katie Maloney in foul problems fell further behind after conceding 15 unanswered points (23-53) with 13 minutes to play.
Romain Gaspoz (in picture), the Swiss coach, was able to give all his players a run as his side cruised to victory. All 12 players got on the score sheet and with Dijana Milenkovic as the top scorer with 19 points.
In the other group game Bulgaria beat Israel (65-50).
In Groups A and B there was no real surprise: Ukraine thumped Luxembourg (90-55) while Portugal beat Latvia (64-57). In the only game from Group B, England came out on top against Estonia (49-41). England won just one quarter, the second one with 27-9. Yet it was enough to hold onto the lead.
---
Leave FIBA Europe U16 European Championship 2011 page and go to U16 history
Return to the top of page
---
Basketball picture credits: FIBA Europe
Swiss Basketball




Date created: 12 August 2011
---