2011 U16 Eurpean Champions are Spain
Italy in bronze
Greece qualify for FIBA World Championship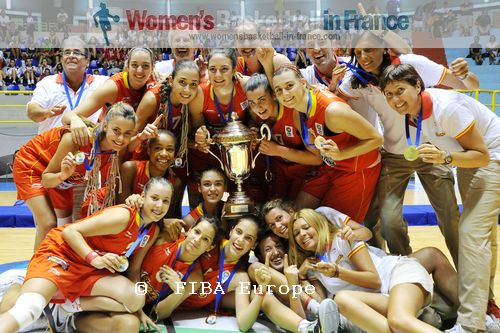 The 2011 FIBA Europe European Championship for Women Division A has come to and end with five teams qualifying for the U17 World Championship next year.
Spain picked up their sixth U16 European Championship Division A title and 7th continental title after beating Belgium (67-43).
Italy ended the day on a high picking up the bronze medal by thrashing Turkey. Greece on the other hand were celebrating after beating Russia for fifth place.
France
did not have a good tournament. For the first time since 2006 they failed to finish on the podium. France are not playing at the 2012 U17 World Championship after finishing 7th.
The Netherlands on the other hand are at the World Championship competition despite finishing in 9th place.
As hosts they had automatically qualified. In this competition they have proved that they are a serious contender in this age group in European Division A basketball.
Final ranking of the U16 European Championship for Women:
(1) Spain (2) Belgium (3) Italy (4) Turkey (5) Greece (6) Russia

(7) France (8) Sweden (9) Netherlands (10) Czech Republic

(11) Slovak Republic (12) Hungary (13) Serbia (14) Croatia

(15) Poland (16) Finland
You may read the 2011 FIBA Europe U16 European Championship for Women Division A final day stories by selecting a link below.

Belgium 47-63 Spain
Italy 82-48 Turkey
Classification round-up - Greece dancing
Hind Ben Abdelkader is MVP

Spain shut down Belgium in the second half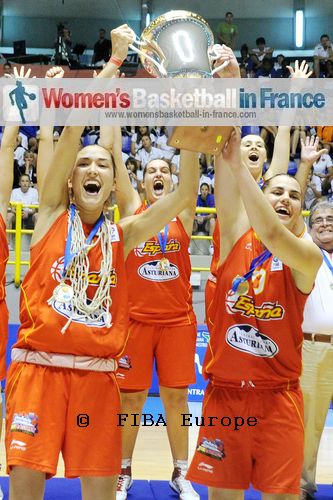 Spain completed the job by beating Belgium (67-43) in the final of the 2011 FIBA Europe U16 European Championship Division A for Women.
The game was much closer than the final scoreline reflects.
In the game Spain were fast out of the starting blocks and led (8-2) after three minutes. They had put themselves in the driving seat with a 9-2 run to conclude the first quarter (21-12) with 11 points coming from Leticia Romero.
Belgium did not have the height to compete with Spain in the paint so they changed defensive tactics forcing their opponents to work more from outside.
The result was interesting because Belgium were able to hit Spain on the counter-attack (fast break).
Belgium also went on the attack and with Hind Ben Abdelkader, Julie Allemand and Anneleen Da Baets all scoring. Belgium were back in the game with a 2-point deficit (25-27) with 15 minutes played.
However Belgium were slowed down by Maria Arrojo (Belén Arrojo-Jiménez) who had decided to take things into her own hands for Spain by scoring 6 points.
Yet a couple of points by Abdelkader and a three-ball by An-Katrien Nauwelaers meant that Spain's advantage was just 3 points.
Neither team scored for the last 2 1/2 minutes. This allowed Evaristo Perez, the coach from Spain, to go into the half-time break leading (33-30) but with a lot of thinking to do.
Spain appeared to have caught a cold at the start of the third quarter. For the first time in this tournament they saw a big lead evaporate. With just over 24 minutes played Belgium were in front (36-35).
Spain trailed for less than 30 seconds and then went into overdrive by outscoring their opponents 12-3 to go into the final quarter leading (47-39).
Spain had found a solution for Abdelkader and it was the turn of Belgium to go cold.
Then Spain put the game out of Belgium's reach with a 16-0 that gave them a 24-point lead with three minutes remaining.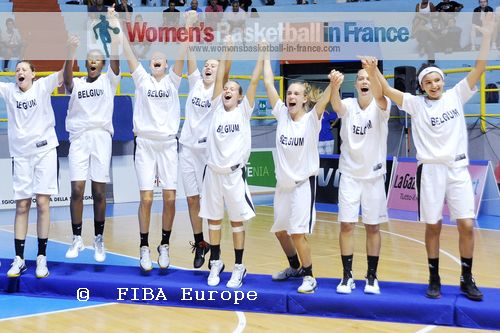 Arvid Diels, the Belgium coach, explained what went wrong in the fourth quarter by saying: "We played a great quarter-final, the perfect game in the semi-final and here, we kept it close and even passed them at one point, but the fourth quarter has been their best quarter throughout the tournament and they did a terrific job."
Belgium suffered the same fate as all the other teams in this tournament once Spain stepped on the accelerator. However against Belgium they displayed a level of maturity which was well above all the teams in this competition.
Arrojo led the way with 20 points for Spain while Romero (5 assists and 3 steals) and Yaiza Rodriguez added 15 and 11 points each. For Belgium Abdelkader with 18 points was the only player in double digits.
Return to the top of FIBA Europe U16 news page
Italy finish in bronze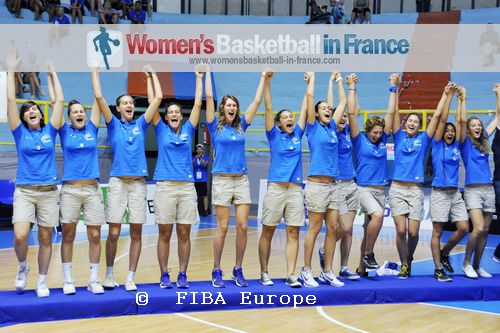 Italy ended the tournament in the best way possible with a victory against Turkey (82-48) in front of a large crowd in the Pala Rockefeller Arena in Cagliari.
The match was close for just five minutes with the guests leading (7-6).
A three-ball by Cecilia Zandalasini from Italy started the ball rolling for Italy, who then outscored Turkey 15-4 to edge the first quarter (21-11).
The second quarter turned into a Elisa Penna show with 13 quarter points as her team ran all over Turkey with a 25-11 blitz to go into the locker room with a huge advantage (46-22).
During the third quarter it was the turn of Antonia Peresson from Italy to take over the offensive duties with 13 points.
Büsra Akbas (14 points) and Hülya Coklar (10 points), Turkey's two top players did their best. But with a (32-67) deficit going into the final quarter they knew that the bronze medal was gone.
All the Italian players got to play as they strolled to victory. Penna, Zandalasini shared the scoring for 18 points each while Peresson contributed 16 points. Italy hit more than 50% of their shots.
Return to the top of FIBA Europe U16 news page
Greece go to the U17 World Championship - Poland relegated
At EuroBasket Women 2009, Greece had to battle to claim fifth place which enabled them to qualify for the 2010 World Championship. They beat Italy that day and Evanthía Máltsi led her team into a Greek traditional dance.
The Greek U16 players in Italy held off Russia (71-65) in the fifth place match which was also the play-off for the fifth European place for the 2012 U17 World Championship.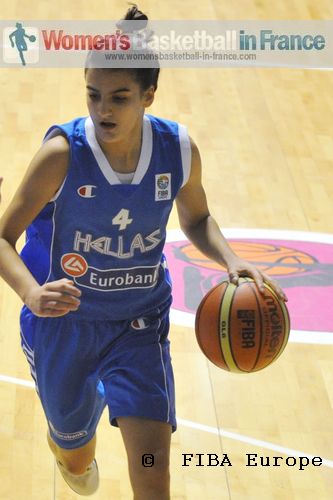 Anna Stamolamprou (in picture) who led her team to victory with 31 points got her team-mates to dance.
The match itself was keenly contested and both teams played some excellent basketball at times.
Russia have had problems with turnovers this year and this game was no exception. They had 10 more than Greece but their main problem was that they only had Yana Degtyarskaya who was able to raise her game. She scored 19 points and dished out 4 assists. She also led the rebounding and steals but their was nobody else.
For Greece Stamo Lamprou has been a one-lady wrecking machine but her side was able to to get players to step up and help.
Dimitra Tsavo has been regular and scored 11 points and picked up 10 rebounds while Eleni Kyratzi had another double-digit game with 13 points. Yet it was the turn of Vasiliki Fouraki with 11 points to step up.
France huffed and puffed but never got going after their opening day defeat to Turkey. All the same they managed to beat Sweden (47-38) to claim 7th place in a match that nobody should want to remember.
Lysa Millavet was the leading scorer for France with 12 points.
The Netherlands are a team that likes to entertain even when things are not going well for them.
They wanted the 9th place more than the Czech Republic. They were trailing (47-49) with just over two minutes left to play. Then Netherlands started to defend as if the title was at stake while hitting on fast breaks. The result was that they finished the game scoring the last 9 points to win (56-49).
The Slovak Republic won the 11th place classification game against Hungary (58-47).
Poland join Finland in division B after losing to Croatia (65-78) while Serbia beat Finland in the first game of the day (72-58).
Return to the top of FIBA Europe U16 news page
MVP news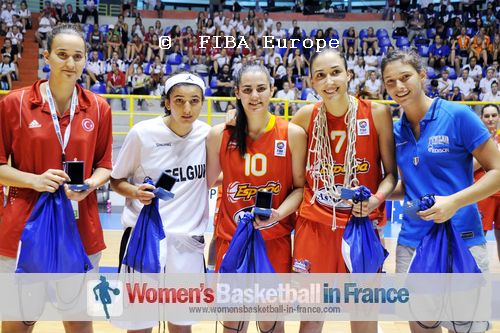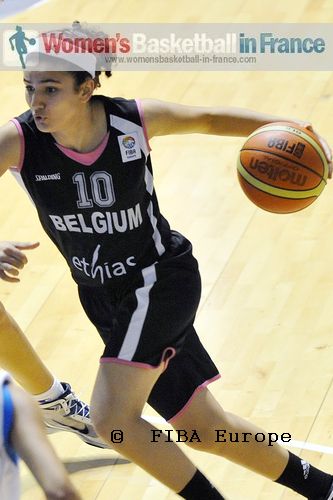 Hind Ben Abdelkader (left) is not a new face to youth international basketball. She played for Belgium last year (2010) at the U16 European Championship and was also a member of the Belgium U17 team that finished fourth at the 2010 U17 FIBA World Championship for Women.
She has added the MVP title to her growing list of accolades. Abdelkader finished the tournament with an average of 18.9 points and dished out 3.3 assists per game.
However it was during the semi-final in which she scored 29 of her team's 54 points where she proved to be a match winner and leader. She is following in the foot steps of fellow national team mate Emma Meesseman who was the MVP in 2009 in the U16 category.
The other members of the all-tournament team are: Hülya Coklar (Turkey), Cecilia Zandalasin (Italy) and from Spain María Arrojo and Leticia Romero.
Return to the top of FIBA Europe U16 news page
---
Leave FIBA Europe U16 European Championship 2011 page and go to U16 history
Return to the top of FIBA Europe U16 news page
FIBA Europe basketball picture credits:


FIBA Europe - Castoria/Gregolin
Masbasket.com

Date created: 21 August 2011
---