20 players for EuroBasket Women

Since 23 April 2013 the preparation for EuroBasket Women has been in full swing at INSEP in Paris. Only five from the 15 players invited to the first camp were retained for the next phase.

The players released from international duty this season are: Jessica Clémençon, Adja Konteh, Pauline Lo, Lorraine Lokoka, Maud Medenou, Hhadydia Minte, Alice Nayo, Alexia Plagnard, Melanie Plust and Ingrid Tanqueray.
Amel Bouderra was the only player from the original list of 31 players not to be invited to either camp.
The list of the 20 players to participate in the final preparations can be found below: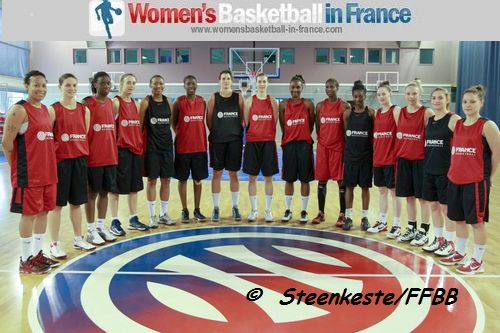 Le communiqué de la FFBB vous informe: "A l'issue du premier stage de l'Equipe de France féminine qui s'est déroulé à l'INSEP, Pierre Vincent et son staff technique ont retenu 20 joueuses pour participer au stage de Lyon qui débutera le 9 mai prochain. Ce stage est la première étape qui conduira les Bleues jusqu'à l'EuroBasket Women 2013 (15 au 30 juin)," dont la liste des 20 joueuses est en-dessous:

| | | | | |
| --- | --- | --- | --- | --- |
| Name | Position | Height (CM) | Age | Club |
| Marielle Amant | Power Forward | 1.90 | 23 | Nantes-Rezé Basket |
| Valériane Ayayi | Forward | 1.84 | 18 | Basket Landes |
| Ana-Maria Cat- Chitiga | Center/Pivot | 1.95 | 23 | Lattes Montpellier |
| Sarah Chevaugeon | Guard | 1.75 | 20 | Lyon BF |
| Héléna Ciak | Center/Pivot | 1.95 | 23 | Perpignan Basket |
| Céline Dumerc | Point Guard | 1.69 | 30 | Bourges Basket |
| Emilie Gomis | Small Forward | 1.80 | 29 | Lattes Montpellier |
| Sandrine Gruda | Center/Pivot | 1.95 | 25 | UMMC Ekaterinburg (RUS) |
| Laëtitia Kamba | Power Forward | 1.87 | 25 | USO Mondeville |
| Pauline Krawczyk | Forward | 1.83 | 28 | Bourges Basket |
| Anaël Lardy | Point Guard | 1.70 | 25 | USK Prague (CZE) |
| Edwige Lawson-Wade | Point Guard | 1.66 | 33 | Lattes Montpellier |
| Nwal-Endéné Miyem | Power Forward | 1.88 | 24 | Bourges Basket |
| Emméline Ndongue | Center/Pivot | 1.92 | 29 | Bourges Basket |
| Paoline Salagnac | Guard | 1.76 | 29 | Tarbes |
| Kristen Brooke Sharp | Point Guard | 1.75 | 31 | USO Mondeville |
| Gaelle Skrela | Guard | 1.77 | 30 | LattesMontpellier |
| Isabelle Strunc | Guard | 1.80 | 22 | Perpignan Basket |
| Diandra Tchatchouang | Forward | 1.87 | 21 | Perpignan Basket |
| Isabelle Yacoubou-Dehoui | Center/Pivot | 1.90 | 26 | Sparta&K MR Vidnoje (RUS) |
---
Like this page / Aimez cette page