2014 FIBA U17
World Championship for Women semi-finalists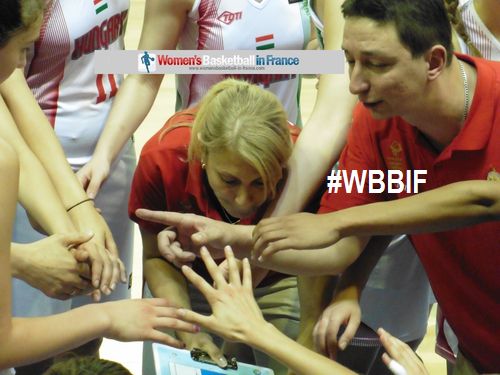 Hungary booked their place for the semi-final of the 2014 FIBA U17 World Championship for Women with a hard fought victory against Japan. Elsewhere the hosts, the Czech Republic, Spain and the USA also got their semi-final place tickets.

Veuillez trouvez en bas de page, les informations sur la journée des quarts de finale du Championnat du monde de basket U17 féminin en 2014.
In the classifications round for 9th to 16th place, Mali pulled off the biggest win of the evening by outscoring Italy (46-44) while China eased past Egypt (68-51).
Brazil recovered from their disappointment in not qualifying for the quarter-finals to beat Mexico (60-44) while Korea pushed aside the Slovak Republic (55-40).
Like on the first days of competition all the games are available on the youtube channel of FIBA, with all the links of the quarter-final day included in this article.

The semi-final pairings are as follows:
Hungary vs. USA
Czech Republic vs. Spain

---
Tickets for FIBA U17 World Championship
for Women are expensive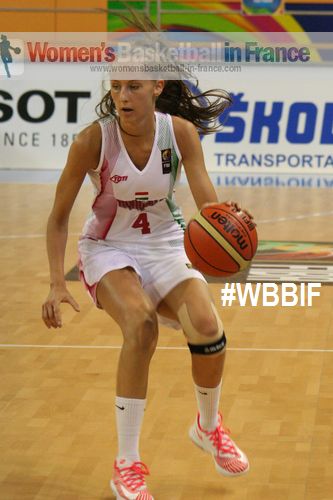 Japan failed in making their first-quarter dominance over Hungary convert into points and paid the price when they ran out of energy in a pulsating final quarter.
Hungary were a little untidy with the coach shaking her head. Her side did turn the ball over 22 times. All the same Debora Dubie (in picture) with 16 points was steady from the three-point line with 4-from-5 while her team-mate Eniko Kuttor took care of the rebounds with 14.
Kuttor joined Virág Kiss on 10 points. For Japan the dream of a FIBA U17 World Championship for Women semi-final place ended in disappointment.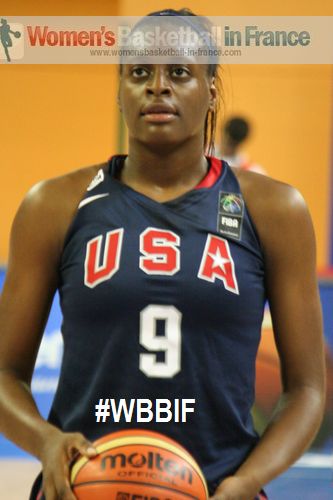 Canada were the better team for the first five minutes and then it was one-way traffic in the direction of the USA. 
Sue Phillips, the coach from the USA, spent the whole 40 minutes pacing up and down in order to make her players stick to the game plan. This meant everybody had to work hard in defense and contribute to the offense.
Canada were outpowered and outplayed while it was the turn of Joyner Holmes (in picture) from the USA to hit the big shots with 24 points while Canada had nobody in double digits.
The USA will meet U17 newcomers Hungary in the first semi-final.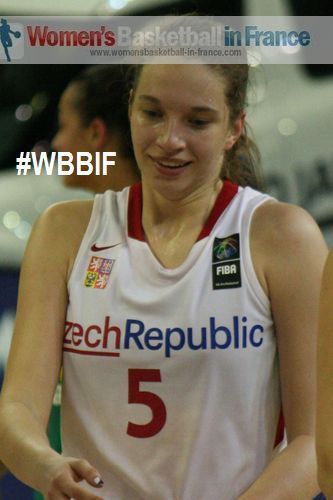 The Czech Republic ended the unbeaten run of Australia (61-50) to book their World Championship semi-final place.
Lenka Soukalová (in picture) did all the little things that do not show up in the stats sheets while Tereza Sipova and Petra Holesínská knocked down 20 and 17 points apiece.
Australia fell apart at the start of the third quarter and never really came back. They could not hit a shot under the basket and only converted 6 second-chance points. Australia now have to pick themselves up and play for fifth place.
After the match Soukalová did not think that she did do anything special and that she just played her natural game. She also described her team as fighters in that they never gave up. Her dream is to come away with a medal from this competition and maybe do better than the senior team in 2010 that won the sillver medal when they hosted the FIBA World Championship for Women.
Spain are still the Queens of youth basketball in Europe. They did not really have to step up to a higher gear to get past France in the last semi-final (73-54).
It was not poetry in motion that we have seen in the past. But with Angela Salvadores (18 points, 13 rebounds and 5 assists) pulling her team along, France needed Ornella Bankole (14 points) and Alexia Chartereau (12 points) to be at their best.
While Spain celebrated, it was water works for all the French players who must play Australia in the 5th-8th place classification game.

All the games from day 4 of the FIBA U17 World Championship for Women can be found below:

---
La cinquième journée du
Championnat du monde de basket U17 féminin se termine en pleurs pour la France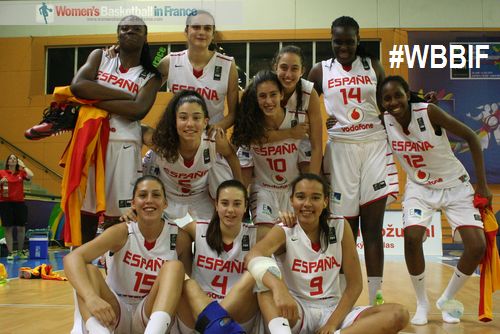 Elles jubilient, les joueuses de l'Espagne, les Etats-Unis, la Hongrie et la République Tchèque pendant que la France doit faire son mieux pour terminer cinquième dans le classement.

L'Espagne rencontrera la République Tchèque après avoir dominé la France pendant le match du dernier quart de finale. Les 14 et 12 points de Ornella Bankole et Alexia Chartereau sont en vain pour la France qui succombe à la supériorité de son adversaire (54-73).
A nouveau Angela Salvadores (18 points, 13 rebonds, 5 passes décisives) est le facteur le plus important pour la victoire de l'Espagne.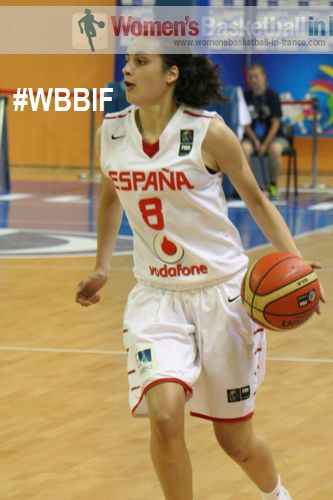 La République Tchèque s'impose contre l'Australie (61-50).
Lenka Soukalová, Tereza Sipova (20 points) et Petra Holesínská (17 points) contribuent fortement à la victoire.
Canada joue bien pour les premières cinq minutes. Mais après ce sont les Etats-Unis qui dominent pour renverser ses adversaires (86-45). Cette fois-ci, c'est Joyner Holmes qui mène pour les USA avec 24 points.
Les Etats-Unis devront faire face aux Hongroises pour la semi-finale.
L' Hongrie s'impose contre le Japon (61-51) malgré ses 22 balles perdues.

Debora Dubie (16 points), Eniko Kuttor (10 points, 14 rebonds) et  Virág Kiss (10 points) sont les meilleures joueuses pour l'Hongrie pendant que Kiri Endo contribue 19 points pour le Japon.
Dans les rencontres des bas de classement, du neuvième au seizième place, le Mali bat l'Italie (46-44), L'Egypte perd contre la Chine (51-68), le Brésil gagne contre le Mexique (68-44) et la Corée s'impose (55-40) contre la Slovaquie.

Si vous êtes intéressés de regarder un ou plusieurs matchs de la cinquième journée, cliquez sur les vidéos de votre choix en-dessus de cet article.
---
Like this page / Aimez cette page