2014 FIBA U17 World Championship for Women - Day 1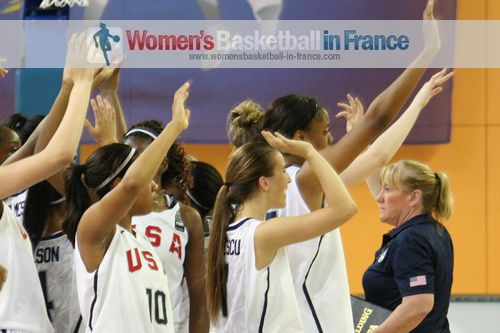 With all the games of the 2014 FIBA U17 World Championship for Women being streamed live and available on the youtube FIBA Channel the wbbif coverage of this tournament will update you on the daily events but not include any game reports this time.
Veuillez trouvez en bas de page, les informations sur la première journée du Championnat du monde de basket U17 féminin.
Most of the games we watched in the arena lacked the intensity we are used to be seeing on the opening day. This is due to the new format of the competition with all teams actually qualifying for the round of 16, also known as the second round.
The USA did not push themselves and finished up with their lowest points' total in a U17 FIBA World Championship game in their victory against China (69-41).
France went on a three-point shooting spree during the third quarter of their game against Mali which enabled them to cruise to victory (66-45).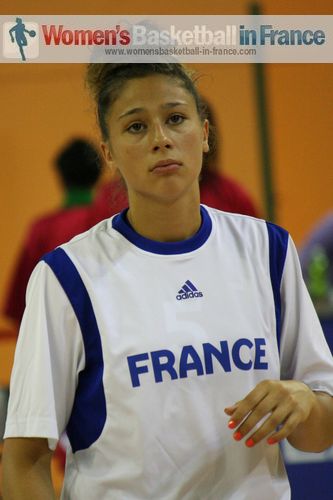 Elise Cammas (in picture) was the match winner for France. She finished with 18 points, all coming from behind the three-point line. France will meet USA in their next game.
In the opening game of the day in Klatovy, Egypt was overpowered by a well oiled team from Brazil (47-87). Larissa Carneiro helped herself to 16 points with 12 of them from beyond the arc (4-of-5) in leading her team to victory.
In the other game from Group B, Spain walked over Italy (71-39) with 32 points coming form two players: Angela Salvardores and Maite Cazorla who scored 18 and 14 points respectively.
The two games from Group A provided plenty of excitement and drama with Hungary edging out Canada (76-73) while the hosts, the Czech Republic, beat Korea (61-51) in a sew saw battle.
Julia Reisingerov continued from where she left off last summer with 21 points and 14 rebounds for the hosts. Ji Su Park was heroic in defeat with 22 points and 9 rebounds.
The Slovak Republic put any disappointment behind them of not hosting the FIBA U17 World Championship for Women with an opening day victory (54-36) against Mexico. Australia rounded off Group C in a close game against Japan (54-36).
Click on the links below to watch the games of interest:

Les Bleuettes en forme pour leur premier match du
Championnat du monde de basket U17 féminin
Les Françaises n'ont pas de problèmes de s'imposer contre les Malaisiennes comme leurs adversaires du poule, les Américaines qui battent la Chine.
Tous les matchs peuvent être vues sur youtube FIBA Channel (voir les liens en dessus de l'article français). 
Le nouveau format a légèrement transformé la première phase dont chaque équipe se qualifie pour les 16e de finale.
Dans la poule D, les Etats-Unis s'imposent contre la Chine (69-41) comme la France qui vainc Mali dans le troisième quart avec plusieurs tirs à trois points pour remporter le match (66-45). Elise Cammas montre ses qualités du tir à distance avec 18 points pour la France.
Dans la poule C, la Slovaquie remporte leur rencontre contre la Mexique (54-36) pendant que l'Australie gagne (54-36) contre le Japon.
Dans la poule B, l'Egypte n'a pas de réponse au Brésil, emmené par Larisa Carneiro (12 points) et perd (47-87). 
Ainsi l'Italie succombe à l'Espagne (39-71) dont Angela Salvardores et sa co-équipières Maite Cazorla sont auteurs d'un total de 32 points pour l'Espagne. 
Dans la poule A, il y avait plus du suspense. Canada succombe à l'Hongrie (73-76) et la République Tchèque gagne de justesse contre la Corée (61-51). Les meilleures joueuses, Julia Reisingeroy pour La République Tchèque et Ji Su Park pour la Corée, contribuent 21 points, 14 rebonds et 22 points et 9 rebonds respectivement.

---
Like this page / Aimez cette page