2013 U16 European Championship
Spain take a new trophy home


The 2013 U16 European Championship for Women Division A in Bulgaria has come to an end with Spain lifting the Division A trophy for the 8th time.

The Czech Republic and Hungary did not leave empty handed with the silver and bronze medal respectively.
Just like in 2012, France finished in fifth place but this time they were rewarded with a place for the 2014 FIBA U17 World Championship.
Belgium ended the tournament on a high with a 1-point victory over the Netherlands to keep their place in Division A.
Angela Salvadores from Spain was voted MVP and was joined in the all tournament team by: Julia Reisingerová (Czech Republic), Debora Dubei (Hungary), Francesca Pan (Italy) and Maria Vadeeva (Russia).
You may watch highlights from the final day by clicking on the films in the right margin.

Spain again, silver for Czech Republic and Hungary with bronze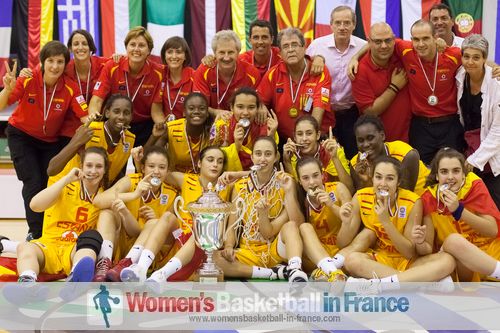 Spain are champions again after defeating the Czech Republic in the gold medal game (62-55). Angela Salvadores was again the driving force for Spain with 22 points while Laia Raventos provided all the hustle while scoring 13 points.
Michaela Gaislerová and Julia Reisingerová were the leading scorers for the Czech Republic with 13 and 11 points apiece.

Hungary ended their 37-year wait for another U16 European Championship medal with a (62-55) victory against Italy in the bronze medal match.
Hungary never trailed in the match and did most of the damage during the opening quarter (17-6). Both teams left a lot of points at the free-throw line with Hungary missing 15 and Italy 12.
Debora Dubei was the match winner for Hungary with 19 points and 10 rebounds.

France: qualified for the Worlds, the Netherlands: relegated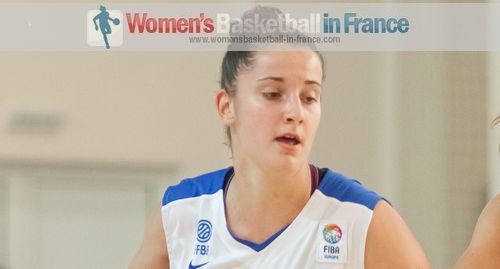 France beat Russia (62-61) thanks to a couple of free throws by
Lisa Berkani (11 points, 3 assists) with three seconds to play.
France were a perfect 9-of-9 from the free-throw line, while Russia went 4-of-5. The one miss by Russia is all that separated the teams in the end.

Ana Tadic led France with 14 points while Ornella Bankole finished with 13 points and 3 assists. For Russia Maria Vadeeva finished with a double-double of 18 points and 16 rebounds.
France leave this European Championship without a medal but a place at the 2014 FIBA U17 World Championship for Women while Russia come home with nothing.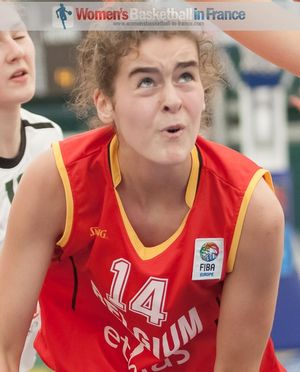 Latvia beat Croatia (62-53) to finish 7th. Digna Strautmane claimed her fifth double-double for Latvia with 23 points and 15 rebounds in leading them to victory.
Sweden defeated the Slovak Republic (58-51) to win the 9th - 16th classification round.

Greece finished well to take a (65-49) win over Turkey to claim 11th place.
In the other important game in the lower classification saw Belgium save their Division A status with a 22-8 fourth-quarter run to edge out the Netherlands (48-47). Marie Cole (in picture) hit the winning basket with 14 seconds to play. Belgium take the all important 13th place while the Netherlands' four-year stay in the elite is over.

Bulgaria finished the tournament in last place without a single victory after falling to Lithuania (74-81).
---
Like this page / Aimez cette page