Playing basketball in France:
Sheana Mosch

In 2008 Sheana Mosch explained how tough playing basketball in France could be after a local derby match between her club Arras and Saint Amand.
Veuillez trouver en bas de page des informations sur Sheana Mosch en français.

Five years later womensbasketball-in-france caught up with Mosch for a special one on one in which Sheana Mosch shares her thoughts on a number of topics.
She talks about her love for playing basketball in France and how the league has evolved in the time she was away. 
Mosch played in France with Arras during the 2007-2008 season and with Lattes Montpellier in 2008-2009. After three years away playing in Russia and Turkey, she is back in the Ligue Féminine de Basketball.
She goes on to talk about her current season (2012-2013) with the Flammes Carolo (Charleville-Mézières) as well a new experience in having to sit out a number of games.
For young players hoping to make a career in professional basketball in Europe she adds her tips of staying healthy and keeping fit. The interview concludes with stories about Duke and how she believes it has prepared her for life on the road abroad (overseas).
The interview was conducted before the French Cup match between her club Charleville-Mézières and Illkirch-Graffenstaden, which happened to be the club Allison Vernerey played for before moving across the Atlantic to Duke University.
wbbif would like to thank Sheana for taking some time to share her thoughts on professional basketball and we wish her all the best for the season.

Jouer en France: avec plaisir !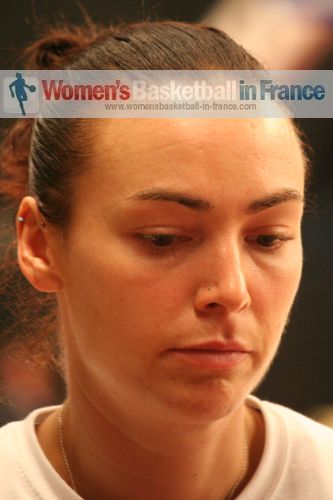 Sheana Mosch le dit, nous de womensbasketball-in-france le confirmons, jouer dans la ligue féminine de basketball n'est pas seulement un challenge mais aussi une expérience à ne pas manquer.
Dans notre interview, conduit en anglais, Mosch explique sa passion pour le basket féminin en France et nous rappelle son parcours professionnel en France, en Russie et en Turquie après avoir terminé ses études supérieures aux Etats-Unis.
En même temps, elle nous raconte comment les Blue Devils de Duke University l'ont préparé pour jouer professionnellement au basket et Mosch rajoute aussi des explications sur son entrainement personnel pour rester en forme.
Donc on peut que lui souhaiter une bonne fin de saison avec son club, Charleville-Mézières, et qu'elle reste si positive et pleine de vie!

---
Visit our 2012-2013 Ligue Féminine de Basketball section

Visit our home page
Visit our "What's New" page
Picture credits:
womensbasketball-in-france.com

Date created: 28 January 2013
Like this page / Aimez cette page