Women basketball players need to be tough
---
---
Basketball is a non-contact sport but you will find out here from women basketball players who share their thoughts about how tough playing basketball in France can be.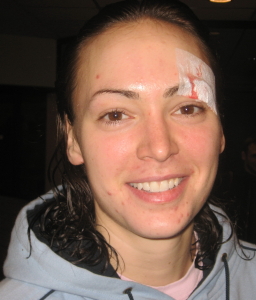 Sheana Mosch has been in some battles this season. This picture was taken straight after one of those games. Mosch had a great university career with Duke and had spent the last two seasons in Turkey.
She explained that she loved it in France. It was a great league and very competitive. Every game tended to be a battle as all the teams were pretty decent. She also enjoyed the physical nature of the game with it fights.
She added that the team she was playing for was young. They were working hard. And it has taken time to get to where they would like to be. But hopefully things would get better with the time.
Listen to her comments here:
---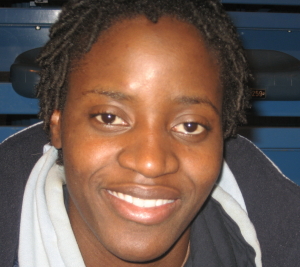 Carla Thomas
also said that she was enjoying her first international experience. She was learning a lot in general and about other aspects of the game. She went on to explain that playing on the road was difficult. In away games players were falling all over the place but got up and continued playing hard.
Listen to her comments here:
---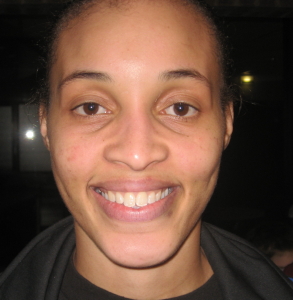 Tamara Moore
is back in France after spending three years of her basketball career in Israel. She had enjoyed her time in Nice. So she knew she wanted to come and play in France again. She commented that for her club the first half of the season was a roller coaster ride. Still they played a lot of great teams. She added that starting the new year 3-0 was really good. But the games would not get any easier.
Listen to her comments here:
---
Tiffany Stansbury
loves playing in France and is working on finalising her dual citizenship.
She is all praise about everybody at Saint Amand, from the president to the fans. She believes that the club could give the top clubs a run for their money.
As for the French league Tiffany confirmed that there were a lot of good players including some players from the WNBA.
Tiffany said she was looking forward to going back to Minnesota in the summer. Meanwhile she was working on her French.
Listen to her comments here:
---
Players from Reims, Tarbes and Villeneuve d'Ascq speak about their experience
Return from Women Basketball Players to "What's New" page
Return from Women Basketball Players to basketball Structure
Ines Kresovic and Liad Suez-Karni from Aix-en-Provence talk about their experience
Date: 06 March 2008
---