Bourges' LFB winning streak ended
Other surprise results
The last round of games of the first phase of the LFB did not go well for most of the top teams.
Lattes Montpellier
was the only team in the top five to win by defeating leaders Bourges Basket (60-56).
At the bottom end of the table COB Calais' victory and defeats for Villeneuve d'Ascq and Aix-en-Provence are making the relegation battle more interesting.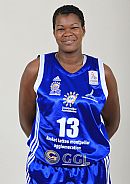 Ana Lelas, now playing at Montpellier after two seasons at Bourges, used her knowledge of her former team-mates to good use during the final three minutes of the game with 5 points and 1 block to lead the scoring.
However it was the performance of Sandra Dijon-Gérardin (left) that swung the pendulum in favour for her side. She scored 12 points, made 3 steals and pulled down 7 rebounds. But it was her intensity throughout the game that made the difference.

---
Tarbes shot the ball badly and were unable to match their hosts' intensity during the dying seconds and ended up losing (54-60) to Union Hainaut Basket.
Emilie Silbande-Petiteau put the hosts in the lead late in the first quarter (8-7).
UHB stretched their advantage slowly and had a maximum lead of 13 points which had evaporated with 90 seconds left to play (52-52).
Jasmon Covington restored the advantage for the hosts with a BIG three-pointer. Emilie Duvivier did the rest from the charity stripes with 5-of-6.
In the remaining LFB matches, 26 points by Mistie Williams-Bass was not enough for Challes-les-Eaux to avoid a home defeat against COB Calais (61-73).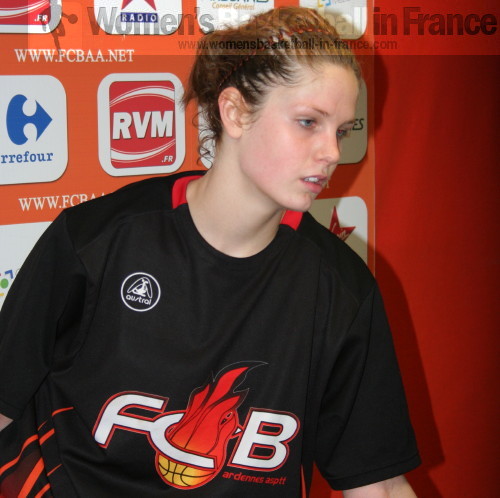 Charleville-Mézières had to dig deep to turn around a 17-point first-half deficit to beat Basket Landes (61-59).
Alexia Kusion (in picture) held her nerve to hit the winning free-throws in the closing seconds.
Villeneuve d'Ascq trailed for most of their match against Mondeville but stepped up in the final quarter with three-pointers flying in from all over the court to regain the lead.
With just under two minutes to play Villeneuve led (63-57). But then two bad turnovers allowed their guests back into the game with K. B. Sharp and Aurélie Bonnan doing most of the damage as Mondeville finished the game with a 10-0 run.
Nantes-Rezé ran out easy winners against Aix-en-Provence (80-55) after a strong second half.
Nantes-Rezé led (20-6) at the end of the first quarter. Yet they allowed their hosts to come back into the game during the second quarter for their advantage to be reduced at the break (36-34).
Arras closed the 13th round of the LFB with a victory against Toulouse (78-58).
Toulouse were led with 20 points by Shanavia Dowdell and did their best in an entertaining game. However they were unable to stop Pauline Akonga N'Simbo (17 points), Johanne Gomis (16 points) and Marielle Amant (13 points and 11 rebounds).
LFB round 13 results and points scored:
Challes-les-Eaux 61-73 COB Calais
Challes-les-Eaux: Romy Bär 6 (5 assists, 3 steals), Bianca Thomas 8, Alexia Plagnard 4 (4 steals), Sabrina Palie 0, Mistie Williams-Bass 26 (10 rebounds), Magali Lacroix 3, Clarisse Costaz 8, Jennifer Fleischer 6
COB Calais: N'Deye N'Diaye 8, Sylvie Gruszczynski 12, Mélanie Devaux 10, Aurélie Cibert 11 (4 steals, 5 assists), Mélanie Arnaud 6, Manon Sinico 10, Pelagia Papamichail 8, Brigitte Ardossi 8
---
Charleville-Mézières 61-59 Basket Landes
Charleville-Mézières: Amel Bouderra 10 (4 assists), Belinda Mboma 2, Alexia Kusion 9, Ekaterina Dimitrova 6, Kristen Mann 14, Djéné Diawara 15 (11 rebounds), Eléonore Grossemy DNP, Patrycja Gulak-Lipka 5
Basket Landes: Aminata Konate 4, Katarina Manic 6, Bineta Diouf 6, Anaïs Le Gluher 8, Julie Barennes 6, Tamera Young 12, Julia Borde DNP, Laurie Lapeyre 2, Jennifer Humphrey 13
---
Villeneuve d'Ascq 63-67 Mondeville
Villeneuve d'Ascq: Julie Page 2, Carine Paul 6, Ingrid Tanqueray 0, Marjorie Carpréaux 11 (5 assists), Laurie Datchy 0, Fanny Ploegaerts DNP, Carla Thomas 14 (9 rebounds), Olayinka Sanni 16, Bridgette Mitchell 14 (11 rebounds)
USO Mondeville: Touty Gandega 4, Anne-Sophie Pagnier 0, Esther Niamké-Moisan 2, Aija Brumermane 12, K. B. Sharp 14 (9 rebounds), Lenae Williams 12, Yacine Séné 8, Pauline Thizy DNP, Aurélie Bonnan 13 (8 rebounds), Valeriya Berezhynska 2
---
Lattes Montpellier 60-56 Bourges Basket
Lattes-Montpellier: Virginie Bremont 2, Alicia Poto 8, Iva Perovanovic 5, Cyrielle Hugues DNP, Ana Lelas 17 (2 blocks), Gaëlle Skrela 4, Sandra Dijon-Gérardin 12 (7 rebounds, 3 steals), Ines Ajanovic 7 (8 rebounds), Fatimatou Sacko 5
Bourges Basket: Anaël Lardy 1, Maja Miljkovic 2, Nwal-Endéné Miyem 6, Styliani Kaltsidou 11, Jennifer Digbeu 6, Catherine Joens 9, Paoline Salagnac 13, Emméline Ndongue 7 (8 rebounds, 4 assists), Ilona Burgrova 1
---
Aix-en-Provence 55-80 Nantes Rezé
Aix-en-Provence: Emmanuelle Gorjeu 0, Manon Cuomo 0, Zoi Dimitrakou 8, Isabelle Strunc 2, Anaïs Viale 2, Margaux Okou-Zouzouo 13, Natalie Hurst 16, Sabrina Réghaïssia 4, Carren Gay 8
Nantes-Rezé: Florine Basque 0, Caroline Aubert 5 (4 assists), Joyce Cousseins-Smith 8, Mélanie Plust DNP, Allison Hightower 6, Yuliya Andreyeva 8, Mame-Marie Sy-Diop 14 (8 rebounds), Sonja Kireta 14, Sabine Niedola 5, Emilija Podrug20 (12 rebounds)
---
Toulouse 58-78 Arras
Toulouse: Lou Mataly DNP, Jessie de Colo 0, Camille Aubert 8 (7 assists), Chandrea Jones 13, Emilie Maurice 0 (4 steals), Leslie Matanga 0, Lola de Angelis 5, Shanavia Dowdell 20 (9 rebounds), Suzanna Milovanovic 12
Arras: Leilani Mitchell 6 (4 assists), Laury Aulnette 2, Krissy Badé 2, Sarah Michel 5, Johanne Gomis 16 (4 assists, 3 assists), Adja Konteh 6, Marielle Amant 13 (11 rebounds), Aija Putnina 11 (9 rebounds), Pauline Akonga N'Simbo 17 (9 rebounds)
---
Union Hainaut Basket 60-56 Tarbes
Union Hainaut: Amanda Jackson 0, Emilie Duvivier 12 (4 assists), Clémence Beikes 12, Emilie Silbande-Petiteau 2, Noémie Lemaire DNP, Céline Girard DNP, Laëtitia Kamba 8 (8 rebounds), Jasmon Covington 18 (11 rebounds), Elsa Martins DNP, Alison Bales 8
Tarbes: Jelena Dubljevic 15, Erin Thorn 7 (4 steals), Ivanka Matic 8 (9 rebounds), Pauline Jannault-Lo 9, Isis Arrondo 2, Naura El Gargati 1, Florence Lepron 6, Darline Nsoki DNP, Ana Maria Cata Chitiga 2, Brooke Smith 4
---
Look back at the LFB
basketball news from round 11
.
LFB round 12 basketball news
Villeneuve d'Ascq 74-62 Aix-en-Provence
Tarbes 84-69 Lattes Montpellier
Basket Landes 64-60 Union Hainaut Basket
COB Calais 54-62 Charleville-Mézières
USO Mondeville 51-70 Challes-les-Eaux
---
Return from LFB Basketball News to Ligue Féminine de BasketBall index
Go to Women Playing Basketball In France Home Page
Return to the top of page
---
LFB picture credits:


womensbasketball-in-france.com
LFB

Date created: 08 January 2011
Last updated: 09 January 2011
---