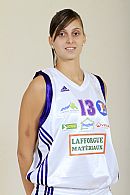 If the LFB had an award for most improved player then
Ana Cata-Chitiga
(left) would be a in the race for the title.
She had had a great youth career. But like many young players trying to play professional basketball and study full-time, she spent more time sitting on the bench.
However Cata-Chitiga kept up her intensity and training. Now that she has finished studying she is showing all the potential of her youth international days.
She is just 21 years old and led Tarbes to victory (84-69) against Montpellier with 17 points, shooting 7-of-8 from the floor and picking up 8 rebounds.
She was just one of five players to finish in double digits. Erin Thorn led the way with 20 points while Ivanka Matic and Jelena Dubljevic (8 assists) contributed 15 and 13 points each.
Brooke Smith on her LFB début scored 10 points.
Tarbes have consolidated their position in second place while Montpellier remain in third place.
Game recap:
Tarbes were quickly out the starting block (9-4)with just two minutes played. They gave the impression that they would run away with the match leading (17-10) after six minutes.
But like so often this season they dropped their guard allowing their guests to draw level (20-20) with the game in the last minutes of the first quarter.
However a triple by Thorn and a typical Florence Lepron steal and 2 points put the hosts back in charge (25-20) to start the second quarter.
Montpellier stayed on the tail of their hosts until midway through the quarter (30-34) and then were blown away.
Tarbes stepped on the turbo and went into the locker room (50-37).
Montpellier - despite the efforts of Fatimatou Sacko with 16 points and Iva Perovanovic scoring 13 points - were unable to bring the deficit down during the second half to trouble the hosts.
Tarbes: Jelena Dubljevic 13 (8 assists), Erin Thorn 20, Ivanka Matic 15 (9 rebounds), Isis Arrondo 0, Naura El Gargati 1, Florence Lepron 8, Darline Nsoki, Ana Maria Cata Chitiga 17, Brooke Smith 10
Lattes-Montpellier: Virginie Bremont 2 (4 assists), Alicia Poto 6, Iva Perovanovic 13, Cyrielle Hugues DNP, Ana Lelas 13, Gaëlle Skrela 4 (4 assists), Sandra Dijon-Gérardin 8, Ines Ajanovic 7, Fatimatou Sacko 16
---
Return from LFB Basketball News to Ligue Féminine de BasketBall index
Go to Women Playing Basketball In France Home Page
Return to the top of page
Picture credits:


womensbasketball-in-france
LFB
Date created: 8 January 2011
---