Calais are still waiting for LFB magic by Cyril Sicsic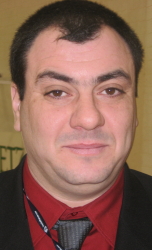 COB Calais are still waiting for LFB magic tricks from their coach
Cyril Sicsic
(left) after suffering their 10th defeat of the season.
Charleville-Mézières notched up their first road victory of the season by beating Calais (64-52) in a match that kept the spectators on the edge of their seats for the first 30 minutes.
Game recap:
The teams traded basket for basket for the first eight minutes (15-15) before Calais put together an 8-0 run to edge the first quarter (22-17).
However Calais failed to take full advantage of their dominance and their guests' failure to score in the second quarter. Leading (28-17) two minutes to the break, Calais went to sleep to go into the locker room trailing (30-31).
The cat-and-mouse game continued in the third quarter. It was not until Djéné Diawara came up with some magic for the guests to take advantage for good (39-35) after 26 minutes.
Charleville-Mézières stayed in front all the way to the end with a balanced scoring from Kristen Mann (right), 14 points, and from Ekaterina Dimitrova and Diawara with 10 points each. New signing Patrycja Gulak-Lipka also added 9 points.
Sarra Ouerghi was unable to play due to a sprained ankle.
For Calais Brigitte Ardossi led the way with 12 points while Aurélie Cibert finished with 10 points.
Calais remain in 13th place and 2 games behind Aix-en-Provence and Villeneuve d'Ascq.
COB Calais: N'Deye N'Diaye 2, Sylvie Gruszczynski 5, Mélanie Devaux 2, Aurélie Cibert 11, Mélanie Arnaud 4, Manon Sinico 9, Pelagia Papamichail 9, Brigitte Ardossi 12, Marine Foiret DNP
Charleville-Mézières: Amel Bouderra 7, Belinda Mboma 5, Alexia Kusion 7, Ekaterina Dimitrova 10, Kristen Mann 14 (11 rebounds), Djéné Diawara 10, Eléonore Grossemy DNP, Patrycja Gulak-Lipka 9
---
Return from LFB Basketball News to Ligue Féminine de BasketBall index
Go to Women Playing Basketball In France Home Page
Return to the top of page
Picture credits:


womensbasketball-in-france

Date created: 7 January 2011
---