Are Villeneuve ready to climb up
the LFB ladder?
Both Aix-en-Provence and Villeneuve d'Ascq have suffered in the LFB this season with injuries reducing their rosters.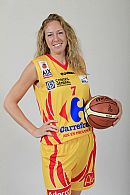 At Aix-en-Provence, Lauren Neaves' (right) season came to an end at the beginning of December during a training session when she went down with an ACL injury.
In addition Claire Tomaszewski has not been able to play since November. Hollie Grima is also sick and has not returned from her Christmas break.
The arrival of Carren Gay on a medical replacement contract comes as a relief to their coach Emmanuel Coeuret.
For Villeneuve d'Ascq, Emilie Gomis and Elodie Bertal are still out injured but Laurie Datchy is back and fit again.
Villeneuve d'Ascq have made a habit in recent seasons of starting the LFB season badly while competing in Europe and then finishing the domestic season strongly. Although last season they failed to finish in the top 4.
Their victory (74-62) against Aix-en-Provence, just their fourth victory of the season, moves them two games clear of Calais and could hopefully be the start of better things to come.
Game recap: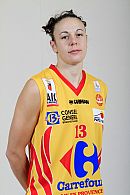 Villeneuve d'Ascq had the better start to the game but were caught sleeping by one of their former players, Sabrina Réghaïssia (left), with a couple of treys to put Aix-en-Provence in front on each occasion.
Aix edged the first quarter (22-19) but then fell behind as Carla Thomas and Ingrid Tanqueray went to work as the hosts headed into the locker room in front (36-32).
After the break Villeneuve went into overdrive with a 14-2 run to open up a 17-point lead going into the final quarter (57-40).
Villeneuve dropped the intensity during the final quarter allowing their guests to reduce the deficit. Yet this was not enough to change the outcome.
Olayinka Sanni finished with a double-double of 25 points and 14 rebounds. Thomas also compiled a double-double with 13 points and 10 rebounds.
Réghaïssia finished on top of the scoring chart for Aix with 17 points while Natalie Hurst dished out 9 assists and scored 7 points.
Villeneuve d'Ascq: Julie Page 2, Carine Paul 2, Ingrid Tanqueray 12 (5 assists), Marjorie Carpréaux 4, Laurie Datchy 11, Fanny Ploegaerts DNP, Carla Thomas 13 (10 rebounds), Olayinka Sanni 25 (14 rebounds), Bridgette Mitchell 5
Aix-en-Provence: Emmanuelle Gorjeu 2, Zoi Dimitrakou 11, Isabelle Strunc 11, Anaïs Viale 0, Margaux Okou-Zouzouo 0, Natalie Hurst 7 (9 assists), Sabrina Réghaïssia 17, Carren Gay 14
---
Return from LFB Basketball News to Ligue Féminine de BasketBall index
Go to Women Playing Basketball In France Home Page
Return to the top of page
Picture credits:


LFB
Date created: 8 January 2011
---