Nantes-Rezé's first LFB home game of 2011 was delayed by over one hour because of a hole in the roof before the match was moved down the road to another gym in which the local handball team were training.
The handball team vacated the hall and the match finally started. However there was more drama with three minutes on the clock with a power failure.
With all these delays Valérie Garnier, the coach from Toulouse, did not have to play the game any more. But she agreed for the match to be continued.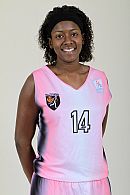 Toulouse had Shanavia Dowdell (in picture) available to play after her long injury. She finished joint top scorer alongside Suzanna Milovanovic with 14 points.
Nantes-Rezé required 13 minutes to take hold of the game (23-22) to then go into the locker room leading (38-25).
It was one-way traffic during the third quarter with the hosts stretching their advantage (58-32) as Nantes cruised to victory (70-48).
Allison Hightower led the scoring with 19 points.
Laurent Buffard explained after the game that his was the first time in his career that he had experienced such an event. It disturbed his preparation and in the end it was if they were playing away and not at home.
Nantes-Rezé: Florine Basque 2, Caroline Aubert 0, Joyce Cousseins-Smith 9, Mélanie Plust DNP, Allison Hightower 19, Yuliya Andreyeva 10, Mame-Marie Sy-Diop 10 (9 rebounds), Sonja Kireta 8, Sabine Niedola 4, Emilija Podrug 8
Toulouse: Lou Mataly 0, Jessie de Colo 1, Camille Aubert 7, Chandrea Jones 6 (4 assists), Emilie Maurice 2, Leslie Matanga 4, Lola de Angelis DNP, Shanavia Dowdell 14, Suzanna Milovanovic 14
---
Return from LFB Basketball News to Ligue Féminine de BasketBall index
Go to Women Playing Basketball In France Home Page
Return to the top of page
Picture credits:


LFB
Date created: 8 January 2011
---