Challes-les-Eaux keep LFB ambition on track after beating USO Mondeville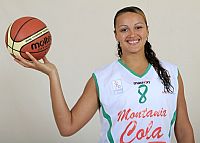 Challes-les-Eaux kept their LFB play-off ambitions alive with a convincing road victory (70-51) against USO Mondeville.
Mistie Williams-Bass (left) was again the player of the match with 19 points and 13 rebounds in a game that her team controlled for 35 minutes.
The first ten minutes of the game were a scrappy affair with both teams suffering from holiday blues.
Mondeville led for the first two minutes after a triple by K. B. Sharp. Then Williams-Bass put the guests in front from the charity stripes with three minutes played.
Challes-les-Eaux stretched their advantage (16-7) and more or less ended the game as a contest leading (27-9) with 16 minutes on the game clock.
Mondeville were unable to get going. With Lenae Williams having a bad shooting day, 2-of-11, and Sharp not being able to get her offensive game going, Challes-les-Eaux were able to pace themselves to victory.
After the game Rachid Méziane, the assistant coach from Challes-les-Eaux, said "I am very satisfied with the team, they were serious in attack and defense and controlled the pace of the game for the first 35 minutes."
He went to explain that Mondeville started badly and missed a lot of shots and that they neutralised the impact of Lenae Williams, K. B. Sharp and Valeriya Berezhynska.
Challes-les-Eaux are currently in fourth place. But with a game in hand over third place Montpellier they are well on their way for securing a place in the LFB championship plays-off.
USO Mondeville: Touty Gandega 1, Anne-Sophie Pagnier 0, Esther Niamké-Moisan 4, Aija Brumermane 8, K. B. Sharp 5, Lenae Williams 5, Yacine Séné 10, Pauline Thizy 3, Aurélie Bonnan 10 (15 rebounds), Valeriya Berezhynska 8
Challes-les-Eaux: Romy Bär 4, Alexia Plagnard 0, Sabrina Palie 10, Mistie Williams-Bass 19 (13 rebounds), Elodie Tadeuszak 0, Magali Lacroix 12, Clarisse Costaz 14, Jennifer Fleischer 10 (12 rebounds)
Bianca Thomas was unable to suit up for Challes-les-Eaux.
---
Return to the index: LFB match for the current season
Return to Ligue Féminine de BasketBall index
Go to Women Playing Basketball In France Home Page
Return to the top of page
---
Picture credits:


Challes-les-Eaux


Date created: 7 January 2011
---