LFB news: Bourges Basket and
Charleville-Mézières win at home

On the second day of the 12th round of LFB action, Bourges Basket and Charleville-Mézières came out on top in two close and exciting games.
Charleville-Mézières were involved in a tough game with Aix-en-Provence that had a total of 18 lead changes and plenty of drama before coming out on top (70-66).

Aix-en-Provence were down to just six players for the game with the absence of Adja Konteh. However this did not stop them taking their hosts all the way to the wire.
For Charleville who had their coach Romuald Yernaux back after his one-match suspension (for 6 technical fouls from last season) were to lose Aminata Diop during the third quarter of the match.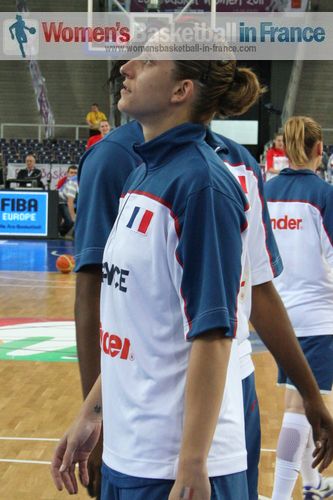 Charleville were able to turn things around during the last five minutes of the game for their fifth win of the season.
Sheana Mosch was the leading scorer with 16 points while Ekaterina Dimitrova and Djéné Diawara popped in 11 and 10 points each. Yet the star of the match was Aurélie Bonnan (in picture) with 10 points, 17 rebounds, 3 steals and 3 assists.
For Aix-en-Provence Marianna Tolo was almost unstoppable with 8-from-10 shots hitting the target in a game high 20 points while her team-mate Lizanne Murphy had 17 points. All the other four players scored at least 6 points.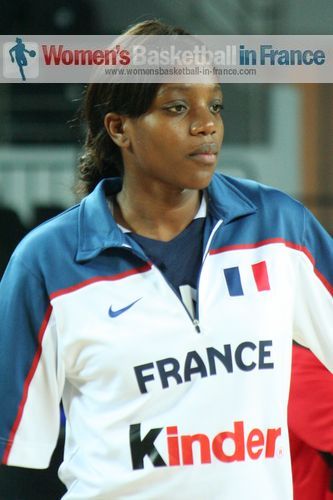 Bourges Basket led for most of the match and yet won by a single point against USO Mondeville (60-59).
With 20 seconds left to play K. B. Sharp (19 points) from Mondeville tied the match for the third and final time with a three-pointer (59-59). A time-out by Bourges was then followed with a play to run down the clock. Just before the buzzer Nwal-Endéné Miyem (16 points - in picture) was fouled and sent to the free-throw line.
She hit 1-from-2 which was enough for the victory because Mondeville had no time left to get a shot off.
Cathy Joens and Emméline Ndongue were the other double-digit scorers with 15 and 10 points each while Céline Dumerc had 5 assists. For Mondeville Naignouma Coulibaly joined Sharp in double digits with 10 points.
In the opening LFB match from round 12 on Friday night, Lyon BF beat Toulouse (63-41).
---
Like this page / Aimez cette page