At last Tango Bourges Basket
top the LFB

The new LFB leaders are Tango Bourges Basket despite losing Danielle Adams (in picture) in the first five minutes of their match against Basket Landes. Elsewhere Arras, Montpellier and Villeneuve d'Ascq secure important wins for their championship play-off ambitions.
At the bottom end there is still no luck for Calais, while Hainaut Basket  and Lyon's struggle continue.

Veuillez trouver des informations en français sur la 11ème journée de la LFB en bas de la page.
Finishing top of the Ligue Féminine de Basketball regular season standings is not the priority for Bourges. But with just one defeat this season and having played a game less than 12 of the other teams, they are now in first position.
They knocked off Basket Landes from the top spot with a (78-71) victory. Céline Dumerc stepped up offensively with 19 points while ever reliable Paoline Salagnac knocked down 20 points coming off the bench. The only sour point of their victory was the injury to Adams who left the arena on crutches.
For the first time this season in domestic action, Basket Landes' bench specialists Julie Barennes and Kamila Stepanova failed to get on the scoreboard.

LFB TV is back with a bang
Sarah Michel explodes

In the "Pays de la Loire" derby match which you may watch above, Nantes-Rezé edged out Angers (78-71) due to a one-lady demolition act by Sarah Michel. She finished the game with 32 points, 3 blocks and 1 steal. Amélie Pochet scored 20 points for Angers who suffered their second defeat of the week.

Despite showing off her football (soccer) skills with a basketball during warm-up, Julie Vanloo had a zero shooting day for the hosts.

On the other hand her captain, Sandra Dijon-Gérardin returned from injury and recorded a double-double of 16 points and 13 rebounds. Yet Dijon missed her first free-throw of the season in her team's defeat (64-71) against Arras.
Djéné Diawara saved Arras with a monster performance at both ends of the court. She scored 25 points while picking up 16 rebounds and taking 1 block.
With eight victories to their count already this season, Arras have already won two more games than their total for last season.

Montpellier spoiled the return of Adja Konteh with a solid but not spectacular performance in beating Hainaut Basket (71-53). Pauline Akonga N'Simbo and Astou Traore fired in 18 points each for the hosts which was not enough against the more balanced attack of their opponent.
The LFB defending champions had five players in double digits, while hitting just over 44% of their shots compared to 37% of their hosts. Hainaut with just two wins this season find themselves yet again in the battle at the wrong end of the table.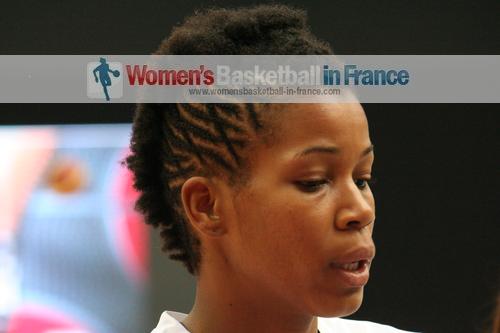 Marielle Amant
The other teams better watch out as Villeneuve d'Ascq are getting stronger. They beat Angers earlier in the week (77-55) and showed no mercy to Tarbes (82-67). All five starters scored at least 10 points and dished out 2 assists in a collective effort. Marielle Amant (in picture), who has to start from the bench, also knocked down 13 points and picked up 2 assists. Villeneuve hit 56% of their shots, with 28 of the 37 field goals coming from assists. Valeriya Berezhynska had her best scoring game of the season with 23 points in a losing cause.

Toulouse Métropole were involved in a shoot-out with Lyon (87-81). The Lyon bench of Milica Dabovic (29 points), Chelsea Snyder and Christelle Diallo outscored their starting five. 
Olivia Epoupa did not have a double-double this week. But with 8 points, 8 assists and 8 rebounds, she was still a major factor in the victory. Nicole Michael led the way with 26 points while Antonija Misura has recovered her scoring touch with 20 points.
COB Calais came close to upsetting their hosts Charleville-Mézières (64-68) in the final game of the weekend. Jasmine Hassel led the Calais offensive for most of the game and finished with 16 points. Jenny  Fouasseau who only played seven minutes turned things around for Calais in the closing minutes with clutch shooting.

The Flammes Carolo had been struggling all night and just hung on with free throws made by Ana Cata-Chitiga (14 points) and Ambrosia Anderson (18 points) in the last 15 seconds of the game.

Villeneuve d'Ascq gives
Angers a cold shower

In the final LFB game from round 8, Villeneuve d'Ascq beat Angers (77-55). Villeneuve dominated the rebounds (37-18) and won the assist contest (23-12). Ann Wauters recorded the only double-double of the evening with 11 points and 11 rebounds while Fatimatou Sacko and Jo Gomis Halilovic chipped in 19 and 17 points each.
Angers lost contact during the second quarter and failed to come back despite shooting 43%. The 22 turnovers hurt them badly with Villeneuve picking up 20 points. Romana Hejdova and Amélie Pochet did their best offensively with 14 and 13 points.

---
La 11e ronde de la LFB
Elle vise une victoire: Sarah Michel

Les Landaises échouent dans la deuxième mi-temps contre les Tangos pendant que dans le derby des Pays de la Loire, ce sont les co-équipières de Sarah Michel de Nantes-Rezé qui s'imposent.
La lanterne rouge, COB Calais, fait souffrir Charleville-Mézières mais ne vient pas à bout pendant que Toulouse sort la tête haute contre Lyon BF.
Les Déferlantes remportent cette rencontre contre Angers (78-71) grace aux 32 points, 4 rebonds, 4 passes décisives, 1 interception, 3 contres de Sarah Michel. Nantes-Rezé enregistre ainsi sa quatrième victoire de la saison. Côté angevin, les efforts de Amélie Pochet n'ont pas payé.

Villeneuve d'Ascq entâme bien le début du match. Quoique Valeriya Berezhynska (23 points) fait son mieux, Tarbes perd 67-82 contre les co-équipières de Fatimatou Sacko (15 points).

De retour de sa blessure, le double-double de Sandra Dijon-Gérardin (16 points, 13 rebonds) ne suffit pas pour sauver son équipe d'une défaite (64-71) contre Arras.C'est à Djéné Diawara de s'illustrer pour l'équipe gagnante avec 25 points, 16 rebonds et 1 contre.
Il n'y a pas une troisième victoire pour Hainaut Basket dans son match contre Lattes Montpellier (53-71) quoique Pauline Akonga et Astou Traoré (18 points chacune) y ont cru. Ce sont finalement les joueuses avec Gaëlle Skrela (15 points) et Jenna O'Hea (14 points) qui prennent le dessus.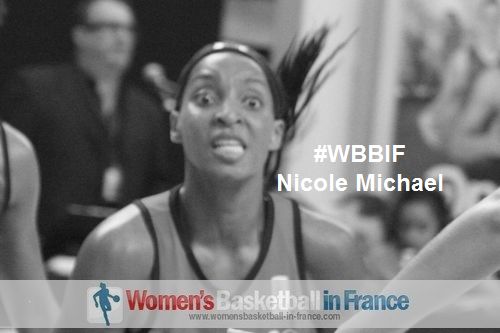 Nicole Michael
Toulouse Métropole et Olivia Epoupa (8 points, 8 passes décisives, 8 rebonds), épaulée par Nicole Michael (26 points) et Antonija Misura (20 points) gagnent leur rencontre contre Lyon BF (87-81).
Les Calaisiennes grignotent l'écart mais échouent dans les dernières minutes contre Charleville-Mézières qui gagne de justesse (68-64) grace aux lancers francs réussis de Ana Cata-Chitiga (14 points) et Ambrosia Anderson (18 points).

Bourges Basket revient après le premier mi-temps pour non seulement s'imposer contre Basket Landes (78-71) mais aussi pour s'emparer de la première place du classement de la saison régulière en LFB.
Ce sont Paoline Salagnac (20 points) et Céline Dumerc (19 points) qui font la différence contre une Carmen Guzman (28 points) en excellente forme.
---
Like this page / Aimez cette page