Pink is the colour of the LFB
as well as current leaders Arras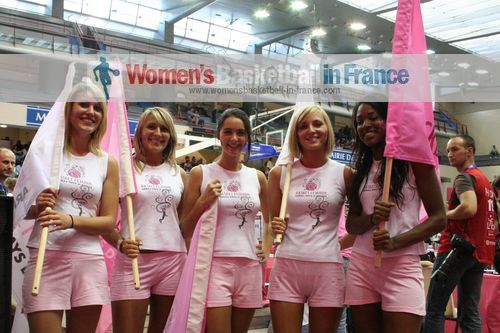 2014 LFB leaders Arras play in pink
Just five games from round 8 were played on Saturday evening with COB Calais as the only hosts to fall.

Arras won the pink derby (71-58) against Toulouse Métropole and returned back to the top of the regular season standings. Tarbes handed Basket Landes their second defeat of the season while Montpellier and Nantes-Rezé made home advantage count in their encounters.
Bourges Basket continue to be mean on Sundays after pushing aside Charleville-Mézières (64-49).

Veuillez trouver des informations en français sur la 8ème journée de la LFB en bas de la page.
Arras improve to six wins and two losses for the season after overturning their pink kit rivals Toulouse Métropole. 
Maggie Lucas whose father is in town helped herself to 29 points. We from wbbif think she will not mind us shifting the focus to her team-mate Djéné Diawara who was everywhere with 14 points, 8 rebounds, 2 blocks and no fouls.
Canadian international Miranda Ayim and Olivia Epoupa were yet again the backbone for Toulouse with 14 points each. But with Antonija Misura having an off shooting day (1-of-12), Toulouse had no chance of stopping the pink machine of Cécile Piccin.
At the moment nothing disturbs the players from Arras even when at their 8th game of the 2014-15 LFB season the electronic score board stopped working during the third quarter. So in the end a manual stop clock was used while the president of Arras, Jean-Louis Monneret, announced the score and how much time was remaining after each stop.
Tarbes were involved in a glorious battle against local rivals Basket Landes in the south derby. Basket Landes hit 80% of their shots in the first quarter and led (28-17). They pushed the advantage up to 16 points with the first 5 points of the second quarter.
However Tarbes picked themselves up and dominated the rest of the second quarter. At the break they trailed by just 3 points (40-43).
The rest of the match was a typical LFB physical encounter with neither side giving a centimeter on the court while both coaches pushed the officials to the limit.
Alexandria Bentley from Tarbes scored her 25th point of the match from the free-throw line with 24 seconds to play to give the hosts (81-76) a 5-point lead. Basket Landes' three-point shooting touch deserted them in the last seconds and they not only lost the game but also the first place in the LFB regular season standings.
It is not possible to stop Montpellier when Mistie Bass is on fire. She led the way with 21 points. To make matters worse for Mondeville Anaël Lardy was also on fire offensively coming off the bench to score 18 points. Although Courtney Hurt fired in 26 points for the visitors, Montpellier won by a comfortable margin (88-68) by converting 52% of their shots from open play.
Whenever Aurélie Bonnan takes to scoring instead of dishing out assists, she becomes one of the best players in the LFB. This weekend she scored 18 points, picked up 15 rebounds, made 1 block and only handed out 3 assists to lead Nantes-Rezé to victory (82-65) against Union Hainaut Basket. Her team-mate Margret Skuballa finished with a game high 23 points.
Florine Basque and Pauline-Akonga-N'Simbo scored 18 points each for the visitors.
COB Calais were the the only team to lose at home. This time, missed free throws cost them the match. Lyon BF are struggling this season and with a reduced roster due to injuries, they fought tooth and nail for every ball.
Danielle Hamilton Carter had her best game of the season for Lyon with a perfect shooting day from open play and the free-throw line for her 12 points. Her team-mate Bintou Marizy (22 points) gave a master class in coolness and free-throw shooting when it mattered most for Lyon to hold on for the victory (80-74).
Tango Bourges Basket are dangerous on Sunday. They conceded just 16 points during the first 20 minutes of their match against Charleville-Mézières and then paced themselves the rest of the way for a (69-49) victory. It was Jo Leedham's turn to come off the bench and yet she filled the stats sheet with 16 points (7-from-10), 1 block, 4 assists and 4 rebounds.
Bourges - having played one game less - than Arras are now alone in third place.

---
La 8e ronde avec
Arras en haut du tableau de la LFB
Les Atrebask voient la vie en rose.
Basket Landes subit une deuxième défaite pendant que Arras se situe tout en haut du tableau et Tango Bourges Basket est en troisième position après avoir joué sa septième rencontre.

Le match entre Angers et Villeneuve d'Ascq sera joué le 10 décembre.

Grace à une belle prestation de Maggie Lucas (29 points), épaulée par une polyvalente Djéné Diawara (14 points, 8 rebonds, 2 contres), Arras se lève en première position de classement de la saison régulière en LFB contre des Toulousaines (71-58). Les efforts du duo de Olivia Epoupa et Miranda Ayim (14 points chacune) n'ont pas suffit pour renverser ce résultat.

Tarbes Gesperre fait trembler Basket Landes (81-78) dans le derby de sud. Avec 80% de réussite au tir dans le premier quart, les Landaises prennent le dessus (28-17). Mais sous l'aile de Alexandria Bentley (25 points), les Tarbaises reviennent au score et gagnent de justesse malgré les efforts de Anaïs Le Gluher-Cano (19 points).
L'USO Mondeville échoue contre Lattes Montpellier (68-88). Les gazelles peuvent compter sur le duo Mistie Bass (21 points) et Anaël Lardy (18 points). Les 26 points de Courtney Hurt sont en vain.
Nantes Rezé s'impose à domicile contre Hainaut Basket (82-65) avec une Aurélie Bonnan omni-présente (18 points, 15 rebounds, 1 contre, 3 passes décisives) et une bonne performance de Margret Skuballa (23 points). Les Hennuyères sont portées par Florine Basque et Pauline Akonga (19 points chacune).
De justesse, en vrai dire, les lancers francs, ont fait la différence entre les deux équipes, le COB Calais et Lyon BF.
Ce sont les Lyonnaises qui célèbrent la victoire après avoir trainé les 30 premières minutes. Les co-équipières de Jenny Fouasseau (17 points) doivent travailler sur l'adresse au lancer franc pour espérer de vaincre leur prochaine adversaire.
Bintou Dieme-Marizy (22 points) et Christelle Diallo (19 points) et le sans faute de Danielle Hamilton Carter (12 points) sauvent la formation de Lyon d'une défaite.
Rien étonnant quand les Tango Bourges Basket waltzent, elles s'imposent. Leur victime est cette fois-ci Charleville-Mézières (69-49). C'est au tour de Jo Leedham de montrer le chemin avec 16 points, 1 contre, 4 passes décisives et 4 rebonds.
---
Like this page / Aimez cette page