FIBA Europe U20
European Championship
Italy and Spain in final


The FIBA Europe 2012 U20 European Champions are back in a final to defend their title. They eliminated the hosts Turkey in a close fought semi-final (57-51).

Italy that had just escaped relegation in 2012, qualified for their first U20 European Champion final with a comfortable victory over Belarus (66-50).
Belarus and Turkey meet in the bronze medal match to determine the last team on the 2013 podium in Samsun.
In the other important games on the semi-final day, Hungary and Lithuania lost out and find themselves relegated. Hungary are yet to win a match in this competition.
Germany and Sweden will play off in the last relegation match.
If you wish to read more about a certain match, please click on one of the following links:

Spain the youth Queen's of European women's basketball
Italy are on a history course
5th - 16th Classification games

---
Spain, the FIBA Europe Queen's of youth basketball again in final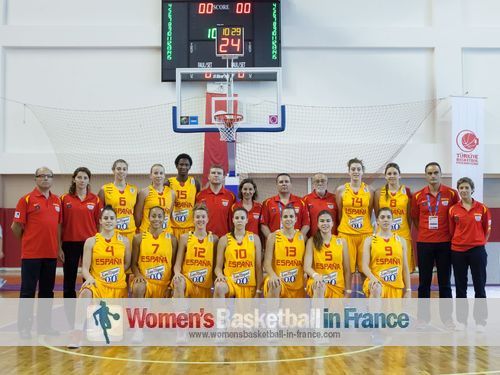 In the first quarter the teams played cat and mouse with Spain in the lead (16-12).
In the second quarter Turkey changed their approach which resulted in them scoring the first 6 points of the quarter. For the first time at this event, Spain looked rattled and conceded 8 more unanswered points.

However a change of tactics and a big three-pointer by Astou Ndour allowed Spain to go into the locker room with just a 4-point deficit (26-30).
The third quarter was fast and furious with neither side really having control.
Ndour was the main threat for Spain while Olcay Cakir and Merve Avdin carried the offensive for Turkey as the teams went into the final quarter level (38-38).
During the last quarter, Turkey's problem with converting free throws cost them dearly as Spain pulled away. 
The last eight minutes were not exciting youth basketball but a technical chess match between the coaches. Turkey tried everything possible to neutralise Ndour but failed while Spain kept hitting free throws to win (57-51).

Turkey: Olcay Cakir 15 (3 assists), Merve Aydin 11, Büsra Akgün DNP, Cansu Köksal 2, Ayse Cora 4, Pelin Bilgic 3, Didem Nakas DNP, Özge Kavurmacioglu 8, Elif Emirtekin 5, Melike Yalcinkaya DNP, Tilbe Senyürek 2, Gizem Sezer 0
Spain: Susana Bacete DNP, Elena De Alfredo 5, Ana Faussurier 3, Inmaculada Zanoguera 4 (6 assists), Patricia Soler DNP, Paula Estebas 7, Yurena Diaz 7, Sara Rodriguez 7, Itziar Llobet 0, Andrea Vilaró 2, Yaiza Lazaro 2, Astou Ndour 24 (19 rebounds)

FIBA Europe history for Italy

A new page has been written for Italian basketball with the U20 team guaranteed a medal for the first time at U20 level.
The game itself was a demonstration of Italy's hustle and defending play. It is fair to say that Belarus were completely overwhelmed by the occasion and failed to show up. The only luck Belarus had was that Italy's finishing was not as good as their defending.
Francesca Dotto was the star of this match and her 10 second-quarter points made sure that her side went into the locker room with a reasonable lead (31-22).
Italy finally got the offensive going during the third quarter. After 27 minutes they led (49-26) and the contest was over.
Italy cruised the rest of the way to win (66-50).
Belarus: Natallia Pratskaila 0, Alena Holubeva 9, Yuliya Haponava 0, Viyaleta Kiuliak 8, Darya Lipinskaya 2, Hanna Kalenta 9, Ksenija Voishal 5, Valiantsina Myshapud 0, Natallia Baklaha 2, Maryia Papova 2, Katsiaryna Urbanovich 6,  Maryna Ivashchanka 7

Italy: Francesca Dotto 20 (4 assists), Caterina Dotto 8 (6 assists), Ilaria Milazzo 0, Marida Orazzo DNP, Erica Reggiani 1, Elena Ramò 0, Francesca Melchiori 7, Stella Panella 17, Alice Nori 2, Elisa Ercoli 0, Alessandra Formica 11 (11 rebounds)
5th - 16th Classification games

France won their classification game against Serbia (55-50) and will play for the third consecutive year at a FIBA Europe U20 Championship for Women Division A in the 5th place match.
Serbia were hit with a bug that deprived them of three key players: Natasa Kovacevic, Aleksandra Stanacev and Kristina Topuzovic.
Esther Moisan Niamke and Claire Stievenard both scored 11 points for France while Dijana Stancic poured in 18 points for Serbia.
France will meet Russia who had a difficult time in overcoming the Slovak Republic (61-55).
Greece will play for 7th place after seeing off Ukraine (70-58). Artemis Spanou from Greece was in impressive form scoring 31 points, taking 10 rebounds and giving 4 assists. She scored 16 points alone in the first quarter. The Netherlands will face Greece in the 9th place match after beating Poland (50-49).

For Hungary and Lithuania, their stay in Division A is over. Germany beat Hungary (58-55) while Sweden defeated Lithuania (72-42).
Germany and Sweden meet each other in the final relegation game with the prize for the winner a place in Division A in 2014.
---
Like this page / Aimez cette page